Oregon Man Thinks He Has a Solution to Portland's Homeless Problem—Shelter People on a Cruise Ship
A local businessman has proposed an unusual solution to address homelessness in Portland, Oregon. Portland Spirit River Cruises president Dan Yates wants officials to buy a 370-foot cruise ship and turn it into a homeless shelter.
Officials could purchase the vessel, set up to sleep 300, for $5 million, according to an ad Yates sent to Mayor Ted Wheeler. With extra funding, authorities could convert the boat into a floating shelter for 1,000 people, Yates says. But officials aren't convinced by his proposal, The Oregonian reported Tuesday.
"I know you are trying many different approaches to reduce the impact of houselessness in Portland," Yates wrote to Wheeler in a February 8 letter. "I think a novel solution may involve something like this vessel."
Although its five storeys are currently decked out for leisure—with a pool, a restaurant and a movie theater—Yates wrote the ship could be converted into a more practical space. "This vessel could have its extensive spaces converted to bunk rooms," Yates wrote. "Staterooms could be converted to allow family units to stay together and even have areas for pets and personal storage."
It might seem novel, but Yates's idea is not without precedent. In the wake of Hurricane Katrina, federal officials chartered several cruise ships to shelter thousands of people unable to return to their homes.
Yates told Newsweek he saw the cruise ship ad in an industry publication and thought it might make a "a cost effective, quick solution," to a lack of shelter beds. "Land is very expensive in Portland: over $10 million per acre in the downtown area, which is near the services for housesless population," he said. Issues like zoning and high construction and land costs make it hard to open up facilities for people experiencing homelessness, he added.
But Wheeler and other officials aren't convinced by Yates's plans. Although Yates said the mayor did not initially respond to his letter, Wheeler's spokesperson Eileen Park told The Oregonian the proposal was too expensive and impractical. Managing 1,000 people on a floating vessel was too risky. But the mayor commended Yates's concern for those facing homelessness, Park added.
The Multnomah County Joint Office of Homeless Services agreed, telling local station KOIN the large capacity—and price tag—were serious problems for the proposal.
"[1,000] is a really hard number of folks to manage and get services to," spokesperson Denis Theriault told KOIN. "We don't want it to be just a place where people languish all day. Our shelters have service connections, that's part of the model to make sure people have case managers, classrooms and housing navigators."
Splashing out on the vessel would also prevent the office from carrying out its other services. "We don't actually have funding to add 1,000 shelter beds in our community right now without new revenue," he said. Officials would have to make cuts in eviction prevention and housing placement to fund the beds—possibly even closing existing shelters.
Yates maintains such a plan could be an effective way to address homelessness. But community money is earmarked for land-based solutions, he said, rather than "creative options like a vessel." He admitted the boat may be too large to manage, but said officials rejected a previous proposal to buy a smaller boat.
"I suggested two years ago that the City buy a housing barge from the US Navy that would cost $250,000 and sleep about 100," he explained to Newsweek. "I was told that did not solve the entire problem. It was too small for the city."
More than 14,400 people in Oregon were experiencing homelessness in January 2018, official statistics suggest. Some 4,000 adults faced homelessness in Multnomah County in February 2017, 40 percent of whom went unsheltered, nonprofit Transitions Project reported.
Yates told The Oregonian he wanted, "to take every opportunity...to [get people] out of bad weather and give them a place they can maybe start to put their life back on track."
This article has been updated with comment from Dan Yates.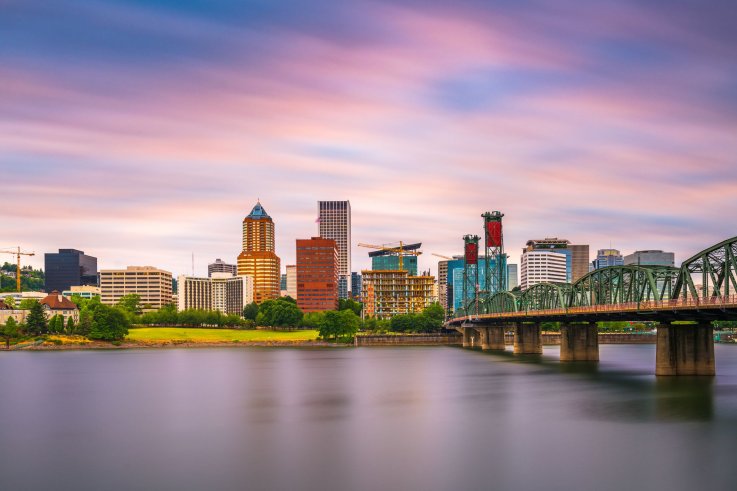 Oregon Man Thinks He Has a Solution to Portland's Homeless Problem—Shelter People on a Cruise Ship | U.S.