Father Describes Lucky Escape for Him and Toddler After Plane Crashed Into Bedroom, Killing Pilot: 'Like a Bomb Went Off'
A father who was inside his California home when a small plane crashed into it and burst into flames has described the terrifying moment the plane hit and how he rescued his young child.
Matthew Tonello, a father of three, was with his youngest child Emmett in the kitchen when an SR-22 four-door plane plunge into the master bedroom of his house, reported ABC News.
The pilot of the single-engine plane, believed to be the only passenger, died immediately upon impact. Soon after, the whole house was ravaged by flames.
Tonello said he and his toddler son were knocked to the floor because of the force of the impact. He said it was so strong that it shattered all the windows in the house.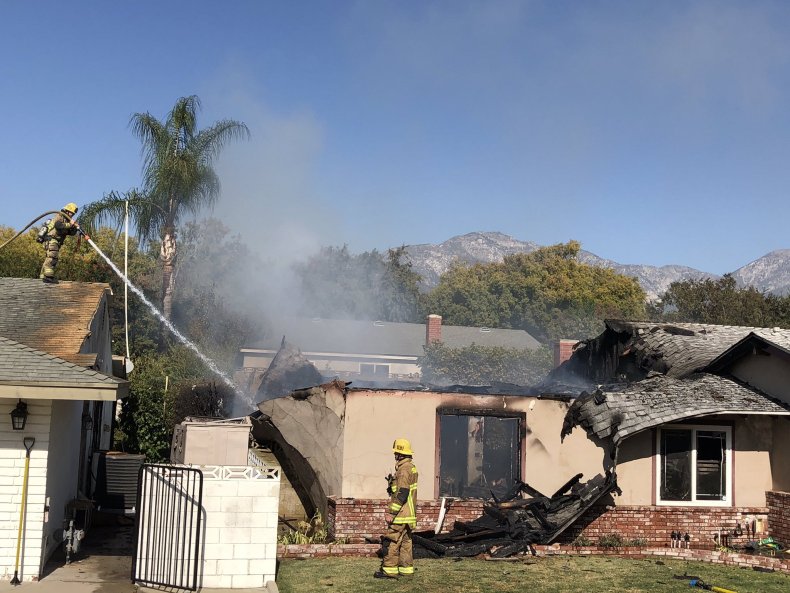 "It was almost like a bomb went off," Tonello told ABC News. "I could see him [Emmett] scared out of his mind, crying, as soon as the plane hit. I just grabbed him in my arms and ran out of the back, telling him that it'll be OK."
Tonello added that he and his son usually napped in that bedroom where the plane hit at that time of day so he was thankful that they were still alive. He also said he was thankful his wife and two daughters were out of the house.
"I think it's just an act of mercy that they were in the opposite end of the house," next door neighbor Anne Burdette told ABC News 7.
The plane hit the house in the 1200 block of Overland Court in Upland, roughly 40 miles east of Los Angeles, just before 11 a.m. on Thursday.
It had been heading to Cable Airport in San Bernardino County from Zamperini Field in Torrance before crashing just two miles short of its destination.
Neighbor Dan Millus, 65, told the Los Angeles Times he was about to have a nap when he heard the massive bang.
"I went running outside and the house kitty-corner to the east of me was completely engulfed in flames," he said. "I'm looking at the house now, and I don't see any remnants of a plane or anything. The fire was pretty intense."
Despite the severity of the fire, both Tonello and his son were able to escape unscathed.
The fire did, however, destroy most of the family's belongings and a GoFundMe page has since been set up to help the family replace clothes, personal items and buy a new crib for young Emmett. It will also pay for the family's temporary living expenses and has so far raised over $8,000.
The National Transportation Safety Board is investigating the crash. Newsweek has requested an update.