Anti-Gay Group Tries To 'Counter The LGBT Agenda' With An Interpretive Rainbow Flag Dance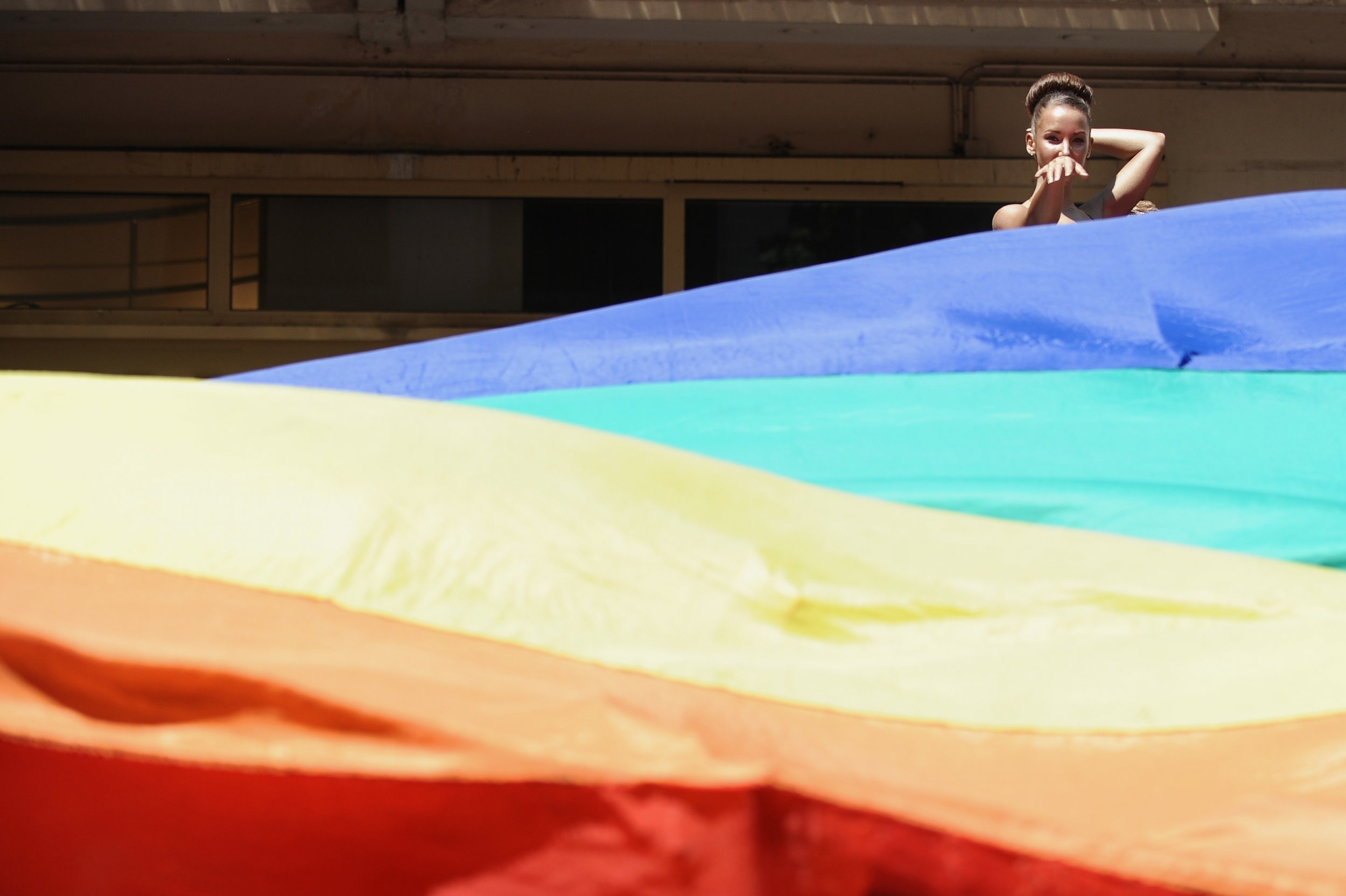 An anti-gay group kicked off a "Countering a LGBT Agenda" conference with a flamboyant show fit for San Francisco's Pride Parade — a five-minute interpretive dance complete with a rainbow flag.
MassResistance opened the "Teens4Truth" event with some entertainment that the group's chairman called "a song thing."
"I don't know what he's doing actually," said the chairman, whose name was not given. "That's why I'm hesitating. I haven't heard it yet, but it may be a pretty neat thing to do to kick off today."
The man took the stage, clad in a business-style suit and two big rainbow flags, and began dancing to The List by Christian singer Matthew West.
The flags were not the standard LGBT Pride flag, but did feature the same panoply of colors. The audience appeared to enjoy it, with rousing applause afterwards, despite the incongruity of the interpretive dance at a MassResistance event...in Texas...organized to focus on the "LGBT agenda" in schools.
MassResistance is classified as a hate group by the Southern Poverty Law Center. The group's leader Brian Camenker has compared advocates for transgender students to "Nazi concentration camp guards." He has also likened homosexuality to bestiality and pedophilia, claimed no LGBT people died in the Holocaust, and preached that there has been "skyrocketing homosexual domestic violence" since same-sex marriage became legal in Massachusetts, citing the "extreme dysfunctional nature of homosexual relationships."
MassResistance was also involved in the recent Values Voter Summit, where the group handed out pamphlets promoting its book "The Hazards of Homosexuality." According to Pink News, the leaflets read:
The sexual revolution and mainstreaming of homosexuality have created a public health crisis affecting us all. But the media give little attention to the danger of gay and lesbian sexual practices and the resulting health problems experienced by the gay-lesbian-bisexual population.
The leaflets included unsubstantiated information about the mental and physical health of the LGBT community. President Donald Trump attended the summit as the keynote speaker.