Russians Warned They Will Be Forced to House 'Gay Homestays' in Homophobic Election Advert
Russians have been told they will be forced to house displaced homosexuals and risk being drafted for military service in their 60s if they don't vote in March's presidential election, in a viral video.
The three-minute clip, which features professional actors and has reportedly been viewed more than three million times, features a middle-aged man on March 17, the night before the first round of elections in Russia.
During the video, the man has a nightmare that includes military personnel knocking on his door to inform him that he has been conscripted into the army. When the man protests that he is 52, one of the senior ranked men replies: "Excellent. The conscription age has been increased to 60," reports The Guardian.
He then goes into his kitchen where he sees a man wearing pink filing his nails with a rainbow-colored file.
When asked who he is, the man in pink informs him that he is "a gay on a homestay," before the main character's wife reminds him of a recently introduced law that requires families to take in gay people who have been thrown out of their own home.
"If he doesn't find himself a pair, then you'll have to be with him," the wife adds.
The camera then cuts back to the man in pink, who states that "the law is the law," before seductively eating a banana.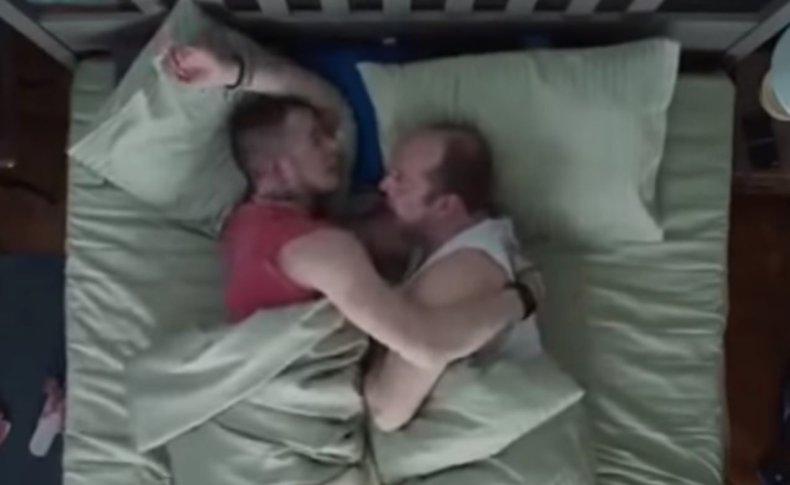 The main character then 'wakes up' and finds to his horror that he is lying next to the gay man. He then wakes up for real, urging his wife to get out and vote "before it's too late."
The video has been accused of attempting to stoke up homophobic tensions, which have been escalating in Russia ever since the controversial 'gay propaganda' law was passed in 2014.
Under the law, approved by Vladimir Putin, people in Russia face a fine or even arrest if they suggest gay relationships are equal to "traditional"—heterosexual—partnerships.
The law has been heavily condemned across the world and blamed for a rise of homophobic attacks in the country.
Ksenia Sobchak, a Russian journalist who supports gay rights, called the video an "incitement to hatred."
She told The Guardian: "In my opinion, we can laugh about anyone. About Hitler and about gays. But to expose LGBT people to a threat in a homophobic country, this is no joke."
There is some confusion about who produced the video, with some anti-Putin reporters suggesting it could have come from the Russian president's campaign team.
Svetlana Galka, the actress who plays the wife in the clip, told Russia's Govorit Moskva radio station she does not know who ordered the video, and dismissed suggestions it is homophobic.
She told the station: "This is simply a humorous promo, so what?"