Honda announced updates to its electrification strategy in a media briefing on Monday, outlining its plans for the future of mobility for the next 10 years.
Despite being slower than other automakers on the electric vehicle (EV) uptake, the company wants to catch up by releasing 30 EVs throughout the globe by the end of the decade.
Honda plans to spend about $28 billion towards meeting that goal.
The results for that massive investment will begin to bear fruit in 2024, where an all-electric SUV will be introduced to the Honda and Acura lineup in the U.S.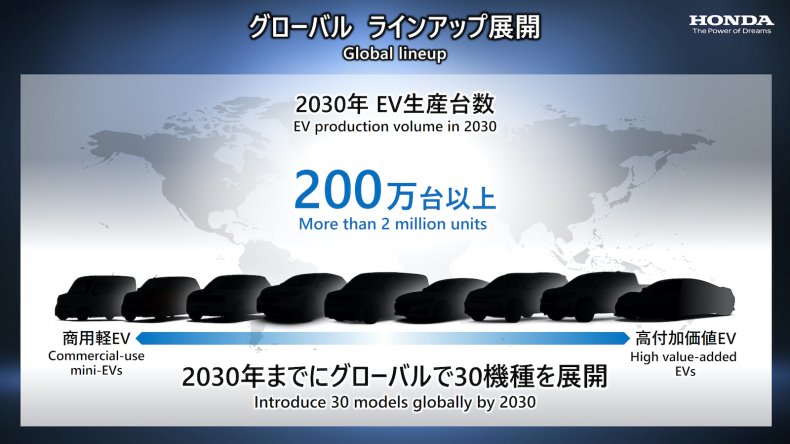 In Japan, the electrification transition will start with the release of "commercial-use mini EVs," otherwise known as kei cars that are used throughout the country for commercial use. Honda plans to sell those for about $8,000 in the country.
In 2026, will introduce its electric vehicle architecture dubbed Honda E, which will be an amalgamation of hardware and software platforms, and use the company's unique vehicle operating system.
The year after that, as it announced last week, the company will release a slate of EVs in a partnership with GM that will cost around $30,000 and take advantage of the ever-growing crossover market.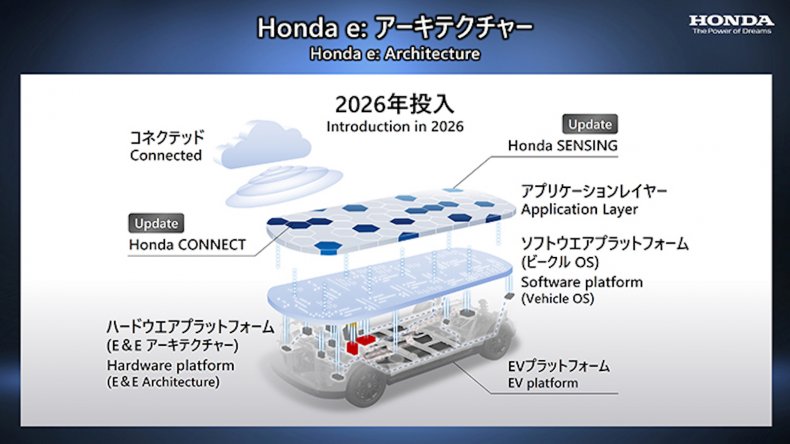 To meet the demand for EVs in the coming years, Honda also wants to regionalize the supply of lithium-ion batteries. It plans to buy Ultium batteries from GM, use CATL in China and partner with Envision AESC in Japan. In North America, the company is also considering forming a joint venture with an undisclosed company for battery production.
Honda also wants to push into other fields of mobility, namely space technology, eVTOL (electric vertical takeoff and landing) aircraft and robotics.
In the briefing, Honda president and CEO Toshihiro Mibe said that the goal is to remove constraints on people's "freedom of mobility."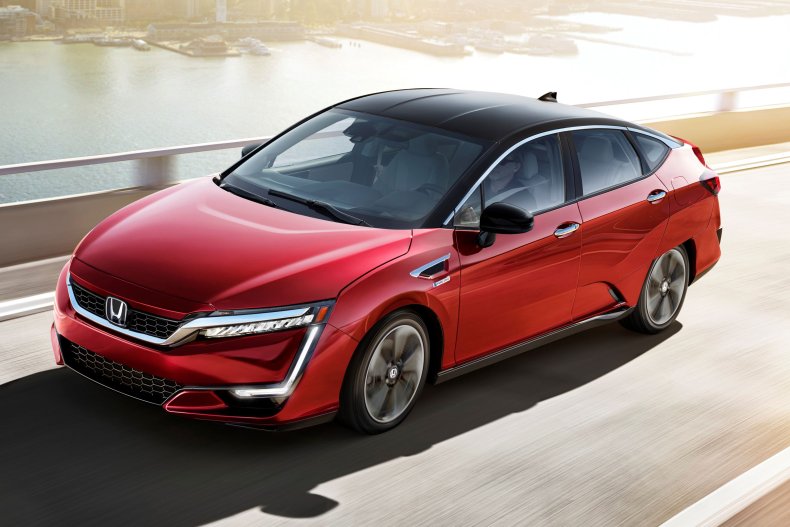 "By realizing such value, we will strive to expand the range of human living and activities and become a driving force to help change our society," he said.
Mibe added that he believes it's Honda's responsibility to reduce the company's carbon emissions to zero by 2050 as one of the world's leading power unit producers, with about 30 million power units sold each year through all of its businesses.
"Honda strives to realize the joy and freedom of mobility by seeking zero environmental footprint," he said.
The company also shared that it has verified the technology and production of a solid-state battery at the laboratory level. About $343 million has been dedicated to figuring out how to scale up that production in order to have those batteries as part of EVs by the late 2020s.
Answering questions from Japanese media at a follow-up press conference, Mibe said that Honda will focus on different strategies for different markets in this decade in order to maximize the adoption of EVs. After 2030, there may be some consolidation to standardize vehicles across the globe.
"From 2030 and beyond, we believe that we'll be entering the full popularization period and better EVs will be commonplace," he argued. "And then, if that is the case, we can integrate and consolidate more. We can have small, medium and large size platforms in place that cover all of the lineup."