Honda's Next Step In EVs Starts With the Electric 2024 Prologue SUV
Honda teased its first electric SUV in a sketch on Wednesday. The Prologue, which launches in 2024, was designed at the company's studio in Los Angeles and previews its new electric vehicle (EV) style, 30 which will be introduced globally by 2030.
The SUV will be followed by sales and production of models based on the Honda e:Architecture in 2026 and several more "affordable" EV models in 2027. Those will be based on the platform developed with General Motors.
"We announced a plan two years ago, positioned as a smart strategy, to co-develop an electric vehicle with GM. What will result is not just a more efficient process, but a great looking new vehicle, the Honda Prologue," said Mamadou Diallo, vice president of Auto Sales, American Honda Motor Co., Inc. in a statement.
"Our dealers are excited about Prologue and the fact that it is just the first volume Honda EV, with more Honda engineered EVs we will begin building in North America coming to market in 2026."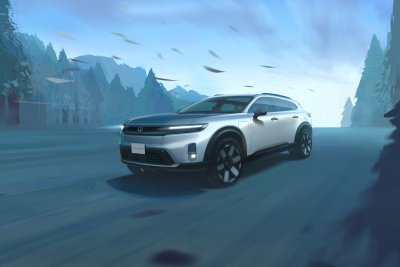 Honda says it wants to sell a half million EVs in North America by 2030, on its way to being globally carbon neutral by 2050.
Because the Prologue was designed during the pandemic, design and development teams in Japan and North America had to meet virtually, but they were able to share data in real time.
"As the project leader for the exterior design of the Honda Prologue, it was very exciting to work with a young team of designers with new capabilities to create an SUV with clean, simple lines and a strong influence from our global EV models, including the Honda e," said Jiro Ikeda, exterior design leader said in a press release. "We balanced that with a neo-rugged look that you see in our current lineup to ensure Prologue represents a true Honda EV."
Honda said it wanted to keep the vehicle simple with few lines, but with a focus on aerodynamics. Besides getting more range, aerodynamics is also important to keep the cabin quiet as there's no engine sound to cover wind noise.
The new vehicles will necessitate changes in its dealerships including a new design with more flexible space for the way people shop now, noting that dealers will need less inventory in the future. Honda also says it will mandate a certain amount of EV chargers at each dealership, depending on their expected sales volume through 2030. The company will also guide dealers on the specialty equipment they'll need to service the new vehicles.