Honduran Man in ICE Custody Dies in Texas
A Honduran man who was in Immigration and Customs Enforcement (ICE) custody since early June died at a Texas hospital on Sunday.
Yimi Alexis Balderramos-Torres, 30, was found unresponsive in his dormitory room at a detention facility, and he later died at Memorial Hermann Hospital, ICE officials announced Monday.
The cause of death for Balderramos-Torres will be determined through autopsy results, the report stated.
According to the news release from ICE, Balderramos-Torres was booked into ICE custody on June 6 and transferred June 18 to Houston Contract Detention Center, where he was found unresponsive Sunday, June 30.
The ICE medical staff worked to revive him, and he was taken to the hospital, where he was pronounced dead.
ICE said Balderramos-Torres had a history of getting caught entering the United States illegally and getting sent back to Mexico. In 2013, Border Patrol sent him back to Honduras after he tried sneaking through Falfurrias, Texas.
In May this year, Balderramos-Torres was caught by Border Patrol in El Paso, and he was sent to Ciudad Juarez, Mexico under the new Migrant Protection Protocols program. Ten days later, he was back in the United States and caught on a "routine traffic stop." He was then transferred to ICE custody.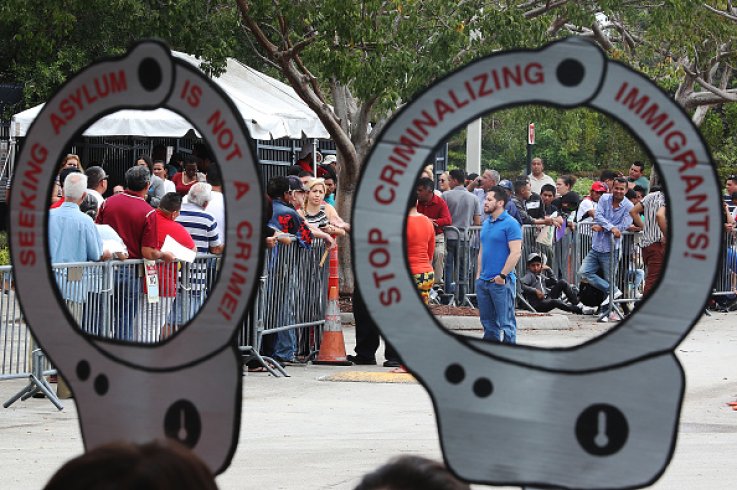 Six migrant detainees have now died while in ICE custody since October, according to The Hill. Under the Trump administration, 25 migrants have died while in ICE custody, according to NBC News. This does not include other migrants who have died in custody of other U.S. agencies like Border Patrol.
The deaths of migrants have prompted advocates for detained immigrants to question why the president's administration keeps forcing detainees into facilities they say aren't equipped to hold them, nor have adequate medical resources.
Katharina Obser, a senior policy adviser for the advocacy group Women's Refugee Commission, questioned the administration's insistence of sending detainees to such holding facilities.
"What we're seeing is a reckless and unprecedented expansion of a system that is punitive, harmful and costly," Obser said. "The U.S. government is not even doing the bare minimum to ensure [immigrants] are getting the medical care and the mental health care they need."
ICE officials said that deaths in their custody are rare and that it spends more than a quarter of a billion dollars for migrant health care.
The agency "takes very seriously the health, safety and welfare of those in our care, including those who come into ICE custody with prior medical conditions or who have never before received appropriate medical care," ICE spokesperson Danielle Bennett told NBC. "Any death that happens in ICE custody is a cause for concern."
The agency claims ICE spends more than $269 million for "comprehensive medical care" for up to 500,000 detainees in custody each year.
Honduran Man in ICE Custody Dies in Texas | News