A new "caravan" of Honduran asylum seekers headed to the U.S. border is proof the Trump administration's hardline immigration policies are not working, an immigration advocate based in Honduras has said.
Conor Walsh, the country representative in Honduras for Catholic Relief Services (CRS) told Newsweek that despite the Trump administration's aggressive efforts to deter migrant and asylum seekers from coming to the U.S., its hardline policies have only given Hondurans further reason to flee.
Programs that once relied on U.S. funding have started to come to a halt, Walsh said, only worsening the synergy of issues that have, for years, been forcing Hondurans to flee, including poverty, violence, extortion and corruption.
Even the Trump administration's "Remain in Mexico" policy, which has forced tens of thousands of people to wait in Mexico while their asylum claims in the U.S. are processed, and the "safe third country" agreements that allow the U.S. to send asylum seekers back to the Central American countries they transited through to make their asylum claims, are not enough to deter Hondurans.
Those things, Walsh says, "are not really at the top of their minds. They say that they just want to escape from, well, some use the word 'hell.'"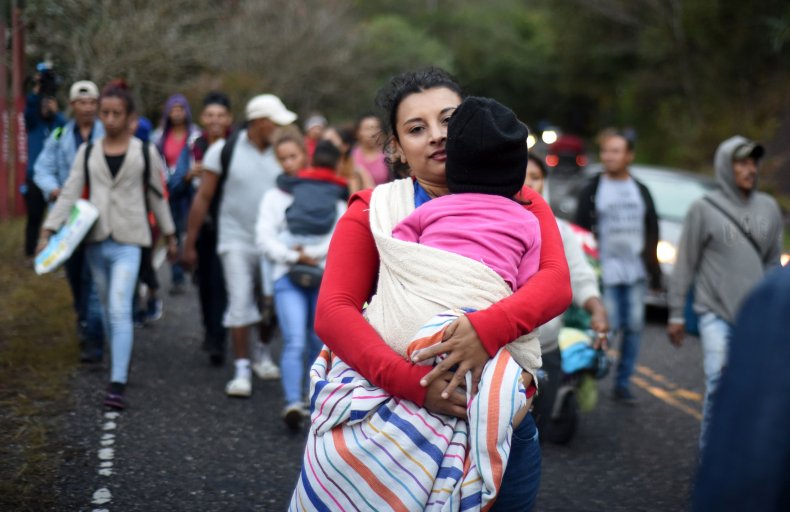 "They're not going to be stopped by reports that it's more difficult to get through, reports that it's more difficult to come back, because they are literally escaping what they feel are impossible situations," he said.
That's why, he said, hundreds of Central American migrants, mostly from Honduras, have been finding their way to the U.S. border in a new caravan making the same journey that groups have repeatedly made from Central America during Trump's time in office, drawing the president's ire.
CRS, Walsh said, is one of many organizations working on the ground in Honduras to support local communities. However, he said, with the Trump administration pulling aid to the Central American country, a number of critical programs have come to an end, leaving clear gaps in service for communities.
"Some of the projects have ended. They've closed down a major agriculture project in the northern part of the country in the Dry Corridor...It was benefitting thousands of small hillside farmers," Walsh said.
By taking that support away, the CRS representative said, the Trump administration was only deepening the instability that farmers already face in a region hard hit by droughts.
"It's counterintuitive and downright absurd to think that suspending aid will stem" the influx of asylum seekers and migrants arriving at the U.S. border.
Meanwhile, Walsh said, with gang violence and extortion rife in Honduran cities, many Hondurans do not feel safe in areas like Tegucigalpa or San Pedro Sula.
In recent months, three young people involved in CRS's programs have been killed in cross-fire, with a recent graduate of a technical school being gunned down while on his way to start his new job.
Newsweek has contacted the White House and DHS for comment for this article.