K-Pop Group Honey Popcorn, Composed of Porn Stars, Sparks Controversy in South Korea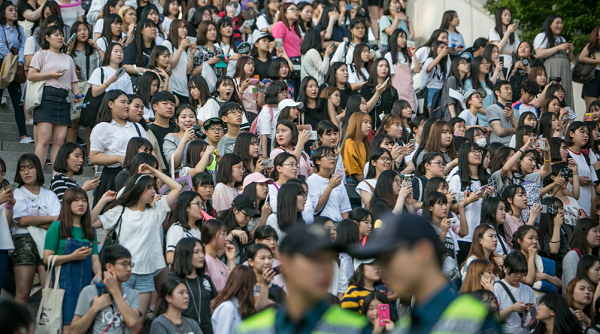 K-pop group Honey Popcorn sparked controversy in South Korea after conservatives learned the members were former adult film stars. It is illegal to produce or consume pornography of any kind in South Korea.
The singers were initially billed to perform in Seoul in early March, but after the singers' pornographic background was discovered, a petition was filed, requesting the government intervene. The show was ultimately canceled, Korean news site YonhapNews.com wrote.
Despite the first cancellation, Honey Popcorn performed on Wednesday, debuting their first single "Bibidi Babidi Boo" and releasing their EP of the same name.
The backlash was instant. Some Twitter users took offense to the Japanese singer's attempt to appear innocent and pure, given their past work in pornography. Others said the women's former profession would give South Korean children the wrong impression, and perhaps influence them to also work in the adult industry too, AllKPop.com wrote.
But not everyone hated on them. There was also an outpour of support for Honey Popcorn on social media. Some fans took a liking to their single and others said the ladies should be accepted as musicians.
The Japanese singers—Mikami Yua, Sakura Moko and Matsuda Miko—got their start in separate J-pop bands: SKE48, NMB48 and Bakusute Sotokanda Icchome, respectively. But when their musical endeavors with their bands fizzled out, the women took to porn.
During the Wednesday showcase, Mikami, who is considered the leader of the band, spoke to the crowd about the band's past profession. "I am engaged in such (adult video) work in Japan," she said. "I also consider that serious, but right now I want to focus on promoting Honey Popcorn."
She added: "I will try to be grateful for the fans who can root for us."