Honeybee Swarm Kills Over 60 Endangered South African Penguins in Rare Occurrence
Bird conservationists in South Africa reported that a swarm of honeybees killed 63 African penguins from a colony south of Cape Town. It was noted that this occurrence is considered rare and was the first known instance of such an attack at Boulder Beach, a spot popular with tourists.
The deceased penguins were found by the shore near Simon's Town on Monday. Officials also found numerous dead bees in the same area.
The bee stings were the only signs of injury on the penguins' bodies and were found around the eyes and flippers during post-mortem examinations. One of the birds was stung 27 times.
African penguins are considered endangered, with a total population of around 50,000 left in the world.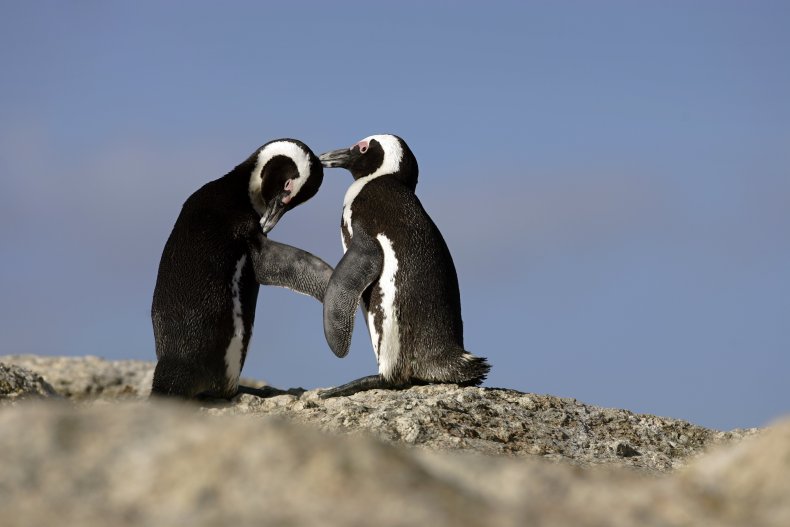 Officials from South Africa's national parks agency (SANParks) were initially baffled by the discovery, as penguins and bees do not tend to attack each other.
"Usually the penguins and bees co-exist," Dr. Alison Kock, a marine biologist with SANParks, told the BBC. "The bees don't sting unless provoked—we are working on the assumption that a nest or hive in the area was disturbed and caused a mass of bees to flee the nest, swarm, and became aggressive. Unfortunately, the bees encountered a group of penguins on their flight path."
The areas where sting marks were found on the penguins are the ones with some of the least feather coverage. In particular, the area around the eyes of the African penguin, with their distinctive pink sweat glands, are quite vulnerable. Shanet Rutgers, a senior penguin keeper at Cape Town's Two Oceans Aquarium, told the BBC that the skin in these areas is only about as thick as the skin on human fingers.
Officials from the African Wild Bee Institute have asked that residents near the affected penguin colony stop keeping beehives in their gardens. This is the second time that such an incident has occurred in the area near Cape Town recently, though the first instance was on a much smaller scale. One African penguin was found dead from bee stings on Friday in Fish Hoek, an area just to the north of Simon's Town.
Back in July, seven African penguins were found dead at the Florida Aquarium in Tampa. The initial necropsy results were inconclusive in determining their cause of death, and as of August, it still remained a mystery.
"The Florida Aquarium will leave no stone unturned in our efforts to understand this tragic course of events," Tim Binder, the aquarium's senior vice president of animal care and health, said. "Unfortunately, we may never know the cause of death."