Hong Kong Airport Closed: Flights Canceled until Tuesday as Protesters Occupy Terminal Building
All departing flights at Hong Kong International Airport have been canceled for the rest of Monday following a dramatic fourth day of protests at one of the world's busiest transport hubs.
The shutdown comes after 10 weeks of protests in the Chinese territory. The latest actions have targeted the police, whom protesters accuse of using excessive force over the weekend to quash demonstrators.
Hong Kong's airport authority said in a statement: "Other than departure flights that have completed the check-in process and the arrival flights already heading to Hong Kong, all other flights have been canceled for the rest of today," (via The Guardian).
All passengers have been advised not to travel to the airport and the cancellation period is due to expire at 6 a.m. on Tuesday. The BBC reported that the airport has effectively shut down while authorities consider their next move in tackling the crisis.
Hong Kong's police said that 5,000 activists have been occupying the airport's arrivals hall and departure area.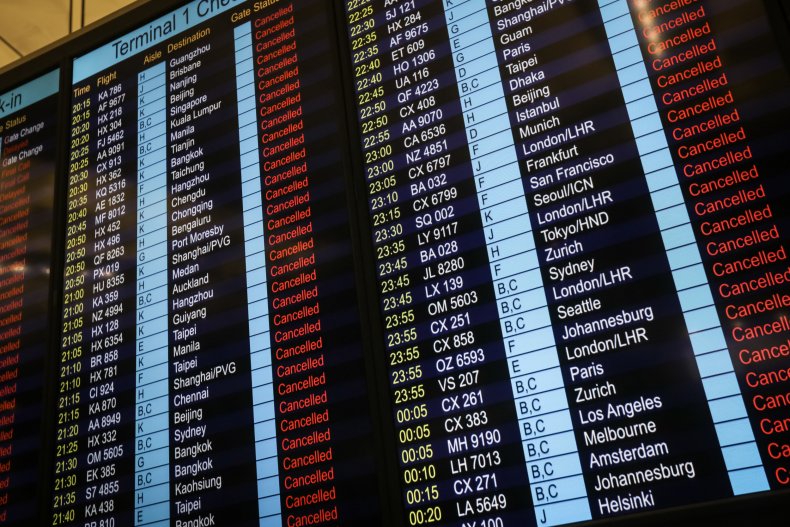 Protesters dressed in black T-shirts and masks had been handing out lists to arriving passengers alleging police violence.
On Sunday, there were clashes during a rally in the city's Victoria Park in which police used non-lethal bullets, the BBC reported, adding that petrol bombs and bricks were thrown at officers, who responded by charging at the protesters.
Widely shared footage included graphic images of a female protester who was shot in the eye and decoy officers dressed as protesters pinning a bleeding demonstrator to the ground.
Hilary Lo, who turned up to Monday's action, told the Guardian: "I just don't understand how people can tolerate that kind of police brutality. I feel like if I don't come out now, I can't come out ever."
"People are starting to realize the police are out of control, especially with what has happened in the past two weeks."
Man-Kei Tam, Director of Amnesty International Hong Kong said in a statement that police "once again" have used tear gas and rubber bullets in a way that has fallen short of international standards.
"Firing at retreating protesters in confined areas where they had little time to leave goes against the purported objective of dispersing a crowd.
"The Hong Kong police have once again demonstrated how not to police a protest. Violence directed at police does not give officers a green light to operate outside of international policing standards."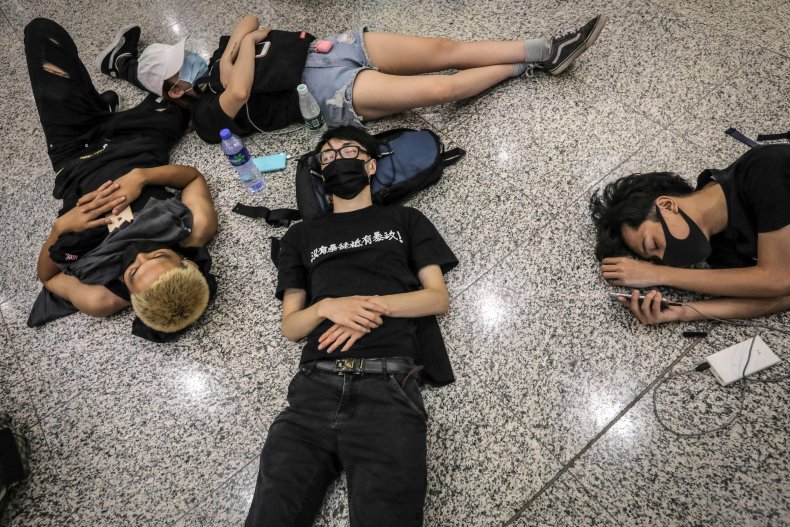 The protests were sparked by controversial changes to Hong Kong's extradition bill, now suspended, allowing residents to stand trial in mainland China on criminal charges.
Yang Guang, a spokesman for the Hong Kong and Macao Affairs Office of the State Council, said: "Hong Kong's radical demonstrators have repeatedly used extremely dangerous tools to attack police officers, which already constitutes a serious violent crime, and also shows the first signs of terrorism emerging.
"This wantonly tramples on Hong Kong's rule of law and social order," Guang said (via The Guardian).