Hong Kong Bars Draw Large Crowds As They Reopen For The First Time
People swarmed Hong Kong's Peel Street on Friday night as the city began relaxing shutdown measures imposed during the coronavirus outbreak.
Hong Kong Chief Executive Carrie Lam announced on Tuesday that bars, gyms, beauty parlors, cinemas and other entertainment venues would be allowed to open starting May 8. Lam also said that secondary school students could return to class May 27.
While bars can begin reopening, they must operate at half capacity, and live performances will be banned. The limit on four people gathering in public and eating together at restaurants was increased to eight.
However, in posts on various social media outlets, crowds are seen gathering in large groups in the city's entertainment district.
After a monthlong shutdown, bars in Hong Kong anticipated reopening with half-price offers, early happy hours and unlimited drink deals. Because of the city's mandatory shutdown, which went into effect April 3, 1,200 businesses were closed.
Allan Zeman, the Lan Kwai Fong Group's chairman and the largest landlord in the Lan Kwai Fong nightlife district, expected a big turnout on the first night. "At the beginning, it will probably get many people wanting to come out, because many people have been starved for some social entertainment," Zeman told the South China Morning Post.
But some business owners are more concerned about the public's acceptance of the reopening measures than with the government's orders. Ravi Beryar, an operations director for a bar in Lan Kwai Fong, highlighted these worries.
"It's not only about whether the government is putting restrictions on us. It's also about when the public will feel safe again to come out again to the Lan Kwai Fong area," he told the Post.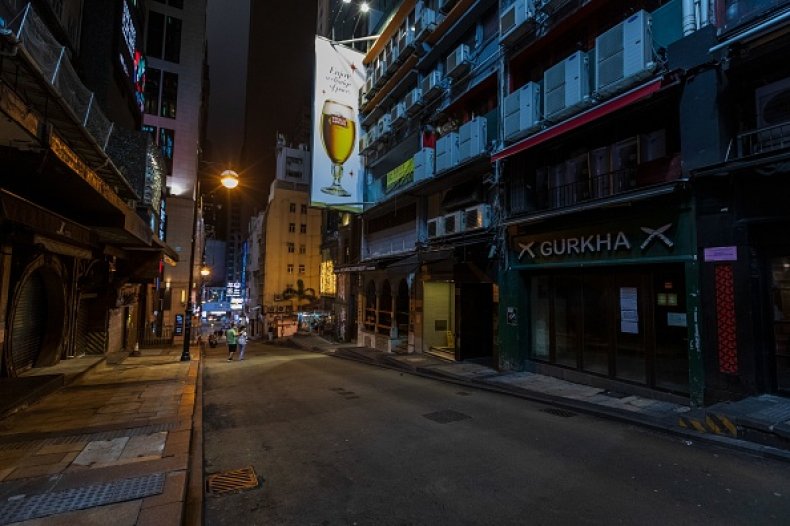 Hong Kong is recovering from its second wave of the coronavirus pandemic. After a decrease in reported cases, the city saw a second spike of new infections in late February.
A week after the first cases of the virus were reported in Hong Kong, the city closed its borders and implemented strict lockdown measures. After the second wave began, the government barred nonresidents from entering the city and imposed a quarantine, complete with electronic location–tracking bracelets.
The city's quick action may be the result of memories of the SARS outbreak, which devastated Hong Kong in 2003.
The city has reported 1,044 reported cases of the coronavirus and four deaths. Hong Kong has not reported any locally transmitted cases for 19 consecutive days.