Donald Trump Must Clamp Down on China's Interference in Hong Kong, Lawmaker Says
Thousands of police in Hong Kong were deployed to quell protests against a law criminalizing the ridicule of China's national anthem as concerns grow that Beijing is tightening its control over the semi-autonomous territory.
Riot police gathered around the Legislative Council on Wednesday while the law had its second reading which, if passed, could mean a jail sentence and a fine of up to 50,000 Hong Kong dollars ($6,449) for anyone who misuses or insults China's national anthem, the BBC reported. Officers fired pepper pellets and made around 300 arrests in several locations.
It comes only days after unrest was sparked by a national security law which China's ruling Communist Party is seeking to impose. Critics fear the law could spell an end to the "one country, two systems" framework in place since the 1997 British transfer of Hong Kong's sovereignty that gave it a high degree of autonomy.
Hong Kong's Chief Executive Carrie Lam denies the security law will curtail the rights of Hong Kongers.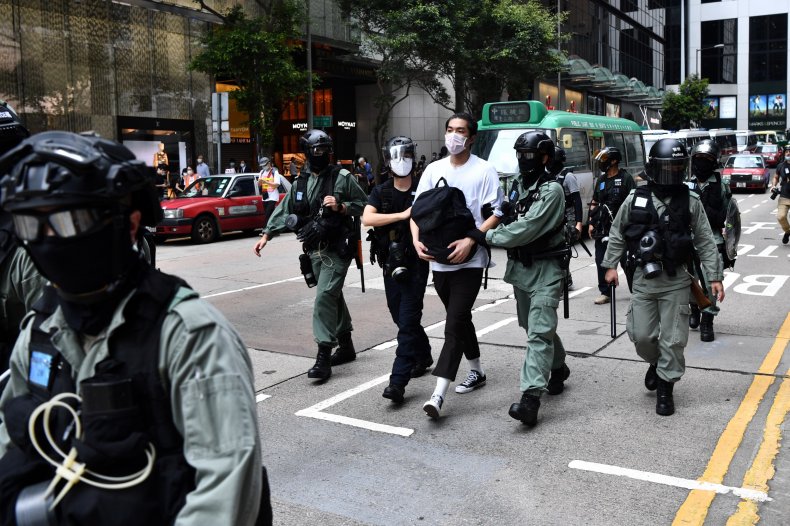 One pro-democracy lawmaker in Hong Kong has said that pressure from the U.S. against China is key to their cause.
"Maybe if a decision from Donald Trump is made concerning sanctions or other measures against China, that may release some of the political pressure from the protesters' side," Eddie Chu Hoi-dick told Newsweek.
"Hong Kong people are not able to win this fight on our own and so we seek support from different countries of the world," he said, adding, "the U.S. has held an interest in preserving Hong Kong's status quo."
"I think it is just a matter of time that something serious will happen and what that will do to the whole movement and international reaction to that is something that is not clear for now.
"There is always the danger it will become out of control as protests around the world are when they are violently suppressed by the government," Hoi-dick said.
For his part, President Donald Trump hinted at action from the U.S. government when he was asked at a White House news briefing if he planned sanctions against China, saying on Tuesday, "We're doing something now. I think you'll find it very interesting."
White House Press Secretary Kayleigh McEnany said Trump finds it hard to see "how Hong Kong can remain a financial hub if China takes over."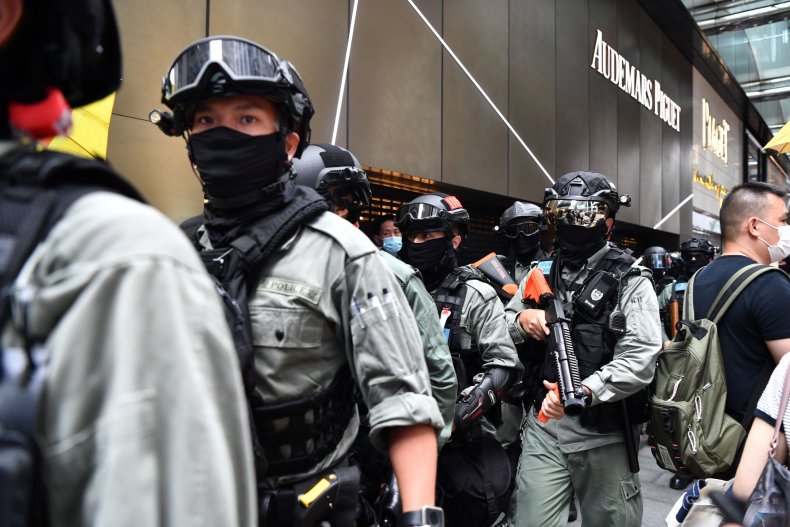 Opponents of the national anthem law have been fighting against it for more than a year and protesters have used its second reading as a chance to oppose the security law which would ban "treason, sedition, secession and subversion" and is expected to be rubber stamped by China's National Party Congress (NPC).
Chu says both laws are "the two sides of the same coin" and are viewed as part of one overall move from Beijing to exert control.
"That struggle against this national anthem ordinance has triggered a chain reaction from Beijing and one of the results is the national security ordinance."
The next flash point could be June 4, when commemorations are expected to be held around Hong Kong marking the anniversary of the 1989 Tiananmen Square massacre.
Kindling the tensions is the cancellation of an annual candlelight vigil in Victoria Park that attracts tens of thousands of people, but which has in effect been banned after authorities announced COVID-19 restrictions on mass gatherings, The Guardian reported.
Director of the British-based non-governmental organization, Hong Kong Watch, Johnny Patterson, said a worrying development was the actions that police have taken towards peaceful protesters.
"I think the police are increasing the cost of protesting for the moderates," he told Newsweek.
"There will be a ramping up of protests but the police have been given a license to crack down on protesters so we don't have the right to peaceful assembly in any meaningful way in Hong Kong at the moment. Whether or not protests are on the same scale as in the past remains to be seen."
"What is happening now is qualitatively different to last year because the national security bill is so much worse.
"For many people the big thing is to be looking at what Beijing is doing and what is happening at the NPC is more important than what is happening in the streets of Hong Kong.
"They will protest but my hunch is that the protests will be ignored," Patterson said.
The international community is closely watching whether the simmering tensions in the economic hub will follow the playbook of protests last year which followed a bill that was later scrapped which proposed allowing criminal suspects be extradited to China.
Eric Cheung, principal law lecturer at Hong Kong University said the current security law as proposed, could in effect do the same thing.
"It seems that logically if you allow a central government agency to execute law in Hong Kong, they will not subject themselves to the jurisdiction of the Hong Kong court and they may even be given the power to send the person charged with these offences back to the mainland for trial or even set up some special trial court procedure," Cheung told Newsweek.
Meanwhile, former U.K foreign secretary Sir Malcolm Rifkind, who was in government in 1997 just before the handover of Hong Kong, said last week that there needed to be an international response, telling Newsweek that "Britain by itself isn't going to change the whole scene."
"It needs the United States, Europe and the Asian countries as well to express their solidarity with the people of Hong Kong."
Newsweek has contacted the White House for comment.