Hong Kong Demonstrations Turn Violent as Protesters & Police Clash for 12th Straight Week
After a short period of uneasy peace, protests in Hong Kong turned violent on Saturday, as protesters threw bricks and gasoline bombs at the police, who responded with tear gas. For the first time in nearly two weeks, chaotic and aggressive scenes — with tens of thousands of protests — erupted during the summer-long pro-democracy protests.
On the 12th straight weekend of protests, black-clad demonstrators protested Chinese government surveillance armed with bamboo poles and baseball bats. They marched against "smart lamp posts" that was sparked by surveillance fears.
"I understand being peaceful will not solve the problem," a 19-year-old student protester called Ryan told the AFP news agency on Saturday. "The government won't respond to peaceful protest," he said.
The key theme of this particular march was to oppose the government's installation of smart lamp posts equipped with sensors, closed-circuit cameras and data networks. The government said the lamp posts would only collect air quality, traffic and weather data, although many at the protests said they had worn masks, and generally covered up out of privacy concerns around facial recognition technology.
"Oppose surveillance, save Hong Kong!" shouted some, while others cried: "Free Hong Kong!" and "Reclaim Hong Kong, revolution of our era!"
Saturday's rally — in Kowloon's Kwun Tong district — was sanctioned by the police, but many demonstrators still covered their faces with medical masks and many wore balaclava-style scarves and dark glasses covered with tin foil.
Saturday afternoon, hundreds of officers charged at the protesters, throwing tear gas and beating them as they fled.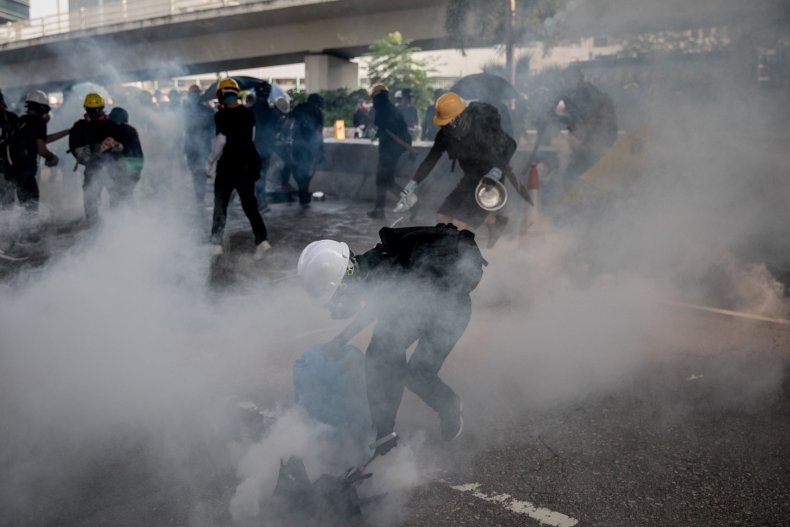 The chaotic scenes unfolded outside a police station and a nearby shopping mall, as officers in riot gear faced off with protesters who set up makeshift street barricades.
"We feel unsafe, that's why we have to speak up," said Harry Yip told The Guardian on Saturday. Yip is a school leaver, who said he wore a hat, reflective dark glasses and a black scarf over his face to avoid government surveillance.
Saturday's violence came shortly after a worker at the UK consulate in Hong Kong was released by mainland China. Simon Cheng went missing on August 8 after being held at the border during a business trip to the city but has now returned to Hong Kong. China's foreign ministry said Cheng was detained for 15 days for violating public security laws.
The protests that started in June were sparked by a now-suspended extradition bill that would have allowed Hong Kong to send criminal suspects to China for trial. The movement has grown to more broadly to pressure the Hong Kong government into responding to protesters' political demands for the free election of Hong Kong's leaders and legislature.