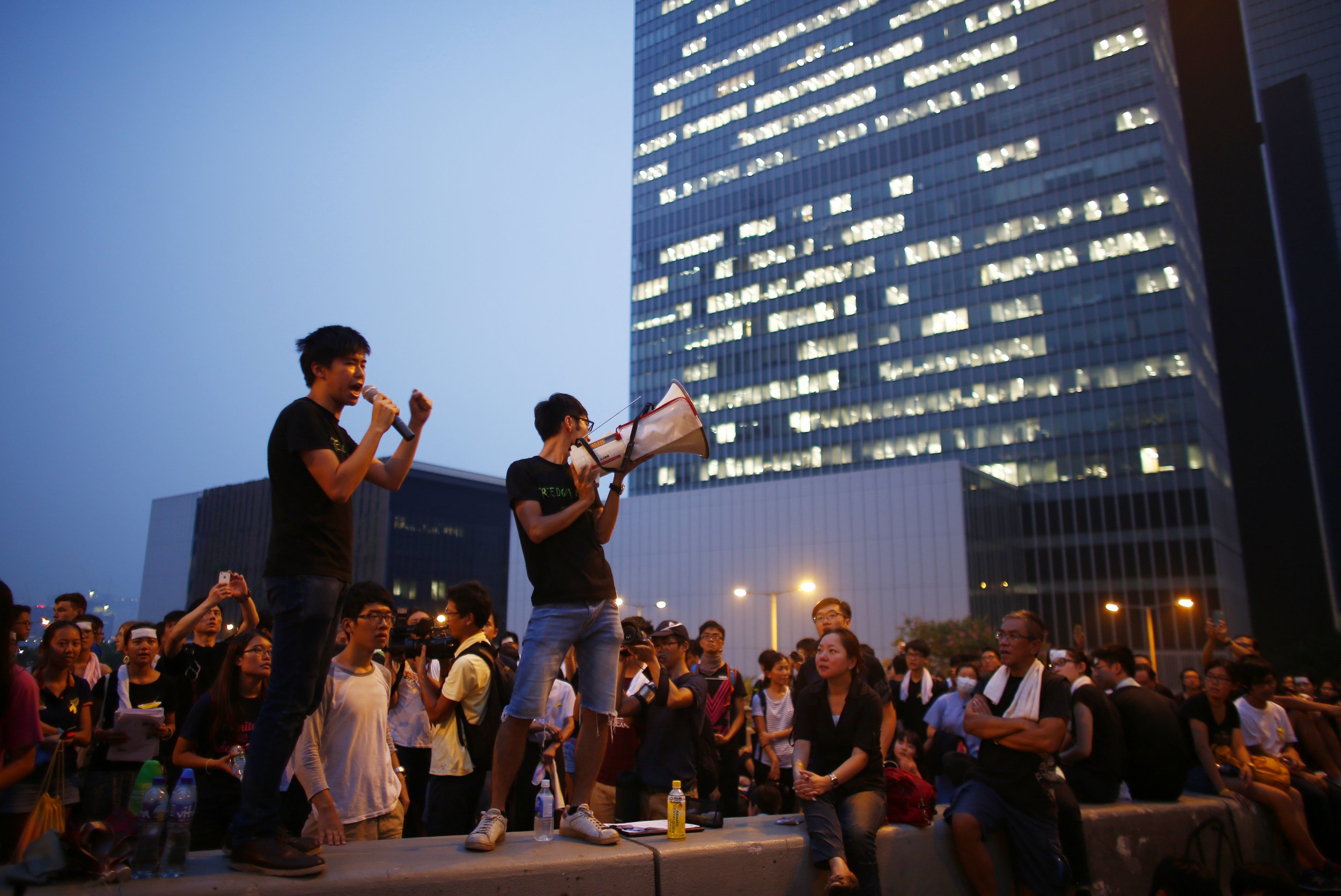 Pro-democracy demonstrators have continued to occupy a long section of the main road outside Hong Kong's government headquarters, in defiance of a renewed call from the city's cheif executive, Leung Chun-Ying, for them to end their protest. Crowds also blocked several other key road junctions in the city, their numbers increasing through the afternoon ahead of the October 1st public holiday in the city for China's National Day – at least until evening rains dampened the enthusiasm of some.
University student representatives and organizers of the Occupy Central movement repeated their demand for Leung to step down, and called on crowds to come out in even greater force on the National Day holiday to send a strong message to him, and Beijing. Founders of the high school student movement Scholarism, meanwhile, said they would attempt to attend Wednesday's National Day flag raising ceremony, wearing the protest movement's trademark yellow ribbons, and dressed in white, the Chinese colour of mourning.
Earlier, in his weekly press conference, Leung made his first detailed comments on the protests, which have grown rapidly since the weekend's detentions and tear-gassing of protesters. He rejected protesters' demands for changes to the rules for the city's first direct leadership election in 2017 – which the demonstrators say will prevent liberal, pro-democracy candidates from running – and also suggested he would not stand down before those elections.
However, Leung's tone was more conciliatory than in his previous remarks on Sunday. While calling for an end to the protests, he denied rumours that the Chinese army might be sent in to clear the streets – and suggested that the demonstrations might continue for "a relatively long time". He also stressed that police were trying to protect the demonstrators too, noting that they had swiftly arrested a driver who drove his car into a group of protesters on Monday night.
Outside government headquarters, uniformed police stood well back behind barricades, allowing the protesters to consolidate their control of the nearby streets. Students with loud-hailers directed people to different parts of the area, while others distributed bottles of water, and the cling-film and face masks which many have used to protect themselves against tear-gas. Some young people walked through the crowds handing out snacks, while volunteers tidied rubbish into sacks. Doctors and nurses on their day off, meanwhile, manned first aid stations.
An increasing number of non-students have now joined the protests. Shirley, an editor in her 40s, was picking up litter from the street with a stick close to government HQ. "I can't stay out on the streets all night like these young people," she said, "but I want to show my support. We need to fight for our future." And she added that maintaining order was important, to show the world – and China – that the protesters were "good citizens".
Certainly some visitors from mainland China seemed impressed with the orderly atmosphere. One 19-year-old student, who had come along with her Hong Kong classmates, said she admired their discipline. Another man, who had come across the border from Guangdong province to see the protests for himself, took to a microphone at a street-corner debate to tell the locals how impressed he was by "how peaceful the crowds had been". It was important for Hong Kong to have a real election, he added, and he hoped that this could help change China itself in the future.
Nearby one of a group of design students painting the protest movement's umbrella symbol on the street, stressed that Hong Kong people were fighting partly to defend their unique values, including a sense of "civic responsibility".
Not everyone was happy with the protesters – in the normally busy shopping area of Causeway Bay, some storekeepers came out to ask students to leave so that business could return to normal. In Mongkok, another protest area, an angry middle-aged man barged into a crowd of student organizers and began shouting at them, before eventually being ushered away. The students were quick to appeal to the watching crowds for calm, however, and signs on the wall nearby called on demonstrators not to be incited to violence – a reminder that despite the generally relaxed mood, there are continuing fears of infiltration, and of trouble breaking out which China might seize on for propaganda purposes.
Protest leaders sought to show goodwill by pledging to allow ambulances through the barricades after officials warned that the emergency services were often being delayed. But student leader Agnes Chow reiterated calls for more people to come out on National Day, whatever the weather, to stake their own claim to China's patriotic holiday, and to add to pressure on Mr Leung to step down - as posters around the city now demand.
The protests have already claimed one victim: the annual official National Day firework display around Hong Kong's Victoria Harbour. "I'm glad they've cancelled the fireworks – I don't like them," said one student. Many demonstrators say they do not necessarily expect significant further victories, but their determination to continue their protests is evident. "If we do nothing there's no hope – if you do something there's still hope," said an 18-year-old design student. "You have to do your best."