Hong Kong Chief Executive Carrie Lam praised the behavior of peaceful demonstrations, while condemning those that stormed the legislature Monday in opposition of the government.
"Nothing is more important than the rule of law in Hong Kong and I hope the community at large will agree with us, with these violent acts we have seen, it is right for us to condemn it and we hope society will return to normal as soon as possible," Lam told a 4 a.m. press conference.
Lam warned that those who broke into the Legislative Council headquarters and defaced the building were guilty of "extreme violence and vandalism" and could face criminal charges, some of which were then read out by Security Secretary John Lee. He accused some protesters of using poisonous powders against police trying to break up the demonstrations.
Lam's remarks coincided with mass protests on the 22nd anniversary of Hong Kong's handover from the United Kingdom to China. The city was granted the status of a special administrative region in 1997, giving it limited self-control from the ruling Chinese Communist Party in Beijing, but lines of governance were challenged by recent legislation that proved controversial among many of the city's 7 million residents.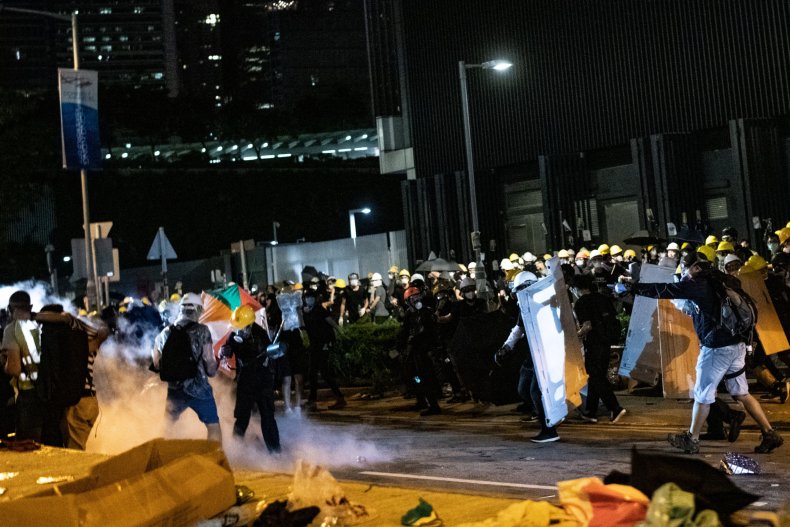 Recent unrest first erupted in Hong Kong in late March after the local government proposed a bill that would allow the extradition of suspected criminals from the autonomous city to mainland China. Demonstrations swelled until reaching what organizers claimed was up to 1 million people earlier this month, though BBC News quoted local police as putting the number at 240,000.
The proposed legislation was shelved last month, but not fully withdrawn. Lam said on Tuesday morning that the legislation "will die" in 2020 at the end of the Legislative Council's term.
But the handling of the matter, and reports of police violence, failed to assuage anti-government groups who have also called for Lam's resignation. On Monday, in their most aggressive action yet, a smaller group of protesters stormed the Legislative Council building, with some standing on the desks of lawmakers and even waving flags of the U.K.⁠—a reminder of the city's colonial past.
Despite having severed administrative ties with the city, London has remained active in offering political backing to pro-democracy groups there. U.K. Foreign Minister Jeremy Hunt said Monday on Twitter Monday that "UK support for Hong Kong and its freedoms is UNWAVERING on this anniversary day."
Responding to reports of security forces cracking down on gatherings, he continued: "No violence is acceptable but HK people MUST preserve right to peaceful protest exercised within the law, as hundreds of thousands of brave people showed today."
Earlier that same day, Chinese Foreign Ministry spokesperson Geng Shuang warned "that China deplores and strongly rejects the frequent British interference in and criticism of Hong Kong affairs recently" in response to previous statements by Hunt. Geng added: "We advise the UK to know its place, stop meddling in Hong Kong affairs in any form and do more for its prosperity and stability rather than the opposite."