Hong Kong's 'Lennon Walls': Protesters Clash Over Street Art as Violence Continues
What began as civil protests in Hong Kong, symbolized by protesters' standing calmly under black umbrellas, have taken a violent turn in recent weeks. On Saturday, pro-Chinese groups set out to destroy monuments to the protests' peaceful roots, tearing down more than 70 "Lennon Walls" as claims of violence escalated on both sides.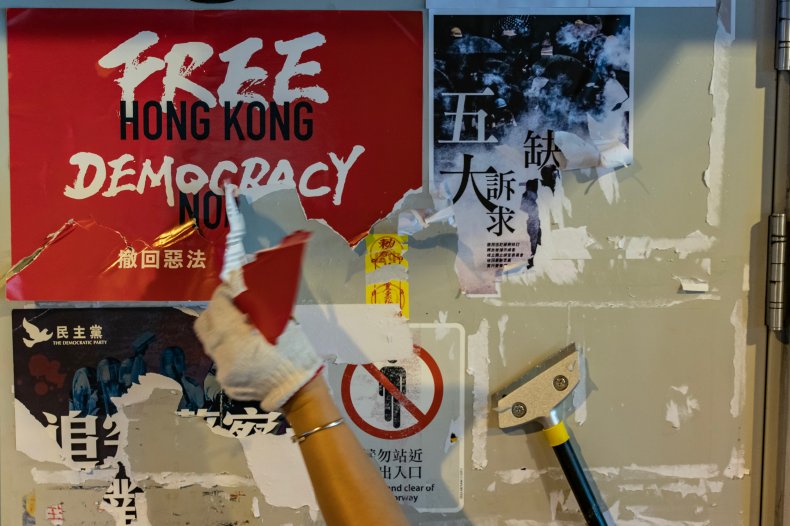 Activity centered on the western edge of the peninsula Saturday, where protesters took down, trampled and burned a Chinese flag outside the town hall in Tuen Mun, according to reports by British newspaper The Guardian. Later, some brandished weapons including metal rods, slingshots and laser pointers they allegedly aimed at officers' eyes. A few went so far as throwing Molotov cocktails, according police reports.
As of September 19, more than 1,300 Hong Kongers had been arrested in the course of the protests, according to Amnesty International, which issued a report denouncing excessive use of force by police in Hong Kong and treatment of detained protesters that it said amounted to "torture."
As protests have dragged on since March, 77 mosaics of comprised of posters, flyers and Post-it notes have sprung up across public spaces in Hong Kong, bearing slogans that reiterate the protesters' calls for democracy and denunciations of China's efforts to bring the former British colony to heel. The ephemeral monuments are called "Lennon Walls" after a similarly political street art mural that appeared in Prague, Czech Republic in 1980 commemorating Beatles frontman John Lennon. The piece was an act of defiance, as the country's Communist regime opposed Western cultural influence.
Using the tagline "Man Up! Sign Up! Clean Up!" Hong Kong legislator Junius Ho put out a call on Facebook for volunteers to begin dismantling the Lennon Walls Saturday.
According to Facebook's translation of the post, Ho wanted "The people of the districts of Hong Kong to cheer up, starting from September (Saturday) to make good environmental hygiene, tear up the trash that affects the city and clean the walls. At the same time, people should also wash them and improve the walls, the environment!"
Volunteer teams and pro-Chinese counter-protesters set about the task as media outlets looked on and chagrined protesters vowed to recreate the walls. Some drew comparisons between Hong Kong's pro-Chinese factions and fascist regimes.
Earlier this month, Hong Kong Chief Administrator Carrie Lam withdrew the extradition bill that first set off the unrest in Hong Kong more than five months ago. The move came too late, though, and rather than abating, protesters now call for Lam to resign, an investigation into police brutality allegations, the release of detained protesters and increased democratic freedoms.