Hong Kong Officers Use Bread to Lure Wild Boars for Euthanization Amid Increase in Attacks
Frustrated by an increase in wild boar attacks, officials in Hong Kong used bread to lure and trap some of the animals for euthanization in a district close to the city's financial center, the Associated Press reported. Experts were able to capture seven wild boars with dart guns Wednesday night and put them down with injections, according to the Agriculture, Fisheries and Conservation Department.
Wild boars can be seen frequently along Hong Kong's hiking trails. People often defy orders from authorities to forgo feeding them because they can gather in large groups and pass along diseases, the AP reported.
Attacks by wild boars have also become an increasingly common issue. In an attack last week, a wild boar knocked down a police officer and bit his leg last week before the animal fell from a residential car park and died.
Though Hong Kong authorities have attempted to naturally cut down and disperse the boar population through sterilization and relocation, the Agriculture, Fisheries and Conservation Department said it "could not effectively control the wild pig nuisance."
"A large group of wild pigs continued to wander and gather at the site, posing threats to members of the public and road users," a statement from the department read.
Since the attack on the police officer, Hong Kong Chief Executive Carrie Lam has cautioned that the city could impose more severe penalties against people who continue to feed the boars.
"I understand that a lot of Hong Kong people love the wetlands and nature. However, we also need to protect public safety," Lam said earlier this week during a news conference.
"There were about 30 cases of wild boars attacking humans, we can't simply sit on our hands while things deteriorate," she added.
Government data indicates that there are roughly 3,000 wild boars in Hong Kong. They are not a protected species, NBC News reported.
For more reporting from the Associated Press, see below.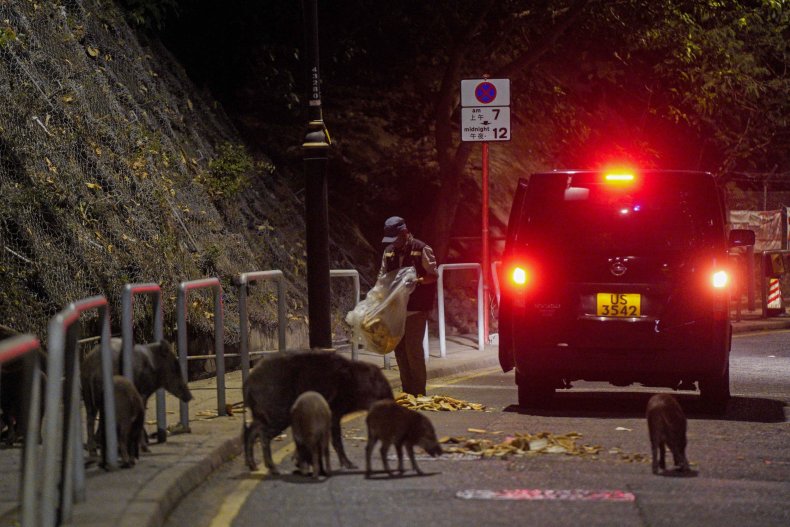 Philanthropic group ADM Capital Foundation, the Hong Kong Veterinary Association and other animal rights organizations have since sent an open letter to the government criticizing its shift in policy to kill the boars.
"Our concern is that the current culling activity appears to be reactive and the deployment of alternative, humane and sustainable options have not been fully exhausted or satisfactorily addressed," said Christie Wong, a court monitor for ADM Capital Foundation and former veterinary nurse.
"Hong Kong needs legislative reform to tackle the current gaps in existing laws, so that wildlife feeding is an illegal activity without ambiguity, penalties are severe and can be enforced effectively," she said.
A petition by groups including Hong Kong Animal Post and Hong Kong Wild Boar Concern Group said that the measures announced by the agriculture department to regularly capture and put down wild boars "ignores their right to live and considers their existence in urban areas as a capital offense. This approach is extremely unreasonable and contradicts previous animal management policy principles."