Hong Kong Official Likely Out of Job After Violating COVID Protocols to Attend Party
Senior cabinet member Home Affairs Secretary Caspar Tsui Ying-wai is suspended from duty and was ordered into quarantine after attending Witman Hung Wai-man's birthday party on January 3, where two guests tested positive for COVID-19.
Tsui was photographed at Hung's birthday party, where many of the attendees did not wear masks. The photo showed Hung singing into a microphone and having his arm around Election Committee member Ellen Tsang Fung-chu, according to The Standard.
Tsui was among 15 government officials to attend the party, The Standard reported. Among those who attended were Director of Immigration of Hong Kong Au Ka-wang and political assistant of the Development Bureau Allen Fung Ying-lun, both of whom were allowed to return to work on January 25.
Jack Chan Jick-chi, Tsui's deputy, returned to work on January 24 and will fill Tsui's position until he returns on February 4. Eleven other officials we had false positives also returned to work Monday, according to The Standard.
According to the South China Morning Post, Tsui was expected to vacate his position, which Hong Kong leader Carrie Lam pushed for; however, she received pushback from Tsui's party, the Democratic Alliance for the Betterment and Progress of Hong Kong (DAB) and several pro-establishment figures who wanted to save Tsui from a disgraceful exit.
Lam required those who attended the party to complete 21 days of quarantine and self-monitoring, then take a COVID-19 test which must be negative before they are allowed to resume duty, according to The Standard.
Those who attended the party received calls and emails asking for the reason of attending, The Standard reported. Most officials said the party was attended for "official reasons." Lam said the government is investigating all attendees.
According to Bloomberg, Tsui repeatedly apologized via a Facebook post on January 10, saying, "I will take responsibility for my wrong behavior. I will follow the restrictions to get quarantined. I will also learn from this and not make this mistake again."
"The Secretary for Home Affairs is an official whom we will have to look into very deeply because of various aspects," Lam said, according to the Associated Press.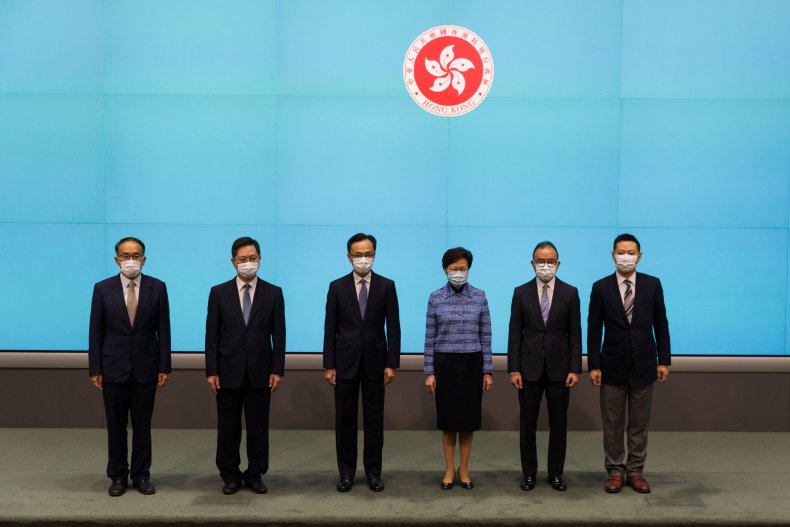 Hong Kong expanded its partial lockdown and tightened restrictions on January 25 after more than 200 cases were found at a residential block in the Kwai Chung housing complex. The complex will be locked down for five days, and the residential block where the outbreak originated has been expanded to seven days, according to the AP.
Schools have remained closed, and restaurants are not permitted to offer dine-in after 6 p.m. Hong Kong suspended many overseas flights and requires those who arrive to quarantine, like China's strict regulations and restrictions.
Across the border in mainland China, the city of Shenzhen has also tightened rules and restrictions for those arriving from Hong Kong. As of Wednesday, travelers from Hong Kong must show negative COVID-19 tests within the previous 24 hours, must undergo 14 days of quarantine at a government-designated location and must isolate for seven more days at home, according to the AP.