Hong Kong Orders All 7.5 Million Residents Tested for COVID Amid Outbreak
All of Hong Kong's population of 7.5 million people will be required to undergo COVID-19 testing in March, Hong Kong Chief Executive Carrie Lam said Tuesday.
The order comes as the city contends with its worst Omicron variant-driven outbreak. About 5,000 new infections have been reported a day since February 15, the Associated Press reported.
Lam said that the city's population will have to be tested three times in March, and testing capacity will be increased to 1 million or more a day.
"Since we have a population of some 7 million people, testing will take about seven days," she said.
The compulsory testing is Hong Kong's latest move aimed at containing the outbreak that is threatening to overwhelm the city's hospitals. Authorities from the Chinese mainland also deployed epidemiologists, health workers, and other medical resources to the city last week, the AP reported.
While some countries are beginning to work toward reaching the endemic phase, or when people can live with the virus rather than completely eradicating it, Hong Kong is largely employing China's "zero-COVID-19" policy.
Unlike the endemic phase, the policy is aimed at fully eliminating the virus using tough measures like enacting strict quarantine requirements for travelers, ordering businesses to close doors, and imposing lockdowns on residential estates for mass testing when cases are found, per the AP.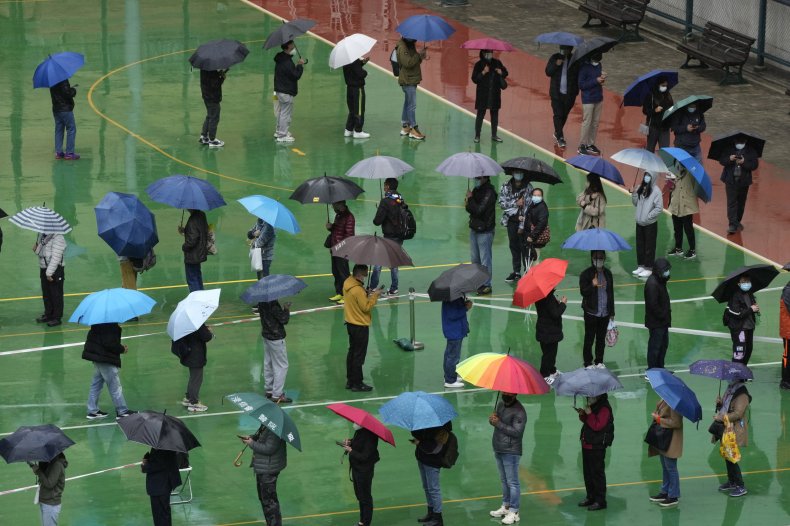 The semi-autonomous Chinese city's current surge commenced at the beginning of the year as Hong Kong documented almost 54,000 infections and 145 fatalities as a result.
People in Hong Kong who test positive for COVID-19 must either be admitted to a hospital or a quarantine facility, and health officials said last week that isolation facilities were full and hospitals were at 90 percent capacity.
Lam said Tuesday that the city was "working very hard" to build more of the quarantine facilities after calling them "severely inadequate."
While some parts of mainland China have seen entire cities put on lockdowns, Lam said that imposing a similar measure in Hong Kong is "not realistic" and not under consideration.
The new testing measure will add to Hong Kong's already strict COVID guidelines, including flight bans from certain countries and a prohibition on eating at restaurants after 6 p.m., which will be extended until April 20, according to the AP.
"This is not good news to the sectors affected, but really at this stage of the pandemic we have no choice but to take these measures," Lam said.
The school year in Hong Kong will also conclude early and the usual summer break period will be moved up from July through August to March and April so that school can be used for testing, quarantining and vaccination facilities, the AP reported.
Update 2/22/22, 10:15 a.m. ET: This story has been updated with additional information and background.