Hong Kong Police Arrest Man After Passerby Sees 'Liberate' Banner on His Drying Rack
Hong Kong police arrested a 40-year-old man after a passerby saw a pro-Democracy protest banner on his drying rack and reported it to authorities.
The unnamed passerby called police at around 2 p.m. local time on Monday after seeing a "Liberate Hong Kong; revolution of our times" banner, popularized in the 2019 anti-government protests, hanging outside an apartment in the residential district of Mong Kok, according to the South China Morning Post.
The banner's slogan is banned under the region's national security law as officials consider it to support Hong Kong independence.
At around 5 p.m., nearly two dozen cops arrived at the apartment building and instructed people to return to their houses. They confiscated the banner and entered the man's apartment, where they arrested him for espousing seditious remarks.
When the British returned Hong Kong to China in 1997, Beijing touted an arrangement called "One County, Two Systems," under which the territory would be allowed to retain a high degree of autonomy and self-governance. The mainland promised the region universal suffrage, but two decades later, while its pseudo-democratic system allows citizens the right to vote, the list of candidates is still approved by China.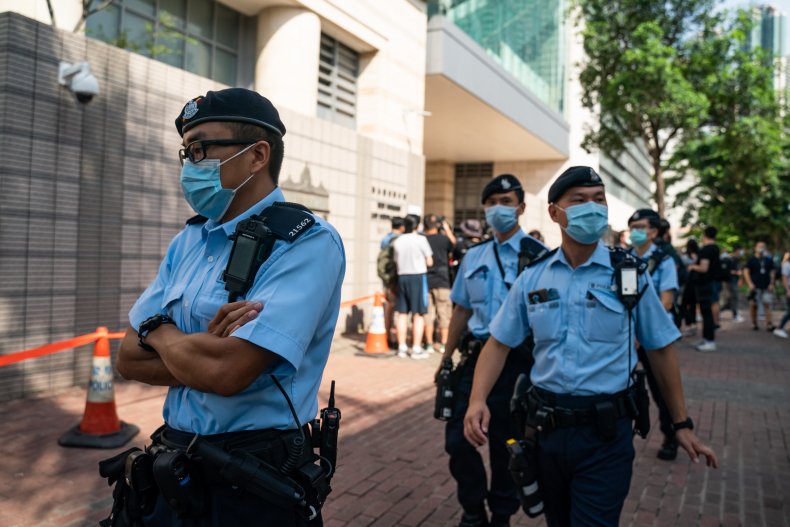 Individual rights and freedoms have disappeared in Hong Kong since China imposed a wide-ranging national security law in response to the 2019 protests, which has made it easier for officials to silence protesters.
The law was drafted in September 2019, but came into effect June 30, 2020 after countless violent clashes between police and activists involving live bullets and petrol bombs. It criminalizes secession, subversion, terrorism, as well as collusion with foreign or external forces.
Last year, members of the Human Rights Watch told Newsweek that the new security law marked the end of the semi-autonomous region.
"These restrictions on so many different fundamental freedoms and values would alter our way of life. It would impact, for example, media freedom, the free press, the ability of civil society to exist," said HRW Senior Researcher Maya Wang.
HRW China Director Sophie Richardson said the law's introduction "manifestly marks the end of any pretense that the central government in Beijing is going to respect norms, practices or binding international treaties in Hong Kong."
The ruling-Chinese Communist Party argues that such laws are necessary to protect Beijing's sovereignty from outside bodies seeking to undermine it. The government of Hong Kong has previously attempted to enact similar legislation—including one in 2003 that would've allowed police to execute searches without a warrant—but could never get any passed because they were wildly unpopular.
Newsweek reached out to the Chinese Embassy in Washington D.C. for comment. This story will be updated with any response.