As Hong Kong Protests Escalate, American Study Abroad Students Arrive in China's Troubled City
Protests in Hong Kong continue, but most American study aboard students were undeterred. When given the option to stay, many students chose to continue with their plans to venture to China's troubled city.
Demonstrations in Hong Kong started out as peaceful displays of opposition to a proposed law that would give China the power to extradite people who were accused of a crime. The bill was shelved and in the past 10 weeks, protests have morphed into a call for increased democracy and police accountability.
While largely remaining peaceful, protesters have had violent clashes with police and shut down Hong Kong's international airport on Monday and Tuesday. As tensions escalate, the Department of State issued a travel advisory, cautioning Americans to avoid areas where people are demonstrating. A piece of advice at least one college also gave to students.
"Hopefully things will calm down soon, but students have been told to avoid political demonstrations," Hobart and William Smith Colleges Dean of Global Education Tom D'Agostino told Newsweek. "I was 20 years old at one time and I know that would have been something that would have been really interesting to me, but even if you're on the fringe and just want to observe things, demonstrations are unpredictable."
Princeton Review recently ranked Hobart and William Smith Colleges one of the top schools for study abroad. This year, the private Geneva, New York, college has four students studying in Hong Kong. One student had her flight canceled on Tuesday, but was able to get it rescheduled. Another student thought about putting off his arrival to see how the situation developed, which the school supported, but ultimately decided to take his scheduled flight.
"We want them to go—we're not canceling our program—but at the end of the day our responsibility is to take all the information we have, give it to our students and their families, and they need to be comfortable with their decision," D'Agostino said.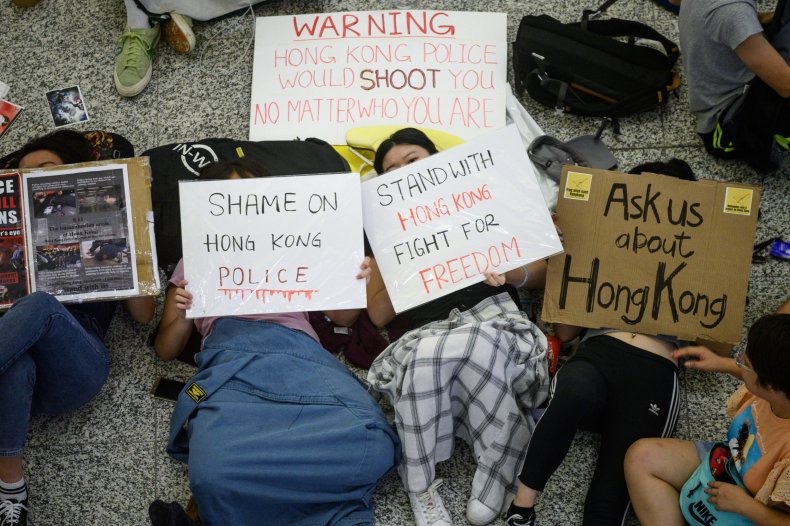 Start dates vary on a program-by-program basis and some students won't board a flight for several weeks. However, others, including those in Syracuse University's program, have already started orientation.
Similarly to Hobart and William Smith Colleges students, Syracuse offered students an opportunity to cancel, defer or embark on a different study abroad program.
"Of the 41 students enrolled in this program, only three chose not to attend the Hong Kong semester," Sarah Scalese, Syracuse's senior vice president for communications, told Newsweek.
Student safety is a top priority for Syracuse and Scalese was confident students in the Hong Kong program would once again have a "distinctive global learning experience" as hundreds of others did before them.
American University in Washington, D.C., and Goucher College, the top school for study abroad according to the Princeton Review, both have programs for students to study in Hong Kong. While they're monitoring the situation and Goucher said they have international insurance that covers evacuation if it's necessary, neither have decided to cancel due to the protests.
D'Agostino explained Hobart and Williams Smith relies on several mediums for information, including the State Department, other national governments and an independent safety and security organization. Although not a pleasant thought to have to consider, the school developed plans in the event that a significant danger was posed to students in a foreign country.
"Hong Kong is one of the safer places that we send students," D'Agostino said. "In terms of safety, generally it's not a concern at all but it just goes to show at any place, at any time, you have to be prepared for these things."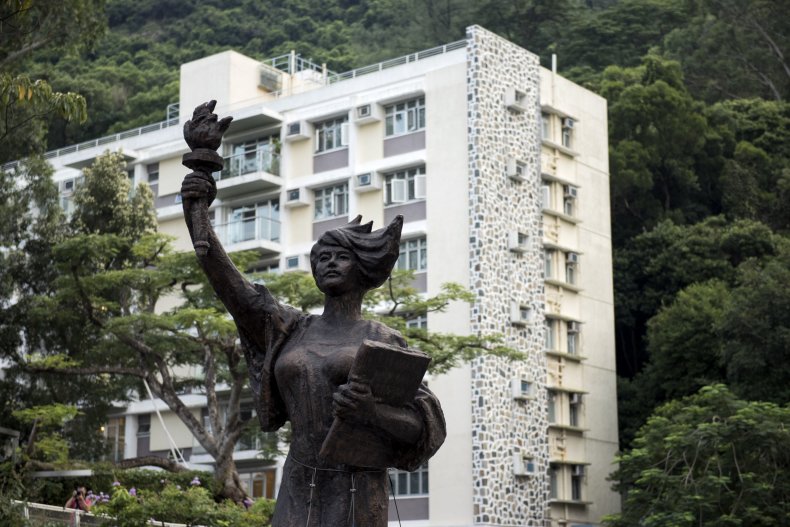 On Wednesday, police fired tear gas at protesters rallying outside a police station in Hong Kong's Sham Shui Po neighborhood. The State Department noted that protests have largely been peaceful, but warned that demonstrations have spilled over into neighborhoods and the recent movement of military vehicles raised additional concerns.
Satellite images showed what appeared to be military vehicles near the harbor separating Hong Kong from mainland China and government officials have repeatedly condemned the protests. Chinese State Council Hong Kong and Macau Affairs Office spokesperson Xu Luying characterized the demonstrations as "terrorist-like acts," adding that the behaviors showed an "extreme contempt for the rule of law."
Hong Kong, once a British colony, was returned to China in 1997, but the Special Administrative Region has its own currency, political system and cultural identity. Unlike in mainland China, enshrined in Hong Kong Basic Law is the right to freedom of speech, press and assembly.
In a few weeks, Rudy Lopez, a rising senior at San Jose State University (SJSU) in San Jose, California, will venture to Hong Kong to take courses at the City University of Hong Kong. Constantly scanning the news to ensure he's well-informed, Lopez told Newsweek that he's still excited about his upcoming experience.
"What's happening in Hong Kong at the moment will be ingrained in history forever and it will be captivating to witness it firsthand," Lopez said. "I was a journalism major before switching to [Public Relations] so naturally, I am drawn to situations like these but I will be smart about it and avoid putting myself in danger."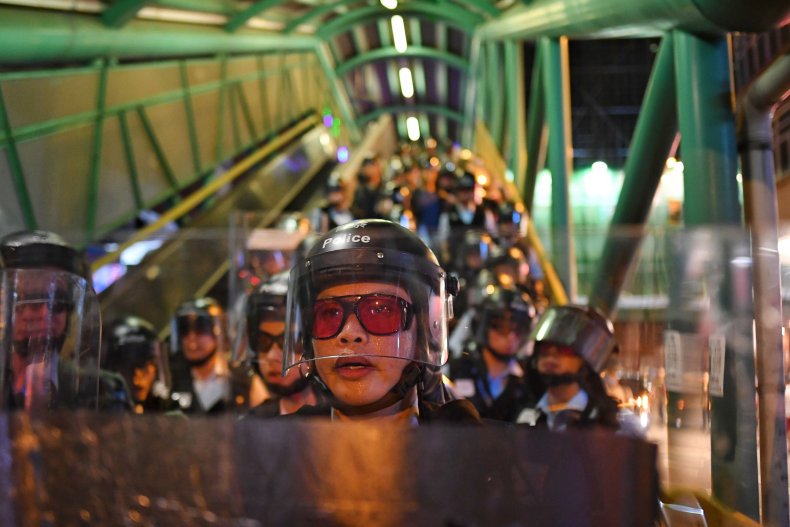 House Foreign Affairs Committee Chairman Eliot Engel and Ranking Member Michael McCaul cautioned the Chinese government against engaging in another brutal crackdown reminiscent of the massacre in Tiananmen Square in 1989.
"We urge China to avoid making such a mistake, which would be met with universal condemnation and swift consequences," the congressmen said.
Lopez had faith in SJSU's study abroad office, saying he felt they truly cared about their students and wouldn't send them to Hong Kong if they would be in danger. If students feel the situation is unsafe, Lopez said, they can withdraw from the program and enroll in classes back in California. However, presently, he didn't feel that was necessary.
Hong Kong is hardly the first study abroad location to experience a period of unrest and D'Agostino said the school is continually monitoring its 50 programs. In 2015, students were evacuated from Brussels in the wake of a series of coordinated terrorist attacks.
"It's not something we do lightly, but in that instance, we decided we would end our program and bring them home and we did," D'Agostino said.
As a parent himself, he recognized the school was responsible for other people's children, even if those children were technically adults. While there are ramifications for canceling a program, he noted they could all be dealt with and weren't worth risking a student's safety.
"Even when our students are halfway around the world, we don't lose sight of the fact that they are there," D'Agostino said.