The teenage Hong Kong protester shot during clashes with police on Tuesday has been charged with assaulting a police officer and rioting, which could see him jailed for more than a decade.
Tsang Chi-kin, an 18-year-old student, was shot in the chest while battling with a police officer earlier this week, as anti-government protesters marked China's National Day with mass demonstrations.
He was rushed to hospital in a critical condition, underwent surgery and was stabilized. Though he remains in hospital, police have already announced that they will charge Tsang with attacking police and rioting, the Associated Press reported.
Senior police officials have defended the officer who shot Tsang, arguing the action was taken in self-defense and that the officer feared for his life. Activists, however, have dismissed the explanation. They claim that police were the aggressors, citing video evidence showing the riot officers charging activists with batons and guns drawn.
Activists have also argued that the officer had space to retreat, but instead chose to shoot Tsang. Most of the other protesters fled at the sound of the shot. One stayed behind to help, but was quickly set upon and beaten by police.
Police have said the charges against Tsang would be filed on Thursday afternoon. It is not clear whether Tsang will appear in court.
The graphic below, provided by Statista, illustrates the demographic profile of protesters in Hong Kong.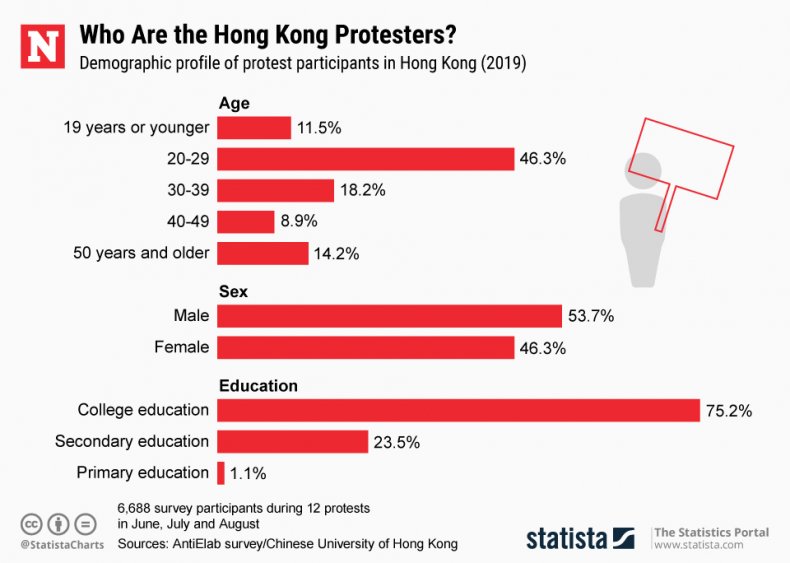 Hong Kong's rioting laws were introduced by the British colonial government in 1967, as part of its efforts to quell eight months of pro-communist rioting. The legislation passed into law in 1970.
The definition of rioting has been retained to this day. It defines a riot as an assembly where a "breach of the peace" is committed. Those assembled are thus regarded as being "riotously assembled." Those charged with rioting face up to 10 years in prison and a fine. Assaulting a police officer carries a penalty of up to two years in jail.
The government and police have regularly branded anti-government protesters as "rioters." This has become a major point of contention between the two sides, and one of the protesters' five demands is that authorities retract their use of the term. Activists are also demanding a general amnesty for all those arrested during the protests to date. Currently that number stands at around 1,600 people.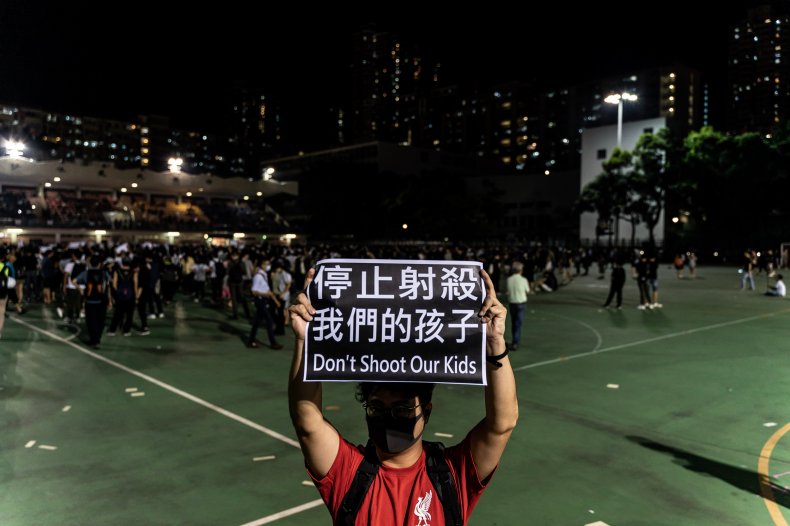 Tuesday's shooting marks a dark turn in the months-long protest movement, which began as a demonstration against extradition legislation. Although the legislation has since been withdrawn by the government, the protests have spiralled into a larger clash between legal and political encroachment from Beijing into Hong Kong, which since being transferred from British to Chinese rule in 1997 has enjoyed greater freedom than the rest of the country.
Police have fired warning shots several times to disperse crowds, but Tsang is the first person to have been shot with live ammunition. Tear gas, "non-lethal" rounds and water cannon are all now routinely deployed against protesters, but the use of live ammunition is a serious escalation.
Thousands marched on Wednesday to demand accountability for the shooting. Crowds chanted slogans including, "Hong Kong police intentionally commit murder" and "disband the police force now," according to the Hong Kong Free Press.
Elsewhere, Tsang's fellow students staged a sit-in protest to express solidarity with their classmate and anger at the heavy-handed policing.