Hong Kong Chief Executive Carrie Lam has finally bowed to months of pressure and civil unrest, announcing Wednesday that she was fully withdrawing the proposed extradition bill that brought millions of anti-government protesters into the streets.
Lam made the announcement in a recorded speech broadcast on Wednesday following talks with allies, advisers and representatives of the Chinese government in Beijing, according to Reuters.
The South China Morning Post first reported that the withdrawal was imminent and that Lam hoped the move would reduce tensions following weeks of violent demonstrations.
"Incidents over these past two months have shocked and saddened Hong Kong people," Lam said. "We are all very anxious about Hong Kong, our home. We all hope to find a way out of the current impasse and unsettling times."
As well as confirming the withdrawal of the extradition bill, Lam also said the government would visit communities to understand the grievances of people and find solutions to them and that an independent study would be launched into the root causes of the most pressing social issues in Hong Kong society.
First proposed in March, the extradition legislation would have allowed the Hong Kong government to extradite fugitives to face trial in Beijing. Opponents feared this would undermine the "one country, two systems" agreement established when Hong Kong returned to Chinese control in 1997, and allow Beijing to persecute political dissidents in the semi-autonomous territory.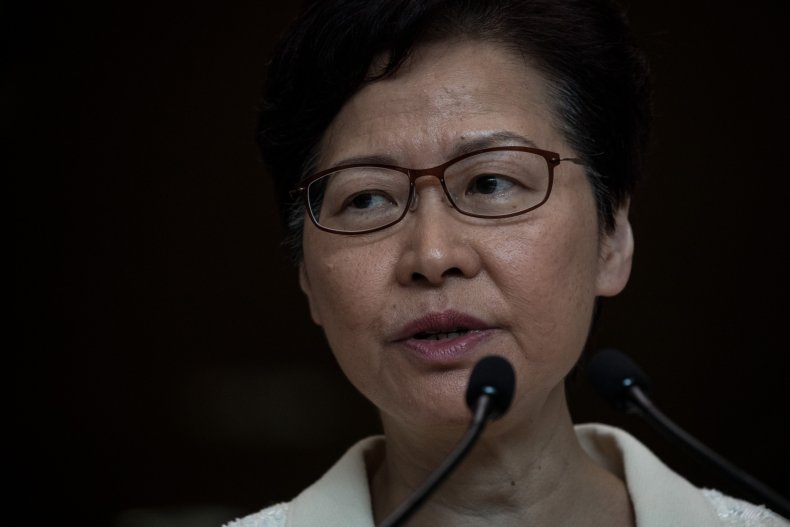 The Hong Kong and Chinese governments have taken a hard line against the protests, refusing to bow to what they have termed "riots" and equated them with terrorism. Meanwhile, police have grown increasingly violent in their clashes with protesters.
Though Lam's announcement may seem like a significant victory for the anti-government movement, many activists and analysts quickly declared that the step was insufficient. Since the mass protests broke out in June, the protesters' demands have multiplied.
Activists now have a list of five demands: the full withdrawal of the extradition bill, an independent inquiry into the protests, fully democratic elections, dropping of the term "riot" in describing protests, and a general amnesty for all those so far arrested.
But in Wednesday's announcement, Lam explicitly rejected several of the protesters' demands. "I recognize that these may not be able to address all the grievances of people in society," she acknowledged. "However, should we all think deeply whether escalating violence and disturbances is the answer?"
Lam ruled out an independent inquiry into the conduct of police officers and said the matter would be left to the Independent Police Complaints Council. The police have been accused of brutality, sexual assault and collusion with violent pro-Beijing gangs in recent months.
Lam also said that calls for amnesty for arrested protesters were "not acceptable," and rejected calls to stop using the word "riots"—a classification which has caused great anger among activists. She stressed there is "no legal effect on how such incidents are described or categorized."
On universal suffrage, Lam said the matter should be debated pragmatically and in a peaceful way, warning that the current unrest risked further dividing Hong Kong society.
The announcement will only reinvigorate calls for her to step down as chief executive. An audio recording of Lam leaked earlier this week suggested she may be willing to resign as chief executive. However, Lam later denied she was considering resignation.
The anti-government movement is leaderless, but prominent pro-democracy activists dismissed Lam's imminent announcement on Twitter before it was even broadcast. Joshua Wong, who was jailed for his role in the 2014 Umbrella Movement, branded the decision, "Too little and too late."
"The intensified police brutality in the previous weeks have left an irreversible scar to the entire [Hong Kong] society," Wong wrote. "And therefore, at this very moment, when Carrie Lam announced withdrawal, people would not believe it is a 'sincere' move."
Wong also urged international observers to be "alert this tactic and not to be deceived by HK and Beijing Govt. They have conceded nothing in fact, and a full-scale clampdown is on the way."
The graph below, provided by Statista, shows how the approval rating of Hong Kong Chief Executive Carrie Lam has plummeted since she first assumed office in July 2017.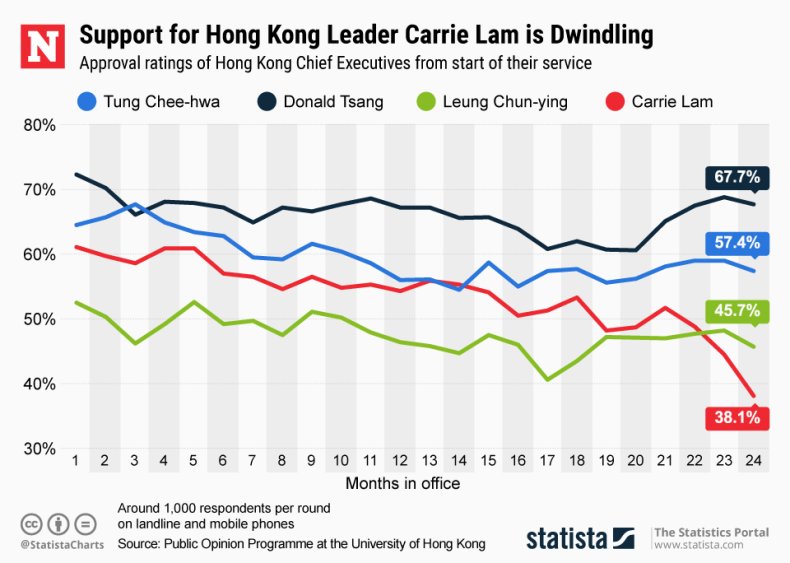 Author and activist Kong Tsung-gan said that the "immediate netizen reaction to the news Carrie'll shelve the evil bill is easy to sum up: FIVE DEMANDS, NOT ONE LESS." He added, "The extradition bill crisis has shown clearly how dysfunctional & undemocratic the political system is. We demand universal suffrage."
Protesters voiced their frustration in Telegram group chats used by tens of thousands of demonstrators to organize action. Users mocked Lam for her perceived subservience to Beijing, while others called on fellow activists to continue fighting for their five demands, which one user called "indispensable."
And on the LIHKG message board—also used by protesters to spread information and organize marches—a trending post read: "As soon as the government announces Withdrawal, hold a large peaceful protest march."