Hong Kong Protests Against China's Election Meddling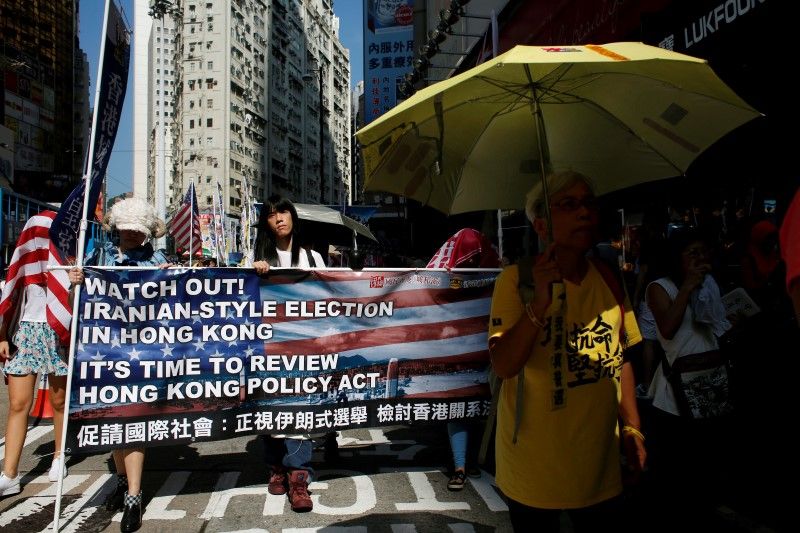 Hundreds of protesters rallied on Sunday against Hong Kong's disqualification of six candidates from legislative elections, the latest outpouring of anger at a perceived tightening grip on the city's freedoms by China.
The former British colony was handed back to China in 1997 under an agreement that gave ultimate control to Communist Party rulers in Beijing while promising Hong Kong a high degree of autonomy.
But Beijing's refusal to grant full democracy, which prompted widespread street protests in 2014, has triggered tension with growing calls for Hong Kong to split from China.
"Against the political filtering (of candidates), give us a fair election," chanted the demonstrators in sweltering heat of 32 degree Celsius (90 degrees Fahrenheit).
Police estimates put the number of demonstrators at 760, while organizers said 1,300 took part.
The government took the controversial decision to invalidate six candidates' nominations on the grounds that they could be advocating for Hong Kong independence, an idea anathema to Beijing. But only three of the six showed up on Sunday.
One of the barred candidates, Edward Leung, a figurehead of the "localist" movement putting the financial hub's interests before those of Beijing, said he did not join because he was not invited, illustrating a growing split in the opposition camp.
Leung was barred from running despite declaring to the Electoral Affairs Commission that he did not promote Hong Kong independence.
"This split has been around for a long time," said Benny Tai, an associate professor of law at the University of Hong Kong who joined Sunday's protest and helped lead the 2014 protests that paralyzed the main streets of Hong Kong for more than two months.
"There is an actual difference between the ideals of the localists and the democrats. Personally I think this is unnecessary and harmful to everybody, but this issue cannot be solved within a short time," Tai said.
The organizer of Sunday's march, Jimmy Sham, said the absentees might have had their own reasons for staying away.
"You can't say this shows there is a split just because they did not show up for one event," he said.
Among the disqualified candidates who did join the march, Alice Lai, of the pro-colonial days "Hong Kong-UK Reunification Campaign," said electoral freedom concerned everybody.
"This is about protecting our election rights and our freedom of speech," she said.
The government said in a statement its officers had been handling election matters in line with the law "as well as the principle of impartiality with a view to ensuring that the election would be held in an open, fair and honest manner".
The Legislative Council election is on Sept. 4.