International Students Urged to Leave Hong Kong As Escalating Violence Pushes City to 'Edge of Doom'
No longer able to guarantee students' safety due to escalating violence in Hong Kong, universities canceled their study abroad programs and ordered students to return home.
"This was not an easy decision," Syracuse University Chancellor Kent Syverud said in an email obtained by Newsweek. "While we do not believe our students are in imminent danger, safety and security conditions are deteriorating in Hong Kong."
Protests broke out in June in response to a proposed law that would enable local authorities to extradite people accused of crimes in mainland China from Hong Kong. In the past five months, demonstrations morphed into rallying cries against China's perceived desire to limit democratic freedoms in the Special Administrative Region, and clashes between protesters and police have grown increasingly violent, critically injuring several people.
Protesters, many of whom are in their teens and twenties, occupied Hong Kong's colleges, using them as protest camps, and on Tuesday, police fired tear gas into the Chinese University of Hong Kong (CUHK) in a failed attempt to clear the premises. It was some of the "most intense fighting" the city has experienced since June, according to CNN. On Thursday, protesters remained barricaded inside the university's grounds, blocking all entrances.
China's state-run television station warned protesters that they were "on the edge of doom" in an editorial, encouraging people to walk away while they still had the chance. As clashes reached new levels of violence and the situation moved toward a boiling point, CUHK administrators canceled classes and universities in Australia and the United States told students studying abroad to come home.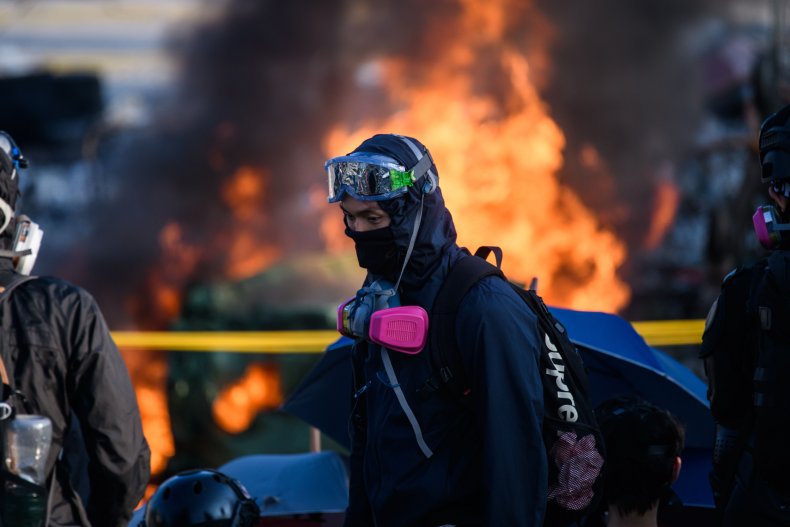 "Protest activities at Hong Kong's universities have become more intense," Syverud, the Syracuse University administrator, wrote. "Given the high degree of uncertainty, we believe that our students' best interest is served by leaving Hong Kong."
Ahead of the program's August start date, Syracuse gave students the option to cancel, defer or embark on a different study abroad program. Only three of the 41 enrolled students chose not to attend, Sarah Scalese, Syracuse's senior vice president for communications told Newsweek
Syracuse is still registering students for the Spring 2020 semester in Hong Kong, but Syverud said the program would only continue if security conditions improved.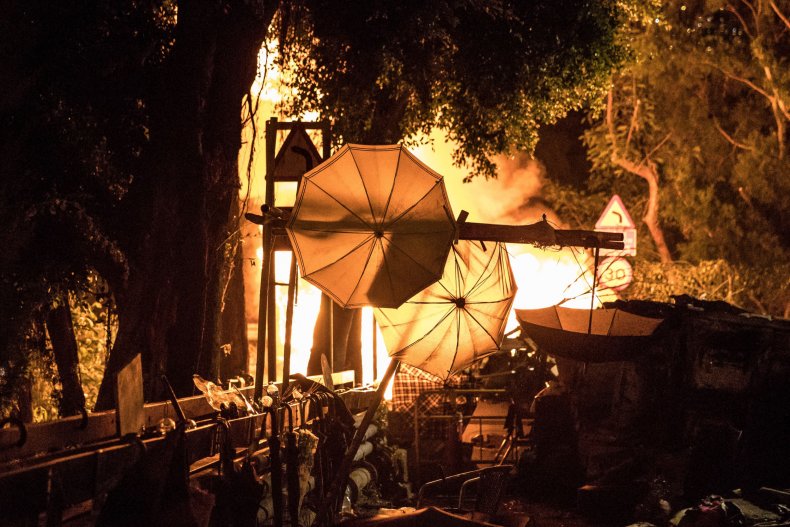 The University of Sydney in Australia also urged students in Hong Kong to return home in a Friday morning email. A spokesperson for the school told Newsweek the safety of students was paramount and that staff members have been "proactively checking in" with students since June. The spokesperson's understanding was that Hong Kong University would allow students to complete their coursework remotely.
Hong Kong, a former British colony, was returned to China in 1997 but has a high degree of autonomy. The region has its own currency, political system and cultural identity and enjoys rights—such as freedom of speech, press and assembly—that those in mainland China do not.
Shelving the extradition bill that sparked the protests did little to placate demonstrators, who saw their protests as a fight for freedom. For Hong Konger students studying in America, it has not been easy watching from the sidelines.
University of Minnesota student Stanley Chow told Newsweek he returned home to Hong Kong in early August to join the protests. He considered protesting to be his responsibility as a member of the community but, with classes starting and flights already booked, he had to return to Minnesota.
"I feel like I could have done much more. I could have been a part of the movement, on the front line, holding a flag or getting tear-gassed instead of just sitting here in the States," Chow said.
Protests caused Hong Kong to plunge into an economic recession in October, and Chief Executive of Hong Kong Carrie Lam said the violence was pushing the city to the "brink of no return." Lam added that escalating violence would not cause the Hong Kong government to yield to protesters' demands.
The protests, which officials characterized as "terrorist-like acts," received international attention. American legislators cautioned the Chinese government against cracking down on protesters as they did in the 1989 Tiananmen Square massacre, when Chinese troops fired on civilians. Some U.S. senators hope to pass a bill in support of freedom in Hong Kong.
The "Hong Kong Human Rights and Democracy Act," spearheaded by Republican Senators Jim Risch and Marco Rubio, would require Secretary of State Mike Pompeo to confirm that Hong Kong retained its autonomy on an annual basis. It would also provide for sanctions against officials found guilty of violating human rights in Hong Kong.
Hobart and William Smith Colleges Dean of Global Education Tom D'Agostino told Newsweek the situation in Hong Kong was a lesson that schools had to be prepared for civil unrest in every country where they send students.
"Hong Kong is one of the safer places that we send students," D'Agostino explained. "In terms of safety, generally it's not a concern at all."