Hong Kong has endured months of intense protests, pitting anti-China activists against the pro-Beijing government of the special administrative region.
The small territory—a former British colony handed back to Chinese control in 1997—is one of the most advanced cities in the world. But recent months have seen the metropolis thrown into turmoil, its sky-scrapers looming above running battles between protesters and riot police, the floor of a modern subway station streaked with blood, the legislative headquarters raided, ransacked and vandalized.
Part of China since 1997, Hong Kong nonetheless remains a distinctly separate political and cultural entity. Operating under a "one country, two systems" agreement with Beijing, Hong Kong residents are fiercely defensive of the political and individual freedoms afforded them, not enjoyed by their compatriots on the mainland.
The current round of unrest was sparked by a proposed change to Hong Kong's extradition laws, which would have allowed the region's government to extradite criminals to China for trial. Opponents feared this would enable Beijing to target political opponents in Hong Kong and undermine the treasured "one country, two systems" accord.
The movement against the bill brought millions of residents onto the streets. In the face of mass public opposition, Hong Kong Chief Executive Carrie Lam shelved the legislation. But while suspended, the proposed law has not been withdrawn entirely.
At times, demonstrations have broken down into clashes with riot police firing tear gas, rubber bullets and attacking marchers with batons. Such a heavy handed response fanned the flames of unrest, prompting demonstrators to expand their demands to include Lam's resignation, universal suffrage and an investigation into police brutality, among others.
Sunday saw another dark turn, with suspected pro-government criminal gangs storming a subway station in the northwest of the territory and attacking passengers suspected of pro-democracy sympathies. At least 45 people were injured, one seriously.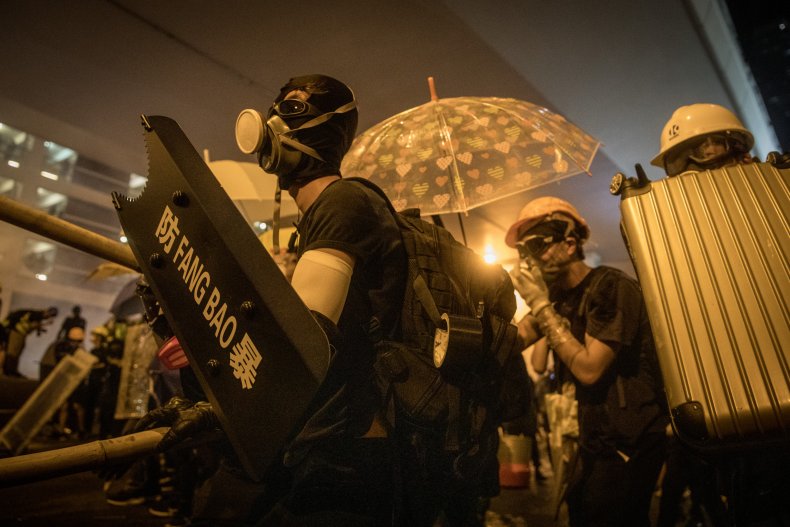 Earlier in the day, anti-China demonstrators had gathered outside the Chinese government liaison office in downtown, defacing walls and the building's national seal. Lam condemned the direct challenge to Beijing while promising an investigation into the subway attacks.
Attendance at the protests has been highly sustained, suggesting that the movement could last through the summer. But the normalization of violence and extreme tactics on both sides threatens to exacerbate tensions and send the confrontation spiraling out of control.
Speaking to Newsweek from Hong Kong, Jacques deLisle, a professor at the University of Pennsylvania Law School and an expert in Chinese law and politics, suggested the authorities did not expect the movement to have such sticking power. "This really is an extraordinarily sustained episodic set of protests, it's remarkable," he said.
But as the confrontation drags on, both sides are digging in. Roderic Wye, a former British diplomat in China and now an associate fellow at the Chatham House think tank, said the demonstrations are "becoming increasingly problematic" for the governments in Hong Kong and Beijing.
As the scope of protesters' demands grew, direct anti-China sentiment became more prominent "in a way that cannot be but unsettling for the leaders in Beijing," Wye added.
The immediate priority for the authorities was to take the air out of the protests and discourage marchers, but this hasn't happened. Heavy-handed policing at early marches has made the police response fraught with difficulty, Wye said. "They have a real law enforcement problem," he suggested.
The local government, deLisle explained, has been "reluctant to grant what should be some fairly easy concessions," resulting in a chronic lack of trust for Lam among Hong Kong residents.
The extradition bill climb down came late and Lam's suggestions of moral equivalency between the violence of protesters and that of police and pro-government armed gangs have all undermined her position.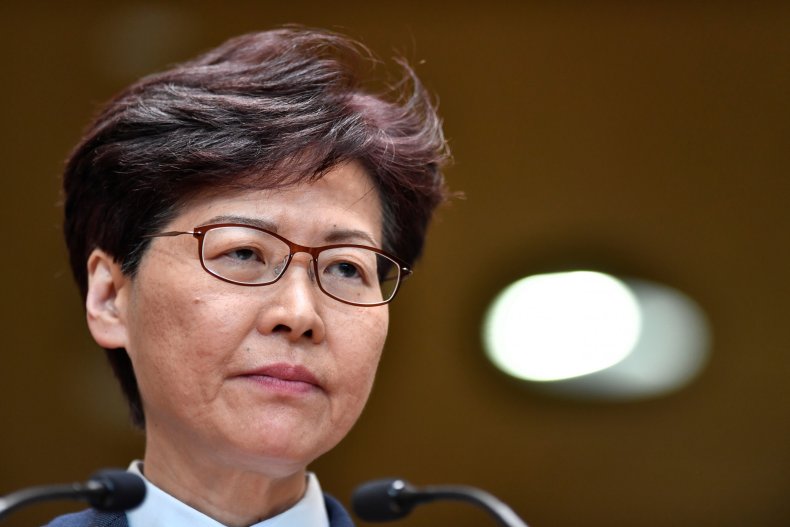 With demands proliferating, it may now be too late to find compromise. "They can't really suddenly turn on their hearing aids," Wye warned. "The whole protests have moved, both in terms of the direction and in terms of the balance between peaceful and more violent action."
Aggressive policing and the intervention of pro-government armed gangs has only made the situation more charged and the balance more precarious.
On Wednesday, Chinese officials said they would consider sending troops to help keep order in Hong Kong if the local government requested it. China maintains a garrison of around 6,000 troops at multiple bases in Hong Kong, but has never used them to intervene in the territory's affairs.
Wye said that few people would wish to start down that path. "That opens a whole new set of possibilities about the future direction of Hong Kong" he explained.
Some options remain open for Lam. DeLisle suggested her government could commit to a full withdrawal of the extradition bill and launch an independent inquiry into police behavior. She could also agree to demands that no protesters be prosecuted, though this may be more difficult for those accused of initiating violence.
"I think it would at least give them a chance at dissipating [the tensions]," deLisle said, "at least for the time being."
But for the protesters, it is hard to see what lasting concessions can be secured, given the consistent inflexibility of the governments in both Hong Kong and Beijing.
"Beijing is determined to bring Hong Kong more under its control," Wye explained. "That is the long term goal of the Chinese Communist Party… They're not going to go back on that."
Regardless, it seems unlikely that the underlying tensions between China and the residents of Hong Kong will be resolved. "If you declare victory now and say that we have pushed back and the extradition bill has been effectively withdrawn, then what do you do?" Wye asked.
"Do you stop and wait for the next one? Or do you push further and ask for more democratic reforms to further safeguard the autonomy of Hong Kong within 'one country two systems?'"
Some might even begin "to mention that dread 'i' word," Wye predicted, referring to still limited calls for Hong Kong independence. "That, of course, is a complete red rag to the Chinese bull."
Past movements have petered out as residents grew tired of disruption and weary of conflict. Though the current demonstrations remain potent, it is impossible to predict how long they will last.
"It's very hard to sustain these kinds of protests," deLisle said. "There are people who are not hardcore protesters who one imagines would start to peel off, especially if it seems to have no effect."
"There are some people who I think could be persuaded to back down or to at least give the government another chance if it looks like they really have made some concessions," he added. "It's a very heterogeneous protest movement, that's almost always the case here."
More violent tactics on both sides are also likely to scare some participants away. They act as a turn off to those who were already uncomfortable with the prospect of direct action, but may also worry others who support protesting, but wish to avoid direct confrontation.
Though Hong Kong's special nature might lead Beijing to make some concessions and compromises, the Communist Party will not change its long-term goal. "The other side is going to keep pushing," Wye said.
DeLisle concurred, noting the "long-term sense that autonomy, Hong Kong's rule of law, prospects for democracy—those are just eroding or receding ever farther over the horizon." This trend will not change, meaning that new mass movements could arise at every provocation. "That dynamic is not going to go away," deLisle explained.
"It's a pretty fundamental clash of what politics and government is supposed to look like here."