Hong Kong Protests: What Happens Now After 50 Injured In Protests at Government Headquarters?
More than 50 people were treated for injuries after massive demonstrations rocked Hong Kong again on Monday and into Tuesday morning, with a group of young protesters entering and vandalizing the city's Legislative Council for a period of time.
The violent nature of the latest protests against a controversial proposed extradition law may have done more harm than good in their efforts, one expert told Newsweek.
The Hong Kong Hospital Authority reported that it had treated at least 54 individuals with injuries resulting from the protests, including three that were still in serious condition, according to the Hong Kong-based South China Morning Post. At least 13 police officers were also injured after protesters reportedly dumped an unknown liquid on the law enforcement agents.
Pro-democracy demonstrators have protested for several weeks against a controversial law that would allow the local government to extradite alleged criminals to mainland China. While the administration of the city's chief executive Carrie Lam has argued that the legislation is merely intended to allow Hong Kong to extradite an alleged murderer to Taiwan to face justice, protesters have voiced staunch skepticism. Taiwan has also said that it would not seek the extradition of the concerned individual on the legislation Lam has attempted to push through.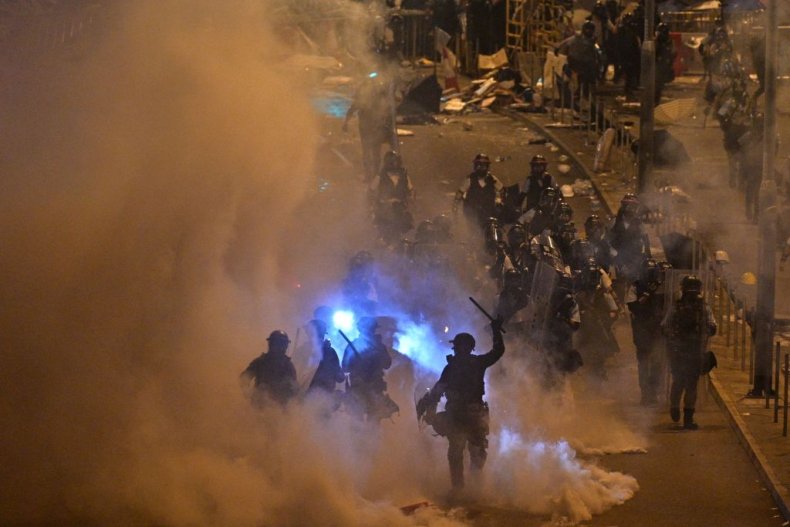 Although Lam last month suspend the controversial bill, she stopped short of caving to protesters demands to scrap it altogether. Under the current situation, the government could again bring the legislation for a vote at a later date.
"I don't know whether this would work, but what other channels are there to make Carrie Lam listen to us?" a male protester outside the legislative council building told The Guardian. "We used to protest peacefully but it didn't work, now we need to get out of this framework and tell them, we're willing to try anything until you give us an answer."
Images of broken glass and graffiti from the protesters were shared on social media, as a group entered and occupied the government building. Late in the evening, police converged on the building and cleared the legislature of demonstrators, as protests continued outside and throughout the city.
While Lam's government and the police harshly criticized the protesters who turned to violence, opposition lawmakers and those leading the demonstrations pushed back. They accused Lam's administration of pushing the "youngsters towards desperation."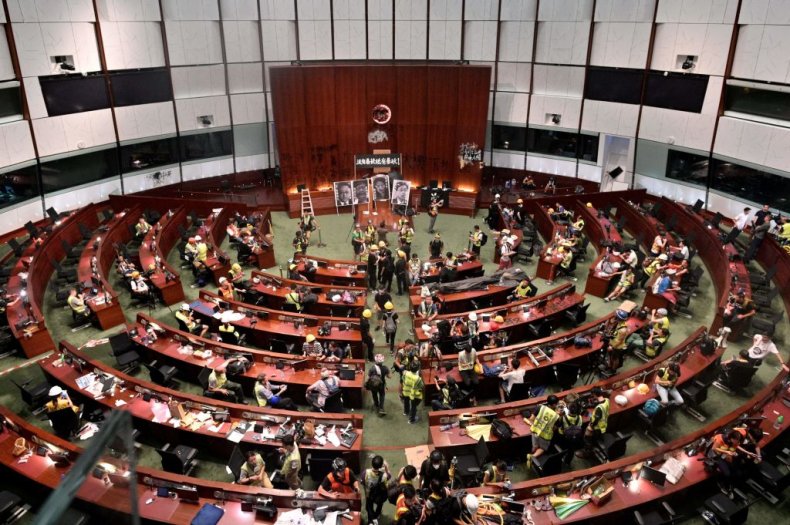 "We cannot be angrier at her rejection of the request, which proves her 'willingness to listen' to be the ugliest political lie," they said, according to SCMP. "Lam's arrogance revealed by her public responses since June 9 have only poured fuel on the flames, and led to the crisis today. Lam is the culprit."
But Jacob Shapiro, director of analysis at Geopolitical Futures, told Newsweek that protesters would have a more difficult time moving forward, as the highly controversial extradition law has been suspended. "This was a much smaller group, albeit in the thousands, with more radical views and willing to engage in a certain degree of violence to see those views through," Shapiro said. "My bet is that they will find Hong Kong residents less receptive, but that remains to be seen."
He also argued that the protesters who turned to vandalism "delegitimized their own cause." He said they did this "by engaging in violence and by expressing preference for an old colonial overlord [the United Kingdom], responsible for any number of infringements on Chinese sovereignty during the Opium Wars of the 19th century."
Britain ended its rule over Hong Kong in 1997, with governance switching to China under a principle of "one country, two systems."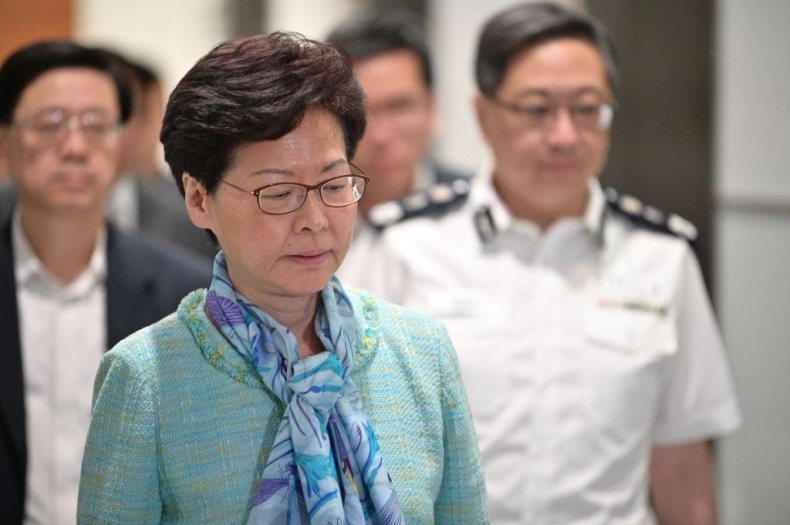 Protesters have also called for Lam to resign or at least scrapped the controversial legislation altogether. However, in remarks during a press conference in the early hours of Tuesday morning in Hong Kong, the embattled leader did not give any indication that she planned to back down further. She strongly criticized protesters who had vandalized the Legislative Council Building but promised to listen to all sides.
"Carrie Lam could always step down," Shapiro said. "But I think both for the Hong Kong government and for China that is a precedent they don't want to set. China could also come out and say publicly that the extradition bill is not just indefinitely withdrawn but permanently withdrawn and see if that will garner support," he suggested. "The goal here for the Hong Kong government has to be to maintain control of the situation while not overreacting to the disruptions in a way that will give the protesters more fuel for their fire."
Shapiro also said he does not believe mainland China would support a brutal crackdown on demonstrators. "If it cracks down too hard, it will get a visceral response beyond just a few thousand angry youths," he said.