Hong Kong Ramps Up Testing After First New Locally Transmitted Coronavirus Case in Three Weeks
Hong Kong is expanding its coronavirus testing after identifying two local cases for the first time in about three weeks.
The local cases raised concerns about new clusters of cases popping up and sparking a resurgence of the outbreak. Beginning on Friday, free testing services will cover staff members at Hong Kong International Airport, followed by an expansion to include people working at residential care homes for the elderly or people with disabilities, as well as nursing homes.
"Airport workers belong to the higher-risk groups as they have more frequent contact with arriving passengers who have been to places with high incidence of COVID-19," a spokesman for the Center for Health Protection (CHP) said in a statement. "The enhanced testing of this group may help in early detection of possible cases of COVID-19 infection and reduce the risk of community outbreaks."
The two local cases confirmed on Wednesday involve a 66-year-old woman, who developed a fever and a cough on May 8 and then passed it to a 5-year-old girl, who had a cough on May 10. They're both being treated at Princess Margaret Hospital, and officials have identified 25 close contacts.
A third case, also confirmed Wednesday, involves a 34-year-old man who returned from Pakistan on May 9. He developed a fever on Tuesday and is being treated at Queen Elizabeth Hospital. No close contacts had been identified for the man, but the CHP said contact tracing was continuing.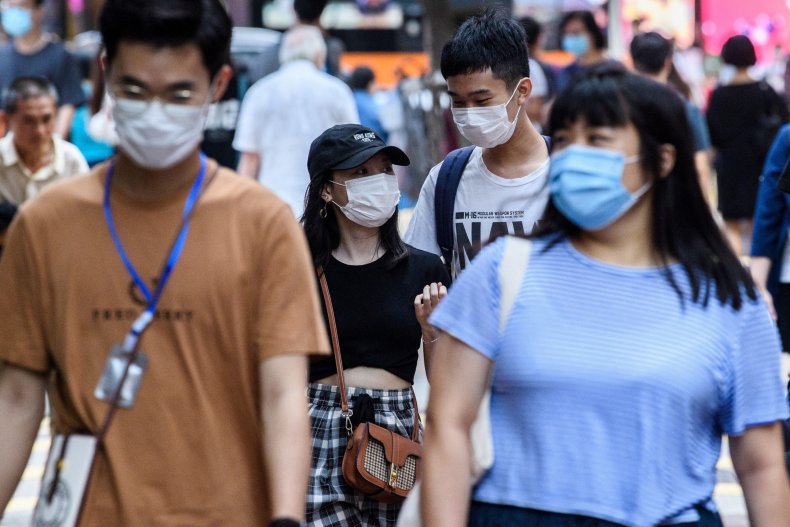 Hong Kong has reported 1,051 coronavirus cases and only four deaths. Most of the cases, 626, were imported, according to the Hong Kong government.
The autonomous Chinese region shut down schools and had many people working from home but avoided implementing the stringent lockdown measures seen in countries around the world. Its success has largely been attributed to a rigorous program of testing and contact tracing, followed by isolating those with confirmed cases in quarantine facilities.
Although the outbreak appears to largely be under control, with minimal new cases, the CHP urged people to continue social distancing as much as possible and avoid gathering with others. Not only would this reduce the risk of their becoming infected themselves, but it would also minimize the risk of clusters of community transmission emerging in Hong Kong.
Protesters aren't waiting for the green light to gather, and over the weekend they held demonstrations against a law that would criminalize disrespecting the national anthem. The protests were reminiscent of those that took place in 2019, which began as a public demonstration against a controversial extradition bill but turned into a wider pro-democracy movement.
About 230 people were arrested over the weekend, according to German broadcaster Deutsche Welle, and at least 18 people were taken to the hospital. Democracy advocates worry that China may use restrictions put in place to curb the outbreak to crack down on civil rights in Hong Kong. Ahead of the weekend protests, China's Hong Kong and Macao Affairs Office called the protesters a "political virus" who wanted to "drag Hong Kong off a cliff," according to The Guardian.
Outside of Hong Kong, countries around the world are dealing with significant outbreaks, as nearly 4.3 million people have been infected. To avoid becoming infected and transferring the virus to others in Hong Kong, a CHP spokesperson advised all members of the public to avoid nonessential travel outside of Hong Kong.