China Tells Countries to Stop 'Meddling' in Proposed Hong Kong Security Law After Nations Condemn Proposal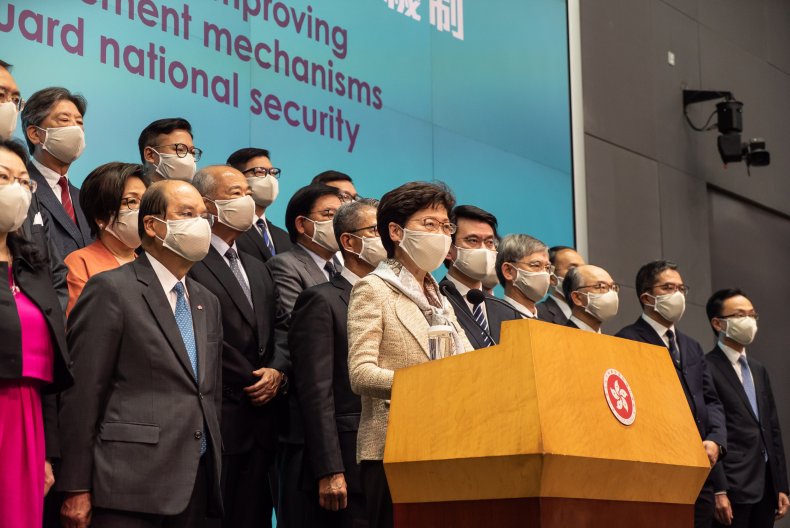 A spokesperson for the Chinese Foreign Ministry Saturday pushed back on comments from "meddling politicians," following a torrent of criticism about the country's plans to crack down on Hong Kong's independence and undermine a nascent protest movement there.
"Doomed is your plot to undermine China's sovereignty and security by exploiting the troublemakers in Hong Kong as pawns and the city as a frontier for secession, subversion, infiltration and sabotage activities against China," a statement from the ministry's commissioner's office in Hong Kong reads.
The wrangling stems from a draft proposal submitted this week in the National People's Congress, a de facto organ of the ruling Communist Party, that is expected to target alleged treason, secession, sedition and subversion in Hong Kong.
Hong Kong had long been compelled to pass its own localized legislation prohibiting subversive or treasonous acts, according to the Basic Law which serves as its quasi-Constitution, but it has not done so.
The move will effectively bypass lawmakers in the semi-autonomous territory entirely, dealing a decisive blow to Hong Kong's independence. China has operated under a dual-territory system with Hong Kong since it regained possession of the region in 1997.
Secretary of State Mike Pompeo immediately condemned the announcement, calling it a "death knell" for Hong Kong.
"The United States strongly urges Beijing to reconsider its disastrous proposal, abide by its international obligations, and respect Hong Kong's high degree of autonomy, democratic institutions and civil liberties, which are key to preserving its special status under U.S. law," he said in a statement.
In a joint statement, spokespersons for the U.K., Canada and Australia said they were "deeply concerned" by the security proposals.
A pro-democracy movement in Hong Kong surged to its most vociferous level in 2019, after a controversial extradition bill was proposed in the city's legislature. The COVID-19 pandemic and corresponding health measures helped to tamp down these public demonstrations, but news of the impending security law is renewing anti-government sentiment.
The Chinese propaganda apparatus moved quickly to defend the new proposal. An unsigned editorial Saturday in the state-run Global Times alleged that "extreme opposition forces in Hong Kong" were "inciting" the public to reject measures implementing Article 23, referring to the section of the Basic Law requiring legislation on sedition.
The op-ed claimed that the lack of national security legislation "is one of the very reasons that Hong Kong has become chaotic and its value system has deviated from the normal track."
Previous attempts to implement Article 23 measures have been met with mass-scale protests. In 2003, after security legislation was introduced by the local government in Hong Kong, approximately half-a-million people poured into the street in opposition.