Hong Kong Teen Activist Seeking U.S. Asylum Detained at Last Minute Near Consulate
A teenage activist attempting to seek asylum at the U.S. consulate in Hong Kong today has been arrested inside a nearby coffee shop by national security officers, local media reported.
U.K.-based activism group Friends of Hong Kong confirmed to Newsweek that 19-year-old Tony Chung was being held by police, and that his house was being searched.
Chung, former convenor of the now disbanded pro-independence group Studentlocalism, had arrived at the U.S. Consulate General at 8:10 a.m. local time but found it closed, Apple Daily reported.
During his 20-minute wait for the U.S. consulate to open, Chung called Friends of Hong Kong from a Pacific Coffee branch just 80 feet from the building. He told them he was being tailed by suspected national security agents before "losing contact," the group said.
"We can confirm that Tony Chung, who called us this morning to inform us he is followed by Agents, is at the Central District Headquarters, Sheung Wan," the group's spokesperson told Newsweek. "His house is currently being searched."
Hong Kong's South China Morning Post reported witnessing the teenager being "flanked by two men as he was led away from the shop."
An unnamed police source told the newspaper that Chung had been detained by officers with the national security department. The new Hong Kong police branch oversees enforcement of the national security law passed by the Chinese government in June 30.
The report also cited a Friends of Hong Kong group member as saying Chung was taken away by around a dozen uniformed and plain-clothes officers.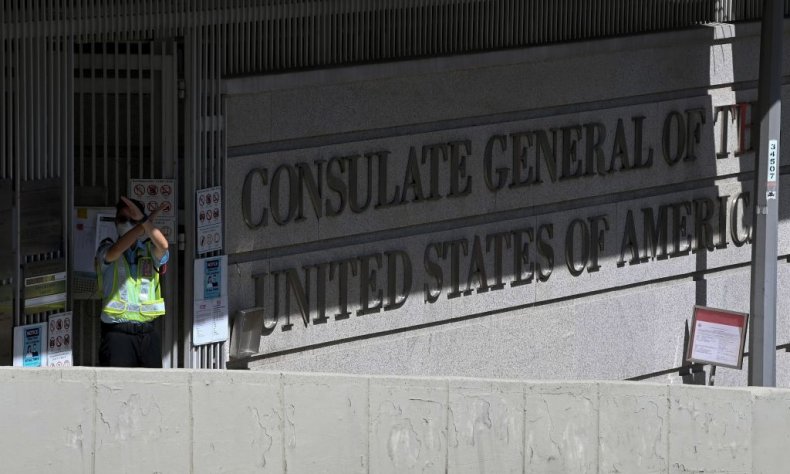 Defunct activism group Studentlocalism, which continues to operate overseas, said on Facebook that its former leader had "accepted legal assistance," and was "currently recording a statement accompanied by a lawyer."
Two former members, Yanni Ho and William Chan, were also arrested by Hong Kong authorities about six hours later, the group said in separate posts. The pair were being held at different police stations and were given legal assistance.
In July, Chung and three others became the first activists to be arrested under Beijing's national security law, which bans secession, subversion, terrorism and collusion with foreign powers. Through Studentlocalism, Chung had advocated for Hong Kong to become a republic.
According to Apple Daily, Chung could not leave Hong Kong because his passport had been confiscated during his arrest. He had been released on bail and was ordered to report to police today.
Friends of Hong Kong, which is based in London, said Chung went to them for assistance in seeking asylum at the American consulate because he feared he "may not return" from his latest summons.
Hong Kong police have since announced the arrest of an unnamed 19-year-old male widely believed to be Chung.
The individual is accused of breaching article 21 of the national security law by "inciting secession on social media."
The public affairs office of the U.S. Consulate General in Hong Kong and Macau told Newsweek it did not have any information to provide at the time of writing.