Li Ka-shing Retires: Hong Kong's Richest Man Calls It a Day
Li Ka-shing, Hong Kong's billionaire tycoon and one of Asia's richest men, announced his retirement on Friday at age 89, ending a rags-to-riches story that made him a hero in the freewheeling capitalist hub.
"I have decided to step down as chairman of the company and retire from the position of executive director at the forthcoming annual general meeting of the company," Li said in a statement included in the filing for CK Hutchison Holdings Limited and CK Asset Holdings Limited to the Hong Kong bourse.
Li, who turns 90 in July, will step down after the company's annual general meeting on May 10. He will stay on as a senior adviser to both companies but is passing the chairman role to his eldest son, Victor Li Tzar-kuoi, 53.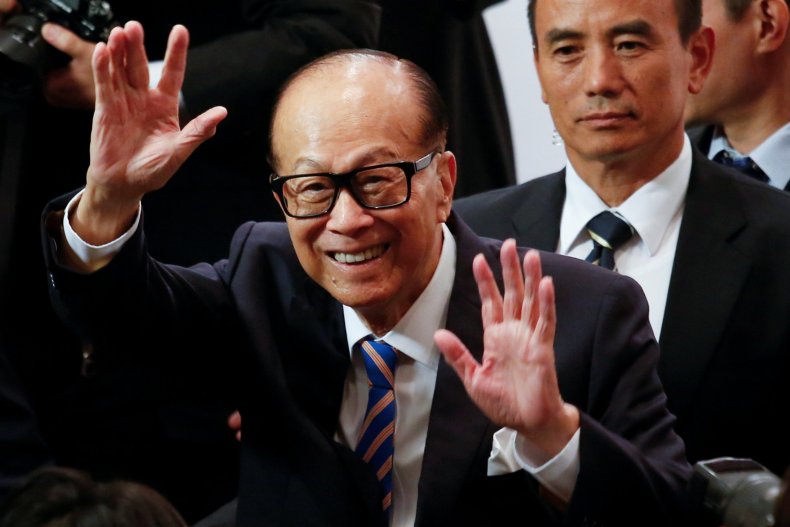 "I've been working for a long time, too long," a relaxed and sprightly Li told reporters. He said the secret to his success included continual self-improvement and hard work.
Li's younger son Richard Li-Tzar-kai "has many other businesses" and will continue to remain out of the public eye.
According to the South China Morning Post, after he steps down, Li will devote his time to philanthropy on concerns such as health care and education.
While Hong Kong's adoration of the billionaire and his self-made story has waned somewhat in recent years, Li is still stepping aside from one of Asia's most outward-looking empires, spanning more than 50 countries and 323,000 employees at last count.
Li started his career as a factory apprentice when he was just 13. Hong Kong locals nicknamed him "Superman" for building a fortune, first in plastics and property, before joining the first wave of top-tier Chinese tycoons in the city with the 1979 purchase of Hutchison Whampoa, an investment holding company.
In his career he amassed a $34.9 billion fortune, according to a Forbes estimation, making him the world's 24th richest man.
"Li Ka-shing's real genius, to me, is not necessarily in the assets he acquired but his ability to sell them at the right time," said Jonathan Galligan, head of Asia gaming and conglomerates research at brokerage firm CLSA.
Galligan continued, "Look at anything he sold, and, plus or minus a year, it's hard to say he didn't pick the top—that's a tremendous skill."
One of Li's best-known deals was the 1999 sale of the U.K. telecoms unit Orange to Germany's Mannesmann at the height of a market boom.
Today, the assets still held by Li through his flagship CK Hutchison Holdings Limited include the biggest container port operator in the world; Canadian oil giant Husky; one of Europe's leading telecoms operators; and a collection of U.K. businesses that saw him awarded a knighthood by the queen in 2000.
Li Ka-shing Retires: Hong Kong's Richest Man Calls It a Day | World