Honolulu Will Sue Fossil Fuel Companies for Climate Mitigation Fees: 'Big Oil Waged a Decades-Long Deception Campaign'
Honolulu plans to sue fossil fuel companies for money spent fighting climate change, city leaders announced during a press conference held Tuesday.
City leaders said they intend to sue Chevron, Shell, Exxon Mobil, BP, the BHP Group, ConocoPhillips, Marathon (formerly Tesoro), and Aloha Petroleum.
"The evidence is piling up that just as big tobacco misled the public and policymakers about the danger of smoking, big oil waged a decades-long deception campaign and covered up the origins of today's climate crisis," Mayor Kirk Caldwell said. "The people of O'ahu expect government to stand up against those who knowingly harm others for financial gain, and that's exactly what we intend to do."
The amount of damages the city is asking for is not yet known. The measure, introduced in a resolution, is set for a vote by the full city council.
Marathon Petroleum told Newsweek, "We don't typically comment on litigation." The other businesses did not respond to Newsweek's requests for comment by publication.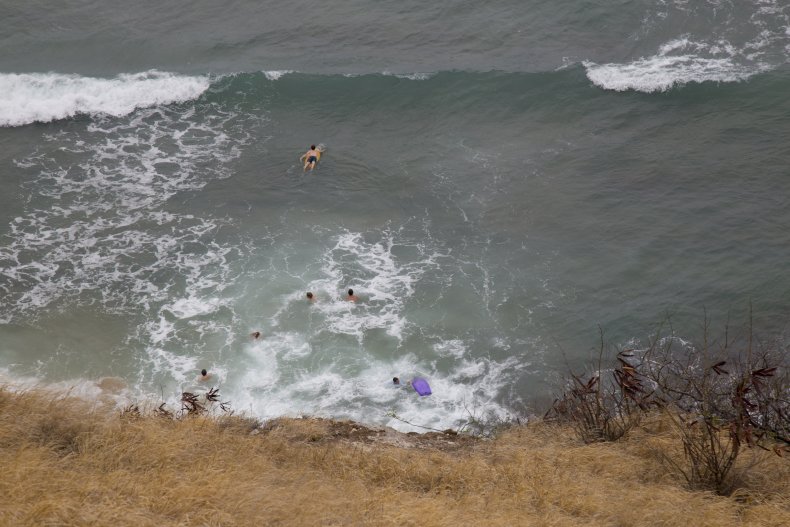 Maui County also announced it would pursue similar litigation last week. The announcements from Maui County and Honolulu reflect public belief that fossil fuel companies should pay for global warming damages, according to polling by the Yale Program on Climate Change Communication. Sixty-nine percent of Hawaii residents think fossil fuel companies should pay for global warming damages.
The majority of the American public also supports that stance, the survey showed, and local governments have started begun challenging the fossil fuel companies in court. Rhode Island, New York City and Baltimore, as well as 12 cities and counties, have filed suits seeking to make fossil fuel companies pay for mitigation and adaptation, according to the Union of Concerned Scientists.
Fossil fuel companies have long fought to avoid court appearances. Just the second climate change lawsuit to reach court, a landmark trial against Exxon Mobil, began last month. Exxon has maintained that it "did nothing wrong." Along with other companies facing criticism, it has countered critiques by pointing to investments in clean technologies.
But plaintiffs seeking mitigation appear unswayed by such appeals and have focused on how such businesses profited from dirty energy sources.
"We here don't feel that the burden should be placed on Oahu's taxpayers with regards to the mitigation that we're going to need to deal with these impacts related to climate change," Honolulu City Council Budget Chair Joey Manahan said.
"That should be on the fossil fuel companies who knowingly caused the damage, and as budget chair, I believe we should go to court to make them pay their share."