In Honor of National Dessert Day, 10 World Record–Setting Treats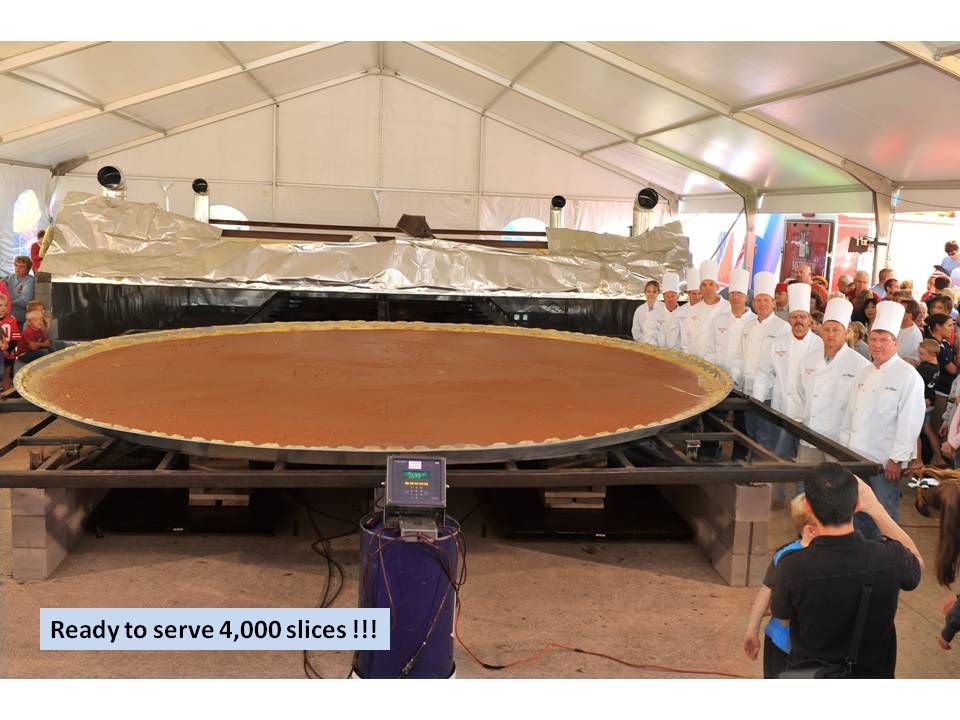 Happy National Dessert day! We hope you've been stuffing yourself with treats and have reached peak sugar comma on this celebratory (and carby) day.
In honor of the day dedicated to cavities, Newsweek put together a list of the biggest, boldest desserts in the world, as vetted by Guinness World Records.
1. Largest Pumpkin Pie
Coming in at 3,699 pounds, this baked good was crafted by the New Bremen Giant Pumpkin Growers in 2010 during a pumpkin fest in Ohio. The pie was 20 feet in diameter and made from 440 sheets of dough.
2. Largest Cookie Mosaic
Do you like cookies? Of course you do. And so does MoonPie, as the Tennessee cookie company teamed up with The Bright School in 2012 to craft a 1,358 square foot mosaic. It was over 35 feet wide and almost 38 feet long. It took 300 students to build and contained 16,390 vanilla, chocolate and banana MoonPies.s
3. Largest Pecan Pie
This king of pies weighed 41,586 pounds. It was made in Texas (where everything really is bigger) by the El Paso Diablos Baseball Club in 1999. The crust was concocted with 3,471 pounds of flour, 2,085 pounds of shortening, 170 pounds of sugar, 170 pounds of powdered milk and 3,000 pounds of water. The filling was even heavier: 1,500 pounds of pecans, 13,350 pounds of sugar, 850 pounds of margarine, 200 pounds of salt, 6,700 pounds of eggs, 210 pounds of vanilla and 9,700 pounds of corn syrup.
4. Largest Cake Sculpture
This cake was cut into over 12,000 portions. It was built by Fairy Liquid in London last year and stood almost 40 feet high.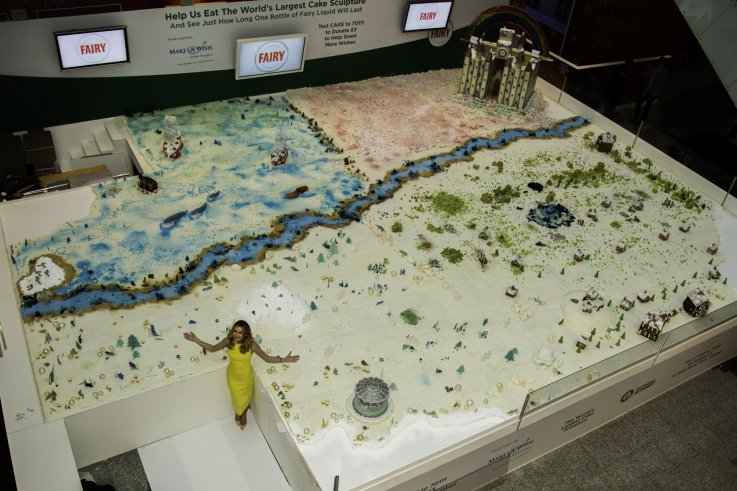 5. Largest Biscuit
This biscuit weighed 18 tons and had a diameter of over 100 feet, and also inexplicably contained chocolate chips. It was made by North Carolina's Immaculate Baking Company in 2003.
6. Largest Bag of Cookies
Not to be outdone by the largest cookie mosaic, this creation also featured an awful lot of treats. It was created by Juniorchamber Veenendaal-Rijnvallei in the Netherlands in 2005. More than 220 people helped put the bag together, totaling 3,600 hours of work. It contained over 200,000 cookies.
7. Largest Brownie
The world's largest brownie was made in Alabama in 2013 by the Something Sweet Bake Shop. It weighed in at 234 pounds.
8. Largest Serving of Doughnuts
Made by a television station in Kazakhstan, the most doughnuts served at once is 1,887 pounds' worth in 2014.
A bonus doughnut record: In 2009, the Kuwait Food Company replicated a giant box of Krispy Kreme doughnuts, filling it with 2,700 doughnuts. The box was over 19 feet long, making it the largest box of doughnuts in the world.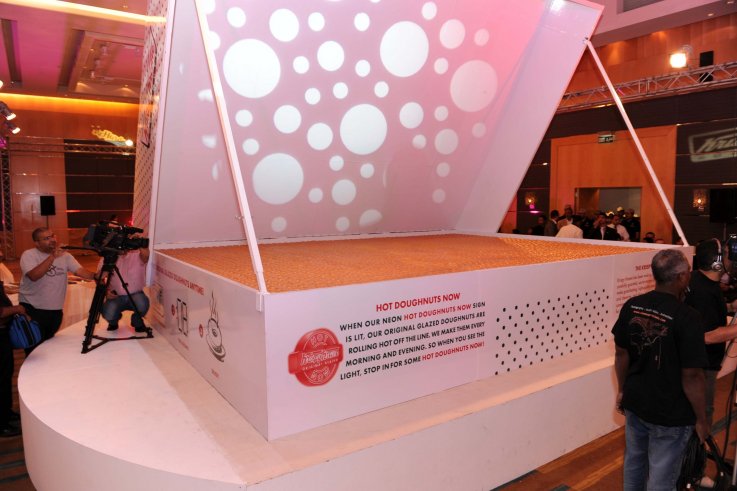 9. Largest Ice Cream Scoop Pyramid
This pyramid was the handy work of Baskin-Robbins. It was made in Maui, Hawaii, in 2000 with 3,100 scoops formed into 21 layers of ice cream. It weighed 800 pounds and was 4 feet high.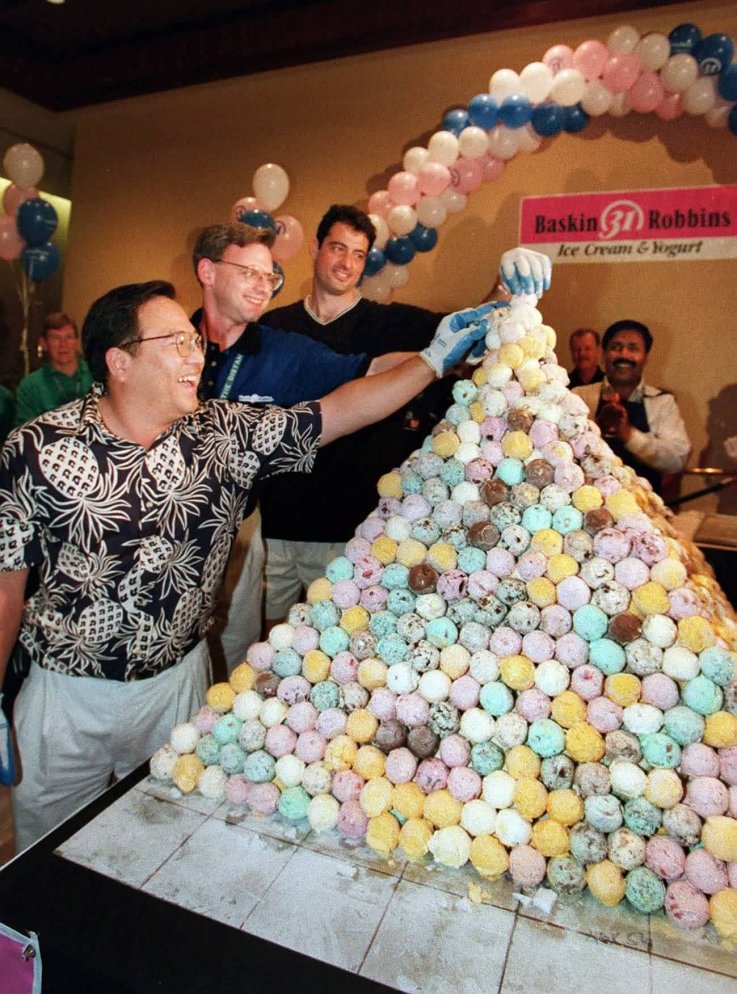 10. Largest Ice Cream Cake
No dessert day is complete without a second serving of ice crem. The largest ice cream cake was made by Dairy Queen in Toronto in 2011. It was over 14 feet long and featured layers of sponge cake, vanilla ice cream and buttercream with Oreo cookie crumbs on top.
In Honor of National Dessert Day, 10 World Record–Setting Treats | U.S.