Honoring Parkland and All Gun Violence Survivors | Opinion
February 14, 2018.
It's a day that means so many things to so many people.
For us, it was a day of sadness, anger and shock—unable to imagine how we got to this place.
At the beginning of the day, one of us was just a sophomore at Marjory Stoneman Douglas High School stressing about a Spanish test and thinking about lacrosse practice that night. The other—over 1,000 miles away—was entering his East Baltimore community—an all too familiar place with gun violence.
This is our story.
Three years ago, a murderer entered Marjory Stoneman Douglas with a semi-automatic weapon, draped in body armor and with the sole mission of killing as many students and teachers as possible.
He killed 17 of my fellow friends, classmates and teachers—bringing chaos, depression and trauma to a community in the process.
Everything changed when the fire alarm went off. We left our classroom at 2:22 p.m. and heard five pops. At first, our minds refused to accept they were gunshots. Then, we heard more sounds.
"Pop. Pop. Pop."
That's when we realized what they were. Text messages and Snapchat videos of classmates and teachers getting shot in classrooms started to circulate. We heard, "This is not a drill," and started running for our lives. There was so much chaos and confusion.
Those six minutes that uprooted the Parkland community's lives happen every single day in communities across the country. While both types of gun violence deserve attention and action—normally only one type receives it. While mass shootings comprise less than 1 percent of all gun deaths, they receive the most national attention. Gun violence disproportionately impacts cities and doesn't get much the same attention.
Just one day before in Baltimore, gun violence was happening in a different form. The pops were just as loud—but afterward, there were no interviews, no national uproar; only silence.
February 13, 2018, was the day that Sadik Griffin, a 22-year-old Black man, was shot and killed. His mother lost her only child and the city marked its first homicide in almost two weeks—a huge feat for Baltimore that many didn't know about.
In the heart of East Baltimore—"Down da Hill" as the locals say—no one is a stranger to gun violence.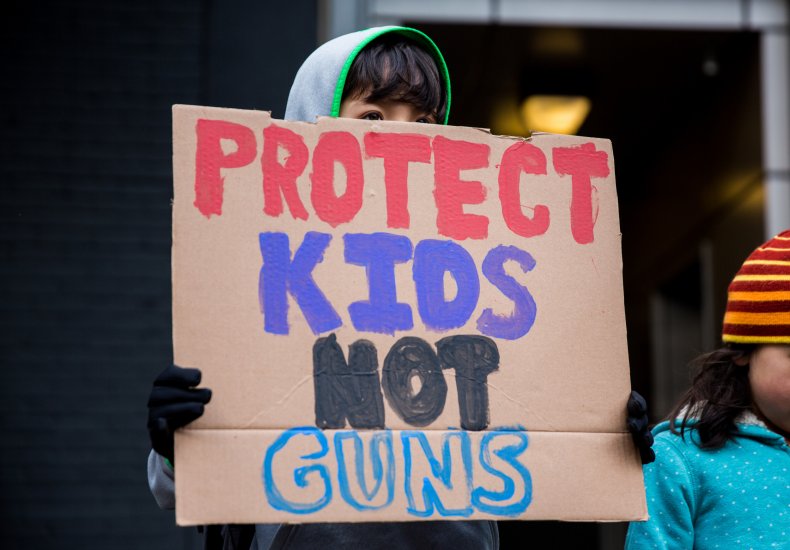 Guns are a part of your life from an early age. Surrounded by rundown neighborhoods, Baltimore's youth live in a constant state of hopelessness, anger and adversity. It creates a powerful, toxic force that influences how we learn, grow and interact with one another and think about the future.
You learn how to conceal a gun the same way you learn to tie your shoes. You either own one yourself, or you're a phone call away from a strap. You can find a gun faster than finding a job here.
Gun violence is the leading cause of death for children and teens in the country. Black children and teens are 14 times more likely to die by gun homicide than white children and teens.
Every nine hours, a Black child or teenager dies by gun homicide in the U.S.
Violence that happens in Black communities every day almost never makes the news.
While white survivors are invited to conferences and interviewed on talk shows, Black survivors are left to clean up blood left on the sidewalks, and just hope there won't be any retaliation.
The gun violence experienced in our two communities may be different, but the same things enable them—inaction by lawmakers leading to lax gun safety laws and inadequate investment in neighborhoods.
Lack of social mobility is the number one cause of death in the hood. And as an eternally frustrating result, school shootings continue, and East Baltimore experiences gun violence nearly every day.
These past three years have felt like an eternity. Some days it feels like these shootings happened yesterday—and for some communities they did. It feels like life is stuck in cement, and the trauma stays with us.
There isn't a day where we don't think about the gun violence that we experienced. There isn't a day where we don't think about the people we love that were taken by gun violence. There isn't a day where we don't think about the families who have an empty seat at their dinner table or the funerals they had to plan.
This is why as we mark three years since the shooting at Marjory Stoneman Douglas High School, it's not only important to remember what happened to the Parkland community, the survivors, and the lives that were lost. It is also important to think about how that terror is repeated every day in cities across the United States.
Today is a day to honor, grieve and remember the Parkland victims.
Today is also a day to come together and remember the Baltimoreans who lose their lives everyday, uplift all survivors of gun violence because everyone's story is important and demand that lawmakers act to make sure no other children grow up with this public health crisis.
Sari Kaufman is a volunteer with Students Demand Action, founder of My Vote Project and a gun violence survivor who survived the mass shooting at Marjory Stoneman Douglas High School.
Antonio Moore is a volunteer with Students Demand Action, youth mentor with Challenge 2 Change in Baltimore and a gun violence survivor. He lives in East Baltimore.
The views expressed in this article are the writers' own.