Hoonigan Ken Block Gives Keys to 1,400-HP Ford Mustang to His 14-year Old Daughter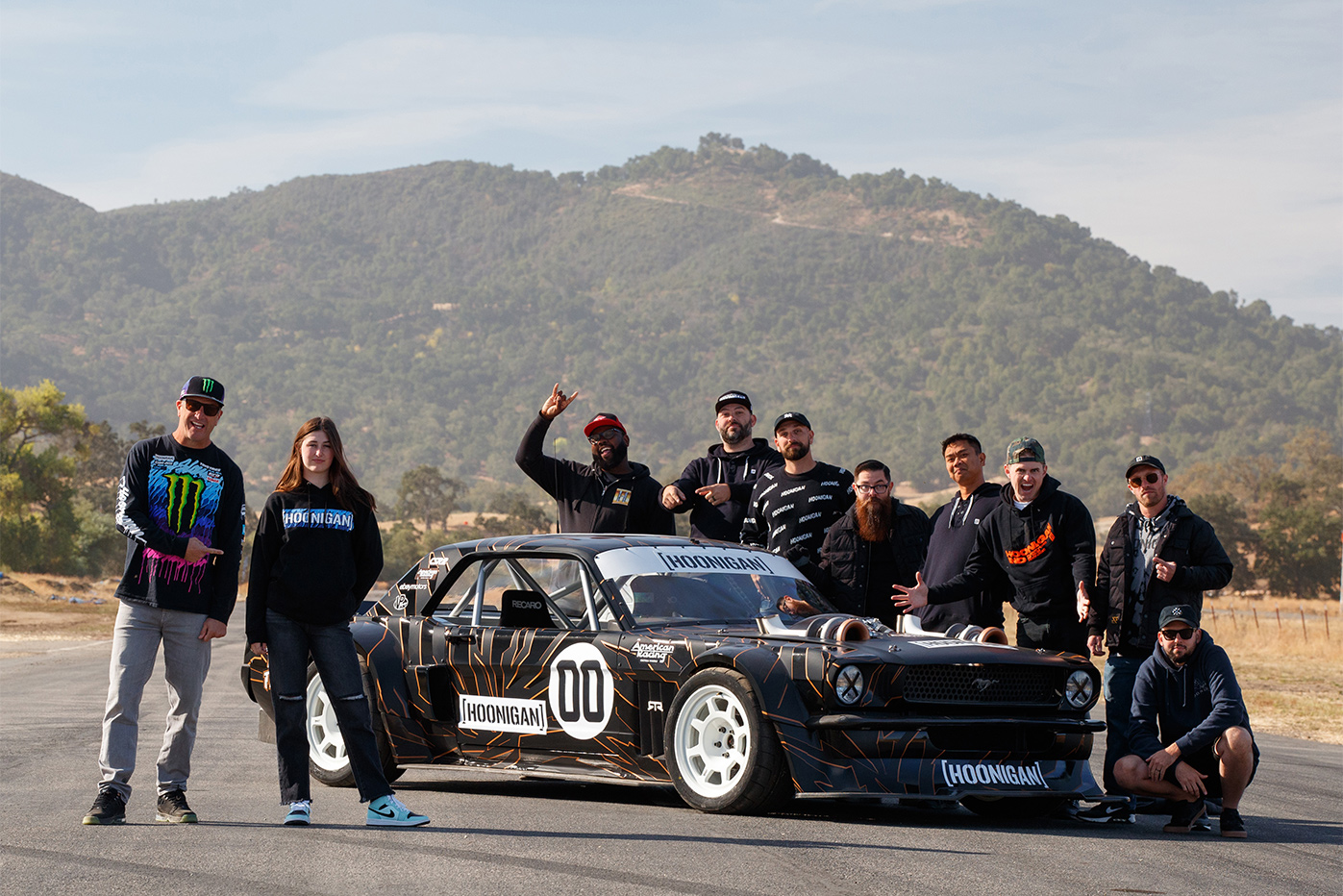 After gaining over 47 million views in its inaugural season, the widely popular YouTube series, Hoonicorn vs. The World has returned with a second season, with a twist. Instead of Hoonigan founder Ken Block piloting his 1,400 horsepower custom Ford Mustang, the Hoonicorn, his 14-year old daughter Lia is in the driver's seat.
Lia's not just any 14-year old. She's already been put through the paces, taking lessons on how to do donuts and drift figure eights from some of her racing role models. It was all part of a rigorous training regimen to prepare her for the role, despite being years away from legally obtaining a driver's license.
"I think my earliest memory with any vehicle was when my dad got me [a] little electric Mustang when I was six," Lia told Newsweek. "I just remember loving that thing. I would drive it all around and drive it in our garage."
Although she grew up around her father's racing and the Hoonigan brand, she was never pushed into the racing world.
When she was 11, Lia made the leap into racing when she and some friends had found out that the Lucas Oil Off Road Series was at a local track.
After competing, she realized she had been bit by the racing bug.
Lia shifted her newfound passion to karting where she quickly picked up on the foundational skills of racing. As her skills behind the wheel evolved, so did her vehicle of choice.
--- Lia had upgraded to learning how to drive a full sized car in under two years starting with a Ford Focus RS. During the height of the pandemic Ken wanted to teach his daughter how to donuts in one of his race cars, but first she had to learn the clutch.
"The funny thing with her is, because she's so young, she doesn't have the years that most kids do or people do when they start trying to do this in their late teens or early 20s," Ken Block told Newsweek.
"The learning curve's been very, very steep, but she's been like a sponge, she's absorbed all of it and, and done very well with it. And luckily, she's had some great teachers that understand, you know, where she's coming from and what she's learning."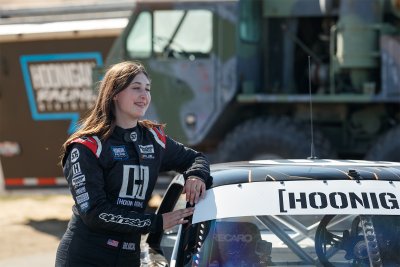 The younger Block proved that she was not only quite teachable, but an incredibly capable driver. After the success of season one of the Hoonicorn Vs. The World, the Hoonigan team knew they would need a twist for season two.
The Forza video game inspired YouTube series matches various fast cars against the Hoonicorn in a best two out of three drag race of pure speed and power.
Episode one of the Hoonicorn vs. The World season two features Lia and the Hoonicorn taking on a 4,000 horsepower Pro Stock Corvette drag racer piloted by NHRA driver Alex Laughlin. Throughout the season Lia took on a new challenger ranging from the full Pro Stock NHRA dragster to a Tesla Model S Plaid.
In preparation for the power of the Hoonicorn, Lia had driven a 1500 horsepower Audi R8, which is essenational the same speed but the difference is, it is a supercar not a race car. The R8 has leather seats and air conditioning, whereas a racecar is built to be raw power.
"The first time I got in the Hoonicorn was a very eye opening moment," Lia explained. "I thought I was completely ready for this car because we had gotten through so much training and so much preparation to get to that moment. And the first time I ever actually drove it and did actual pull going down like the straightaway. I was terrified."
But in true teenage fashion, that fear quickly dissolved. In addition to working with her father, Lia had a series of teachers paired to her own racing experience that prepared her for this. Lia was most excited to work with Vaughn Gittin Jr. who taught her how to drift and Leah Pruitt who provided an introduction to drag racing.
The Hoonicorn underwent a few modifications in preparation for Lia as well. Mostly based around safety, the Hoonicorn added a reinforced roll cage with intrusion bars on the doors, a paddle shift system that allows Lia to keep both hands on the wheel at all times and a full halo seat to protect the driver in case of any impact.
"I knew that we'd done everything that we could to get her ready," Ken said. "I have an amazing race director that's helped develop a lot of drivers through the years running my race team. And he was there next to me helping get her ready and doing a lot of coaching with her. So I knew we had all those things in process and the steps done to get her there. But at the end of the day, it's a race car, anything can happen."
While filming for this season of Hoonicorn Vs. The World Lia was also racing. Due to commitment to the YouTube series, she missed the first day of Rallycross and was not able to experience the track with the other racers.
Despite the handicap, the younger Block placed third in her division. At her current rate of development, she will be racing with her dad in no time.
"I just want to keep racing," Lia said. "I've always watched my dad, I've always wanted to do it. And now that I've actually raced different things, I just want to keep doing it. And I've, I would love to keep doing rally and maybe one day race, a WRC championship, or maybe race, the Baja 1002, big things I would like to accomplish."
Hoonicorn Vs. The World Season 2 is available on the Hoonigan YouTube channel with new episodes each week. Lia has since turned 15 and received her learner's permit.
"The funny thing is she did 176 miles an hour in the car herself driving before she had a learner's permit," Ken said. "So her, her process of getting to where she's going, is really quite backwards compared to 99.9 percent of the world."