Ex-Trump Official Hope Hicks Appears to Have Lied to Congress about Her Involvement in Stormy Daniels Hush Money Payments
Newly unsealed court documents show that former White House Communications Director Hope Hicks may have lied to Congress about her involvement in the hush money payments made to adult film star Stormy Daniels during Donald Trump's 2016 election campaign.
On Thursday morning, a federal court released un-redacted search warrant documents and other court filings that were part of the Southern District of New York's investigation into campaign finance violations tied to Trump's former attorney Michael Cohen.
The documents show that Hicks spoke with both Trump and Cohen shortly before the negotiations began for the payments made to Daniels to keep quiet about her alleged affair with Trump.
The trio spoke for at least four minutes during a conference call on October 8, 2016. FBI records also show that Cohen and Hicks spoke again later that day. That same evening, Cohen began to work out a deal with The National Enquirer to arrange the hush money deal.
The documents tell a different story than the one Hicks provided Congress. In testimony to the House Judiciary Committee last month, Hicks claimed under oath that she was never there when Trump and Cohen discussed Daniels or the payments.
"Were you ever present when Trump and Cohen discussed Stormy Daniels?" Rep. Jackson Lee asked Hicks, to which she replied, "No ma'am." Lee asked her the same question again, and Hick repeated the same answer.
Bradley Moss, a national security attorney, tweeted that the court documents make it clear that Hicks lied to lawmakers during her testimony. "I'm going to be surprised if there isn't a 1001 violation referral for Hope Hicks by the end of tomorrow. It appears rather clear she lied to Congress about the Stormy Daniels saga." he wrote.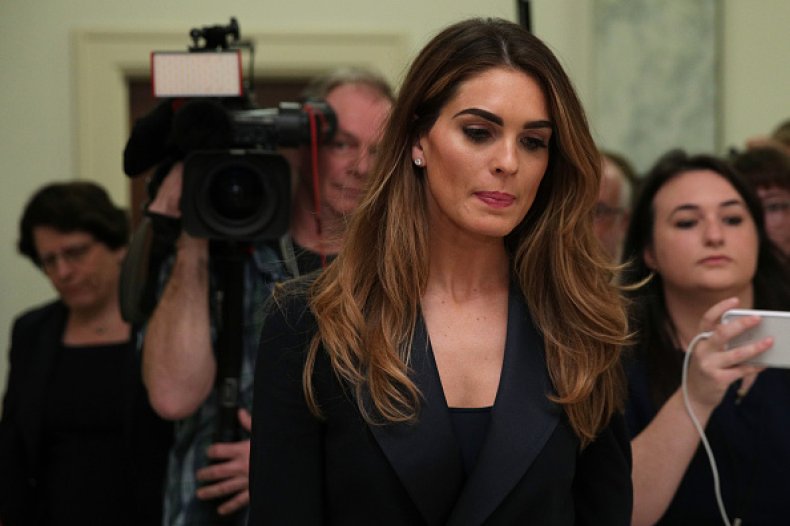 The unsealed court documents marked the end of the federal investigation into campaign finance violations. The probe ended without any additional charges against other executives in Trump's inner circle who were linked to the matter. The only one serving prison time is Cohen, who just started his three-year sentence in May.
U.S. District Judge William Pauley III said that the records were made public because the campaign finance violations and the information gleaned from the investigation are "a matter of national importance."
"Now that the government's investigation into those violations has concluded, it is time that every American has an opportunity to scrutinize the materials," he added in his ruling.
Trump's legal team celebrated the end of the investigation, which did not lead to any additional indictments against the president or other members of his inner circle.
"We are pleased that the investigation surrounding these ridiculous campaign finance allegations is now closed," attorney Jay Sekulow said in a statement. "We have maintained from the outset that the president never engaged in any campaign finance violation."
But former federal prosecutors say that it's likely the only reason Trump wasn't charged with a crime is because he is the president. There is a longstanding Department of Justice policy that sitting presidents should not be indicted while in office.
SDNY prosecutors aren't permitted to indict Trump at this time based on the ill-advised DOJ/OLC opinion that you can't indict a sitting president. But they CAN indict him the minute he leaves office. I can't speak for them but as a former fed prosecutor, I would indict Trump," Glenn Kirschner tweeted.