Hope Hicks Net Worth: Trump's Communications Director Giving Up Maximum White House Salary
As well as one of the most powerful White House jobs, Hope Hicks will be giving up a lucrative salary when she steps away from her job as President Donald Trump's communications director. The White House announced Wednesday that Hicks, who has been one of the president's closest confidants, would be departing her post in the coming weeks.
Related: Why Is Hope Hicks Resigning? Trump Communications Director Stepping Down After Russia Investigation Interview
A list of salaries for White House staffers released last June showed that Hicks was due to earn $179,700 in 2017, the maximum amount allowed. Hicks was one of 22 staffers taking home the maximum salary, but just one of five women to do so. Others included Senior Counselor Kellyanne Conway and former reality television star Omarosa Manigault.
Manigault has since left her position, but Hicks had remained one of the few constants in an administration rife with turnover. A former model, Hicks' relationship with the Trumps dates back to 2011 when she began work at Hiltzik Strategies, a public relations firm that represented Ivanka Trump's fashion line.
Hicks has worked with the president since joining the Trump Organization in 2014. Despite having no political experience, she was one of the first people recruited to work on Trump's campaign, brought on by the Republican candidate in January 2015, five months before he officially announced his run for the White House.
Hicks' departure means the only other person still with Trump from the onset of his campaign is social media director Dan Scavino.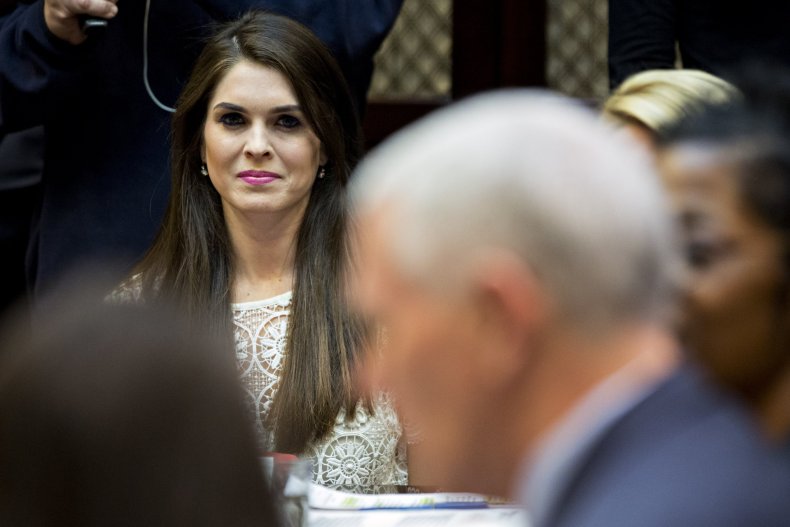 During the campaign, Hicks pocketed $141,417, according to her financial disclosure form. She made a further $21,830 as part of the Trump transition team after the campaign's surprise election victory over Hillary Clinton in November 2016. The form also revealed that her salary as an employee of the Trump Organization was $71,689.
At the age of 29, Hicks was the youngest White House communications director in history. Trump's statement on Hicks' departure Wednesday suggested that she was now eager to explore "other opportunities."
"Hope is outstanding and has done great work for the last three years," Trump said. "She is as smart and thoughtful as they come, a truly great person. I will miss having her by my side, but when she approached me about pursuing other opportunities, I totally understood. I am sure we will work together again in the future."