Who Will Replace Hope Hicks? Mercedes Schlapp, Sarah Huckabee Sanders and Other Contenders
The White House is scrambling to find a replacement for communications director Hope Hicks, who will reportedly leave in the coming weeks.
Hicks will become the third member of President Donald Trump's administration to resign after holding that position. She was called up to lead White House communications after Anthony Scaramucci flamed out in just over a week—his tenure lasted from July 21 to July 31.
Trump first tapped campaign aide Jason Miller for the communications role in December 2016 during the transition. Just two days later, on Christmas Eve, he announced he was stepping down following claims he had cheated on his wife.
Michael Dubke was the Trump administration's first official White House communications director, though he too resigned, in May 2017 after fewer than three months on the job. Sean Spicer then filled in as acting communications director, as he had after Miller turned the job down, until Scaramucci's arrival.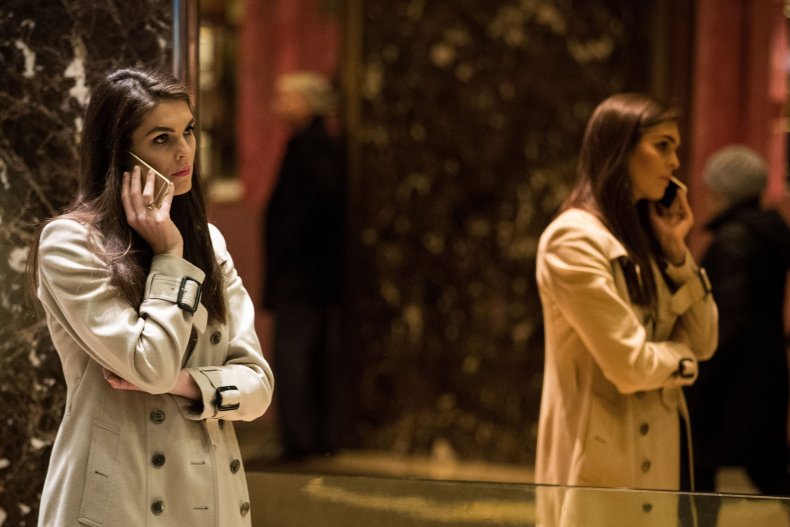 Before the top communications role, Hicks served as the White House director of strategic communications, a position currently held by Mercedes Schlapp—who may be in the running for the top communications spot. Schlapp is a veteran Republican strategist. She previously served in the George W. Bush administration and was a regular Fox News contributor. White House chief of staff John Kelly is reportedly considering Schlapp as Hicks's possible successor, according to Politico. The Wall Street Journal also reported she has been mentioned is a possible replacement.
Another in-house option is current press secretary Sarah Huckabee Sanders. Her predecessor, Spicer, stepped into the role twice in an "acting" capacity during previous tumultuous episodes, so there's already that precedent within the Trump administration. Hicks was also acting director before she officially took over.
Kelly is also eyeing outside prospects, according to Politico. That could spell a potential return from exile for Miller, who is currently the managing director for the Washington, D.C., office of Teneo, a global strategic communications company.