Hope Hicks Asked To Testify In House Intelligence Committee's Trump-Russia Probe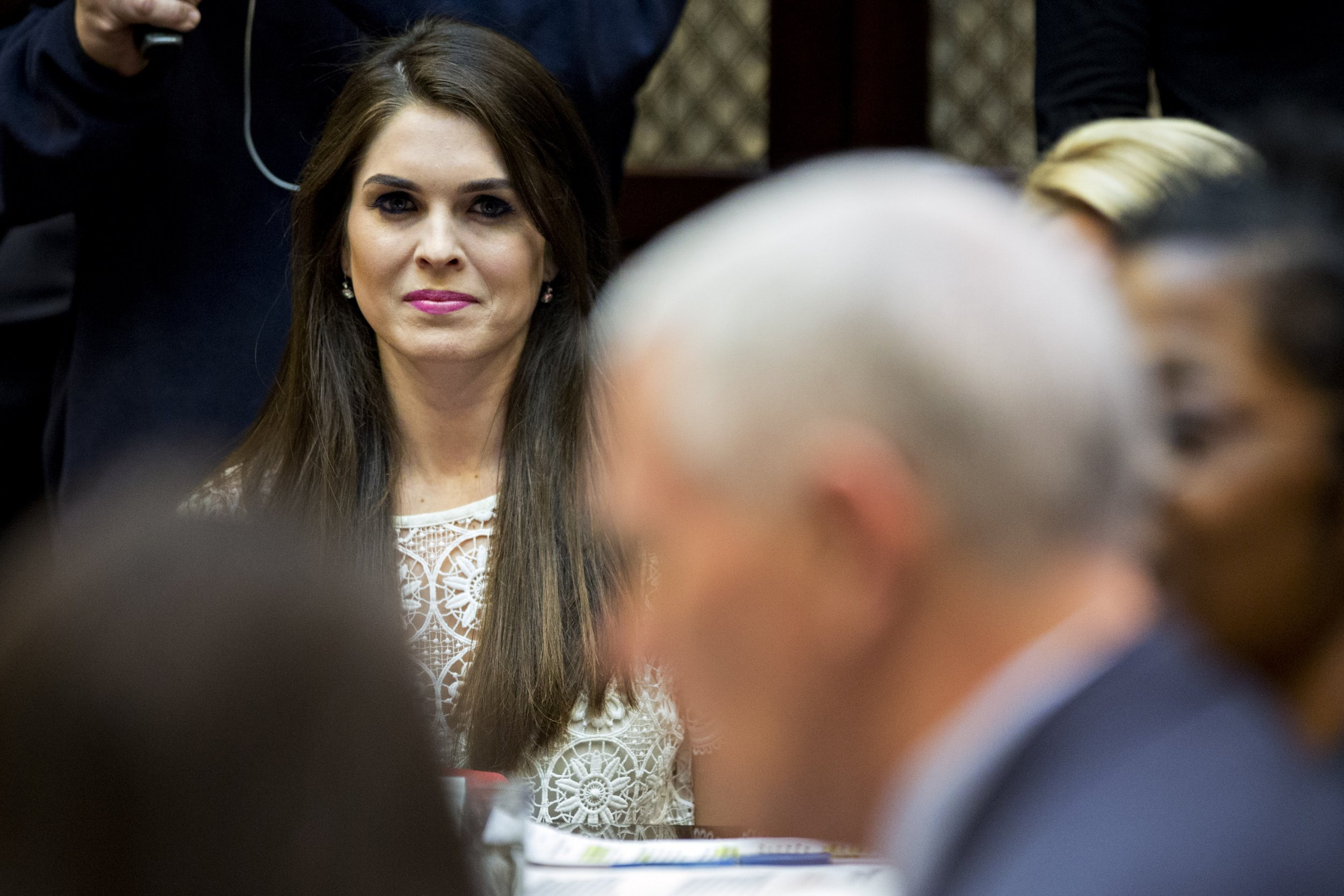 House investigators have asked White House Communications Director Hope Hicks to meet with them as they probe Russia's election meddling and links to Donald Trump's 2016 presidential campaign, a source close to the committee told Newsweek. The source requested anonymity in order to discuss the closed-door matters.
Hicks has been the White House communications director since September, and previously was assistant to the president and director of strategic communications. During the presidential campaign, she was a spokesperson and a communications director, and she was also a member of President Donald Trump's transition team.
Related: Bannon speaking with House Intelligence Committee
Hicks's lawyer, Robert Trout, declined to comment. The White House did not respond to a request for comment. CNN, citing multiple unnamed sources, first reported the news of the request to Hicks on Monday and added that Hicks would meet with the committee in the coming days.
Hicks's name has previously surfaced in the various probes into Russia and the Trump campaign. In December, Senator Dianne Feinstein, the ranking member of the Senate Judiciary Committee, sent a letter to Hicks requesting an interview for that panel's Russia probe, though the letter did not contain the signature of Senator Chuck Grassley, the chairman.
"As a longtime staffer of Donald Trump, you have been involved publicly and behind the scenes on several issues of public importance," Feinstein wrote. A spokesman for Feinstein was not available to comment on whether that interview took place.
Hicks is also a witness in Special Counsel Robert Mueller's probe, The New York Times reported in December. She apparently met with Mueller's investigators that month. Earlier in 2017, the FBI briefed Hicks that Russian operatives had tried to reach her during the presidential transition, the Times reported, citing people familiar with events.
Hicks reportedly remains in the president's inner circle. In the new book Fire and Fury: Inside the Trump White House, author Michael Wolff wrote that after the campaign, "baffling to almost everyone, Hicks remained his closest and most trusted aide, with, perhaps, the single most important job in the White House: interpreting the media for him in the most positive way it could be interpreted, and buffering him from the media that could not be positively spun."
Wolff added that Hicks "was in fact thought of as Trump's real daughter, while Ivanka was thought of as his real wife."
On Tuesday the committee plans to meet with Steve Bannon, Trump's former chief strategist. The committee will also be hearing from Department of Justice and FBI employees, including Peter Strzok, Lisa Page, James Baker and Bruce Ohr as part of an extension of the probe that veers from the Trump campaign's possible collusion with Russia into whether the FBI acted improperly when accepting materials from the political research firm Fusion GPS.