Trump Aide Hope Hicks Received $1.9 Million from Fox Corporation
A government ethics watchdog has released details it says show how much money Hope Hicks, counsellor to President Donald Trump, received from Fox Corporation in between her stints at the White House.
Hicks, 31, who had worked for the Trump Organization before becoming communications director for Trump's 2016 presidential campaign, served as White House communications director from August 2017 to March 2018.
Hicks resigned from this role after she admitted to the house intelligence committee that in working for Trump, she had told "white lies," about small matters, like his availability. She said that she had "never been asked to lie about matters of substance or consequence."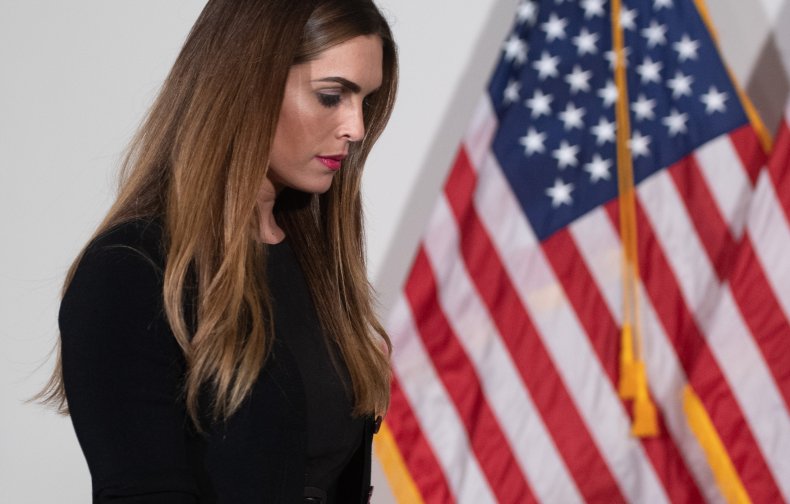 Following that post, she worked as chief communications officer and executive vice president at Fox Corporation before returning to the White House in March 2020.
The nonprofit Citizens for Responsibility and Ethics in Washington (CREW) revealed that during her stint at Fox she was paid nearly $2 million.
"We just got Hope Hicks' financial disclosures. In between White House jobs, Fox paid her $1.9 million for less than a year and a half at the company," CREW tweeted, with a link to details of her disclosure forms filed when she reentered the Trump administration on March 9 this year.
The forms show when she left the White House in 2018, her only reported asset was less than $15,000 in a bank account, but in her time at Fox, she received $1,898,037 million.
The disclosure forms also listed other income sources of more than $5,000. These included consulting work for Cavender Consultants, which she is the founder of, as well as communications consulting for Glover Park Group and a speaking engagement for Veritas Capital.
CREW is comprised of lawyers, researchers, and communicators whose aim, according to its website, is to "highlight the negative impact of money in politics." Newsweek has contacted CREW and the White House for comment.
Considered to be one of Trump's most influential confidantes, she also works closely with Trump's senior adviser and son-in-law, Jared Kushner, as well as White House political director, Brian Jack, CNN reported.
Ahead of her taking up the role of counsellor, Kushner said in a statement in February: "There is no one more devoted to implementing President Trump's agenda than Hope Hicks. We are excited to have her back on the team."