At the age of 28 Hope Hicks is set to become President Donald Trump's new White House Communications Director.
Hicks will replace Anthony Scaramucci as head of the Trump administration's communications team, according to the Daily Caller, citing a White House insider. The job is a promotion from her role as White House director of strategic communications.
The White House did not return Newsweek's request for confirmation of whether Hicks is taking up the role.
Scaramucci, nicknamed "The Mooch," infamously lasted just 10 days in the job. He was fired in early August by recently appointed White House Chief of Staff John Kelly following an expletive-filled conversation with a New Yorker reporter in which Scaramucci accused senior White House staff of being leakers.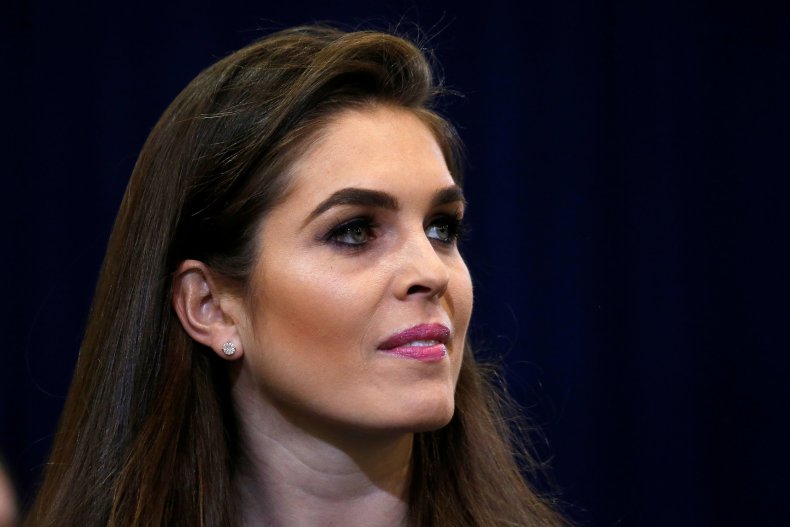 White House Press Secretary Sean Spicer resigned after refusing to work under Scaramucci and his presence in the White House also led to the resignation of former chief of staff Reince Priebus.
Hicks, a Connecticut native, was a fixture throughout the Trump campaign, serving as Trump's campaign press secretary. She weathered candidate Trump's scandal in October 2016 over the Access Hollywood tape in which he was recorded bragging about groping women, as well as accusations of sexual assault against Trump from nearly a dozen women.
Read more: Trump retweets alt-right leader who has praised white supremacist Richard Spencer
She also crafted Trump's rebuttal to Pope Francis after he criticized Trump's campaign pledge to build a border wall, saying "a person who thinks only about building walls … and not building bridges is not Christian." Hicks also spun accusations against former Trump campaign manager Corey Lewandowski after he allegedly grabbed Breitbart reporter Michelle Fields's arm. Immediately after the incident in March 2016 Hicks called Fields a liar and attention seeker before video of the incident emerged.
Hicks is a true Trump insider. She joined the Trump Organization as a PR in October 2014. She got the job after working with Ivanka Trump who had hired the New York PR firm Hiltzik Strategies that Hicks worked at to help with with her fashion line expansion. At the time Hicks was just two years out of her English degree at Southern Methodist University.
According to a 2016 profile of Hicks in GQ, she began dressing like Ivanka and soon won over Donald Trump. Trump poached her from Hiltzik Strategies.
Hicks has no experience in politics apart from her work on Trump's campaign and current White House role. When Trump tapped her to join his campaign in January 2015, she reportedly said Trump told her "I think it's 'the year of the outsider.' It helps to have people with outsider perspective."
In June a White House release of top staff salaries showed Hicks makes $179,700 a year, placing her among the highest paid White House aides, including Kellyanne Conway and Steve Bannon.
As director of communications Hicks will now be tasked with overseeing the White House communications strategy, dealing with the fallout from the Russia investigation, President Trump's response to white supremacists in Charlottesville, and working closely with press secretary Sarah Huckabee Sanders.
"I thought Hope was outstanding," Trump said during the 2016 campaign about his first impressions of her. "She was very natural when it comes to picking it up, and a lot of people can't pick it up, because it's so fast-moving. It's faster-moving than anything else."