'Hope' Returns As Donations for Burned Louisiana Churches Pour in After Notre Dame Fire
A fundraiser for three Louisiana churches destroyed by fires earned almost $1.9 million, with donations skyrocketing after celebrities raised awareness about the fundraiser following the Notre Dame Cathedral blaze in Paris.
The three Baptist churches in St. Landry Parish in Louisiana were burned on March 26, April 2 and April 4. Holden Matthews, the 21-year-old son of a deputy sheriff, has pleaded not guilty to setting fire to the three predominately black churches located about 30 miles north of Lafayette. Authorities added hate crimes charges to the original three charges of arson on Monday.
As donations poured in to restore the famed Notre Dame Cathedral in France, which suffered extensive fire damage on Monday, prominent Twitter users and celebrities noted that these Louisiana churches were also seeking restoration funds.
"It has caused a lot of ease in terms of their concern about rebuilding and given them hope about having their own building to return to," Freddie Jack, the president of the Seventh District Baptist Association, which organized a GoFundMe donations campaign for the trio of churches, told Newsweek. "People are very excited, and they're very grateful and thankful."
On Sunday, before the Notre Dame fire, the GoFundMe for the worship houses had earned less than $50,000. That number had risen to over $401,000 by Tuesday afternoon. By Thursday morning, the page had brought in $1.9 million, with more than 35,000 people pledging money.
Jack said he estimated that each building would require about $1 million in repairs. We are "hoping that in conjunction with the GoFundMe and the insurance, that combined, we'd have sufficient money" for repairs.
"All of your generous donations will be disbursed equally among all three churches for not only rebuilding their sanctuaries, but for the purchase of all necessities lost in the fires, including pews, sound system, musical instruments," the fundraising page read.
Almost $1 billion had been pledged to rebuild Notre Dame by Thursday. Within the first 24 hours following the fire, the three wealthiest families in France alone had committed to paying over $700 million for restoration efforts.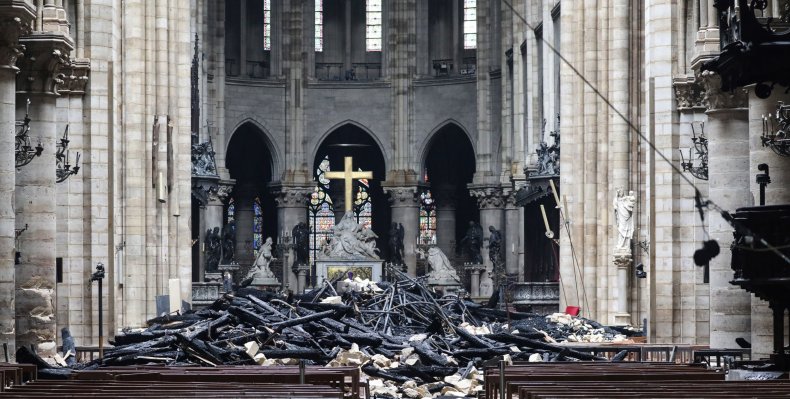 With the focus on restoring Notre Dame, journalists including Yashar Ali and Josh Campbell initially raised awareness about the GoFundMe for the Louisiana churches. Prominent public figures including Hillary Clinton, late-night host Seth Meyers and actress Kristin Davis subsequently promoted the cause.
"As we hold Paris in our thoughts today, let's also send some love to our neighbors in Louisiana. Three historically black churches have burned in recent weeks, charring buildings and scattering communities. If you can, contribute to rebuilding funds here," Clinton wrote.