Hope Solo Arrested on DUI, Resisting Arrest Charges With Two Kids in Car
Soccer player Hope Solo was arrested Thursday in North Carolina for allegedly driving while intoxicated with her children in the car. The 40-year-old Olympian was charged with impaired driving, resisting arrest and misdemeanor child abuse, TMZ first reported.
In a statement posted to Solo's Twitter account, Solo's attorney Rich Nichols said that "[o]n the advice of counsel, Hope can't speak about this situation, but she wants everyone to know that her kids are her life, that she was released immediately and is now at home with her family, that the story is more sympathetic than the initial charges suggest, and that she looks forward to her opportunity to defend these charges."
This is not the first time Solo has been in trouble with the law. The former Olympic goalie was arrested and charged with domestic violence in 2014 after her half-sister, Teresa Obert, claimed Solo hit Obert's 17-year-old son and allegedly slammed his head into concrete. The domestic violence charges were later dismissed.
Court documents obtained by local news station WBTW-TV about the Thursday incident stated that a passerby had found Solo "passed out behind wheel for over [sic] hour" in a Walmart parking lot in Winston-Salem. The car was apparently still running and her two children were in the backseat. When police arrived at the scene, Solo reportedly refused to take a sobriety test, though her blood was eventually drawn.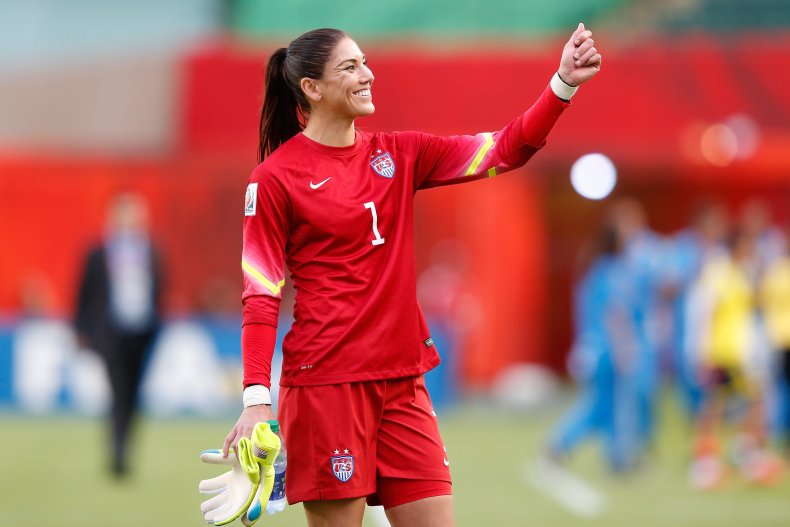 Police have also revoked Solo's driver's license, WBTW added. She was processed in Forsyth County Detention Center before being released.
According to North Carolina law firm Beaver Courie, the misdemeanor child abuse charge could warrant an investigation from the Department of Social Services. If Solo is found guilty of the charge, she could face up to 150 days in jail and a fine.
In 2014, Solo's half-sister, Obert, alleged that the soccer star abused her teenage nephew, according to a 2015 report from ESPN. Obert argued that Solo allegedly tried to spin the story by appearing on Good Morning America and claiming that the 17-year-old was actually the aggressor. She further alleged that Solo used the 6-foot-9, 280-pound teen's size to back up her claim.
"I was very upset," Obert told ESPN after Solo's television interview. "It never had anything to do with size. She has tried to make him feel small his whole life. He's not aggressive. She's a trained athlete. She's strong."
The report added that when authorities were trying to arrest the World Cup winner in 2014, she told an officer "if the handcuffs were off, I'd kick your ass."
Solo also made headlines in August after saying U.S. Women's National Soccer teammate Megan Rapinoe would "almost bully" other team members into kneeling during the national anthem as a protest against police brutality and racism. However, Solo left the team a month before Rapinoe started kneeling during the anthem, casting doubt on the claim.
Solo's agent and the Winston-Salem Police Department did not immediately respond to Newsweek's request for comment.
Update 04/01/22, 4:05 p.m. ET: This story was updated with additional information.
Update 04/01/22, 2:56 p.m. ET: This story was updated with additional information and background.