Hope Solo and Megan Rapinoe's Tense History Before Bullying Accusation
Two of U.S. soccer's most decorated players Hope Solo and Megan Rapinoe have become high-profile figures on and off the pitch.
Winger Rapinoe has just returned from the Tokyo Olympics where the team took home bronze while former goalkeeper Solo was kicked off the team in 2016 just after returning from the Rio Olympics.
The two athletes have not played professionally since then but prior to Solo's departure had been teammates since 2006.
Rapinoe is well known for her activism, protests against racial inequality and advocacy for LGBTQ+ rights while Solo is noted for spearheading the women team's campaign for equal pay.
The two both featured in a docu-series called Keeping Score together in 2016 which followed their addressed equality for women in sports, the wage gap for American women workers, and race in the run-up to the Rio Olympics.
Solo's contract was terminated by the federation on August 24, 2016, for ​​"conduct that is counter to the organization's principles" after she called members of Sweden's team "a bunch of cowards" at the Rio Olympics.
This week, the two women made headlines together again after Solo said her former teammate would "almost bully" other team members into kneeling during the national anthem.
However, Solo had left the team before Rapinoe ever took a knee before a match.
"I've seen Megan Rapinoe almost bully players into kneeling because she really wants to stand up for something in her particular way, but it's our right as Americans to do it in whatever way we're comfortable with," Solo said while on All of Us: The U.S. Women's Soccer Show last Tuesday.
She added: "Right now what I've seen is there's been so much debate about the kneeling, about the not kneeling. I know most people stand against discrimination.
"And I live in the south, I live in a very conservative area here in North Carolina in the south. Obviously, I have friends on both sides of the aisle, but I think the kneeling thing can be very divisive."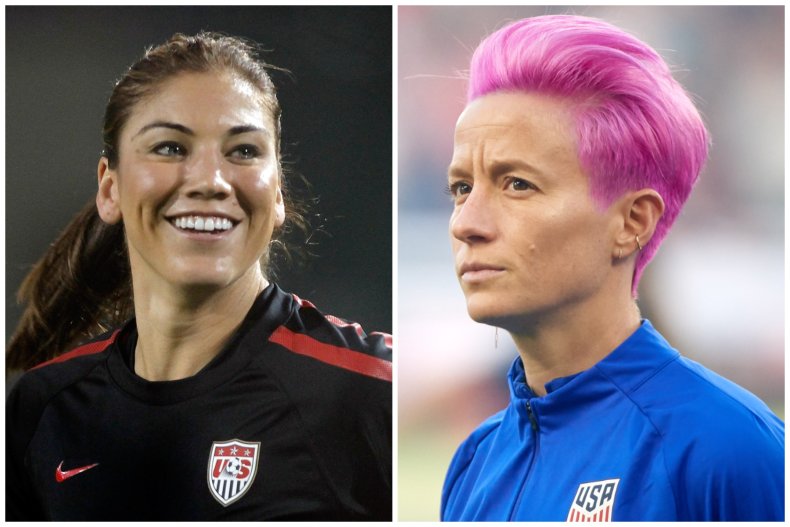 Prior to these comments, Solo criticized Rapinoe for negotiating a "less-than-equal" collective bargaining agreement with U.S. Soccer in 2017.
The USWNT is still involved in a lawsuit against the federation who they have accused of discriminating against the team on the basis of gender.
"Megan led the team into signing a less-than-equal collective bargaining agreement (CBA)," Solo told BeIN Sports in March of this year.
"We were so close to achieving equal pay in 2016; it was offered to us, we were about to sign the contract with the Equal Employment Opportunity Commission (EEOC). But Megan Rapinoe and the leaders of that team signed a less-than-equal CBA, which is concerning for the overall class-action suit and the overall fight.
"But, trust me, we have history on our side, as well as congressmen and women."
She added: "President Joe Biden is going to fight for equal pay - we believed in him four years ago and we believe in him now."
Rapinoe testified before the House Oversight Committee in March for Equal Pay Day.
As for Rapinoe's comments about Solo, not much is reported but the 36-year-old did express her disappointment at her then teammate's behavior at the Rio Olympics.
"Really disappointed, to be honest," Rapinoe said of Solo's comments in an interview with NBC.
"That's not our team, that's not what this team has always been; that's not what this team will be in the future. It's frustrating sometimes as an athlete—you're thrust into the spotlight and I think this team has always done a really amazing job of understanding that we have this incredible platform; let's do something good with it.
"Let's inspire, let's be badass, let's be fierce, let's be competitive. But, we're gracious and we're humble and we play the game a certain way, whether we win or lose."
She added at the time: "And we've been on the winning side quite a bit and when we find ourselves on the other side, we need to handle that graciously and unfortunately, that wasn't the case."
Newsweek has reached out to representatives for both Solo and Rapinoe for comment.