Hope Solo for President: Why Does Controversial Goalkeeper Want to Run U.S. Soccer?
Add a few more unexpected pages to the knotted, never-less-than-captivating story of Hope Solo's professional soccer career.
Solo, the former U.S. Women's National Team (USWNT) goalkeeper, announced on her Facebook page on Friday morning that she will run for President of U.S. Soccer.
Solo wrote: "What we have lost in America is belief in our system, in our coaches, in our talent pool, and in the governance of US Soccer. We now must refocus our goals and come together as a soccer community to bring about the changes we desire."
She continued to spell out a four-point manifesto including a "Push for Equal Pay" for the USWNT and, "all women in the USSF [United States Soccer Federation] workplace".
The 36-year-old's entry marks another intriguing moment in an election race being contested between perceived U.S. Soccer insiders and renegade candidates. Sunil Gulati, the incumbent, faces a challenge to his 12-year presidency from current U.S. Soccer Executive Vice-President Carlos Cordeiro, Boston-based lawyer Steven H. Gans, and Fox Sports analyst and former U.S. Men's National Team (USMNT) striker Eric Wynalda.
Solo, though, may have the greatest potential to shake up the outcome of February's election.
After a college career with the Washington Huskies she won 202 caps for the USWNT from 2000 to 2016. But her career was rarely as simple as her appearance record and longevity made out.
"For more than a decade, she loomed menacingly between the posts, a muscular, hyper-focused, lightning-quick goalkeeper who seemed able to stop anything. But in the end, the one thing Hope Solo couldn't stop was herself", Jonathan Mahler wrote in the New York Times in August 2016, after Solo had been suspended by U.S. Soccer for six months for calling the Sweden team that knocked the USWNT out of the Rio Olympics a "bunch of cowards."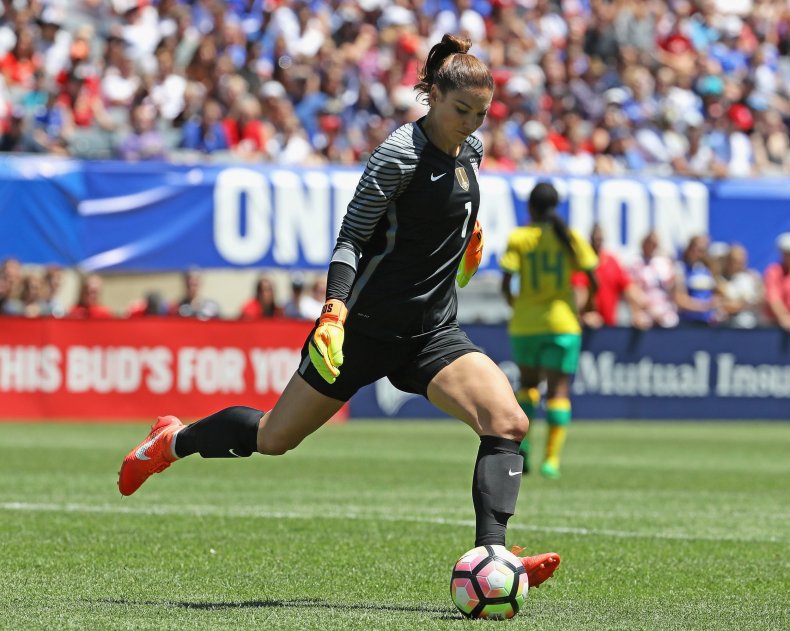 That apparently spelled the end of the Richland, Washington native's international career—one marked, as the NYT noted, by feuds with teammates and governing bodies as well as by fabulous competitiveness and athleticism.
Off the field, Solo was arrested on domestic violence charges in June 2014. The charges were subsequently dropped then reinstated, and the case is apparently still open, Deadspin reports. She also accused the former Fifa president of inappropriate behavior, telling a Portuguese magazine in November that she "had Sepp Blatter grab my ass" at an awards presentation in 2013. Blatter denies the accusation.
Now, perhaps, comes the most extraordinary chapter of all. U.S. Soccer's enfant terrible wants to become its most crucial power-broker. And if the history of Solo's career is anything to go by, she may yet succeed.