Former NBA player Horace Grant ripped into Michael Jordan during a radio interview Tuesday regarding the documentary "The Last Dance." Though basketball fans and many current NBA stars were pleased with the 10-part series, many teammates of Jordan had issues with some parts of it.
This includes Grant, who said Jordan "lied" during the show.
Grant and Jordan were teammates on the Chicago Bulls from 1987-93, winning three-consecutive NBA titles from 1991-93. Author Sam Smith penned a book called The Jordan Rules, which followed turbulent times with the Bulls during their 1991 championship run.
Jordan was not pleased with the book, and during "The Last Dance," he said that he didn't give most of the information to Smith, but rather it was leaked by Grant.
"I didn't contribute to that," Jordan said. "That was Horace. He was telling everything that was happening within the group."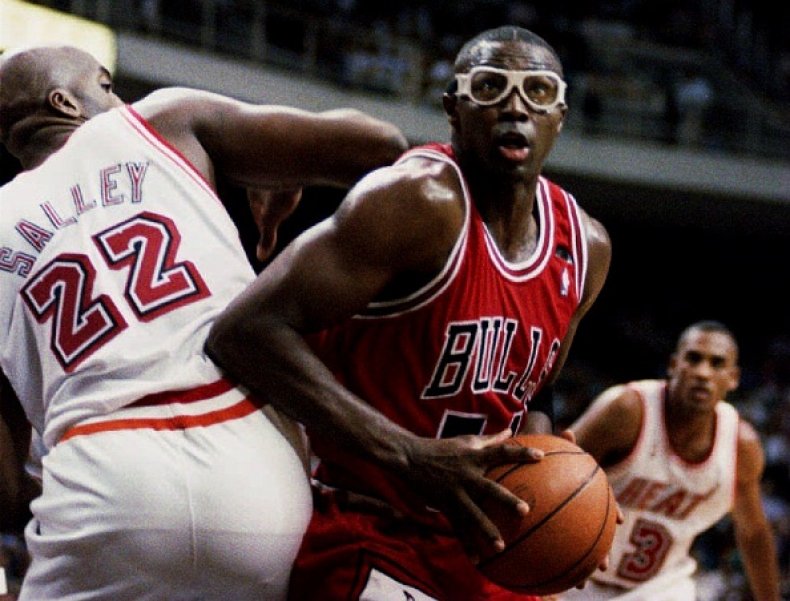 On Tuesday, Grant snapped back, calling the statement "a downright, outright, completely lie."
"Lie, lie, lie. ... If MJ had a grudge with me, let's settle this like men," Grant said Tuesday during an interview with ESPN 1000 in Chicago. "Let's talk about it. Or we can settle it another way. But yet and still, he goes out and puts this lie out that I was the source behind [the book]. Sam and I have always been great friends. We're still great friends. But the sanctity of that locker room, I would never put anything personal out there. The mere fact that Sam Smith was an investigative reporter. That he had to have two sources, two, to write a book, I guess. Why would MJ just point me out?
"It's only a grudge, man," Grant continued. "I'm telling you, it was only a grudge. And I think he proved that during this so-called documentary. When if you say something about him, he's going to cut you off, he's going to try to destroy your character."
Grant and many former teammates were unhappy with the documentary, especially how they were portrayed. Grant even questioned calling it a "documentary."
"I would say [the documentary was] entertaining, but we know, who was there as teammates, that about 90 percent of it—I don't know if I can say it on air, but B.S. in terms of the realness of it," Grant said. "It wasn't real—because a lot of things [Jordan] said to some of his teammates, that his teammates went back at him. But all of that was kind of edited out of the documentary, if you want to call it a documentary."
A storyline that garnered lots of attention in "The Last Dance" was Jordan's propensity to "bully" teammates. Grant acknowledged a report that said Jordan would tell flight attendants to not give Grant food on the airplane if Grant had a bad game the previous night.
"Anybody [who] knows me, as a rookie, if anybody comes up and tries to snatch my food away, I'm going to do my best to beat their ass," Grant said. "And believe me, back then, I could have took MJ in a heartbeat. Yes, it's true that he told the flight attendant, 'Well, don't give him anything because he played like crap.' And I went right back at him. I said some choice words that I won't repeat here. But I said some choice words and stood up. 'If you want it, you come and get it.' And of course, he didn't move. He was just barking. But that was the story. But anybody [who] knows me, where I come from and what I stand for, come on, man. There's nobody in this earth would ever come and try to take food off my plate and not get their rear ends beaten."
The standoff is more than airplane food, though. Grant said Jordan was a "snitch" on his teammates.
"My point is, he says I was the snitch, but still after 35 years he brings up his rookie year, going into one of his teammates rooms and seeing coke and weed and women," Grant said. "My point is, why did he want to bring that up? What does that got to do with anything? If you want to call somebody a snitch, that's a damn snitch right there."
About the writer
Scott McDonald is a Newsweek deputy night editor based in Cape Coral, Florida. His focus is assigning and writing stories across all topics, from news to politics, business, weather, sports and international news. Scott joined Newsweek in 2018 after a lengthy career of print journalism in Texas, including The Dallas Morning News, where he was a sportswriter, and he's a voter for the Heisman Trophy. He has been a newspaper editor-in-chief and also a newspaper publisher. He is a graduate of The University of Texas at Austin. You can get in touch with Scott by emailing s.mcdonald@newsweek.com. Languages: English