Horace Mann's History of Sexual Abuse Won't Go Away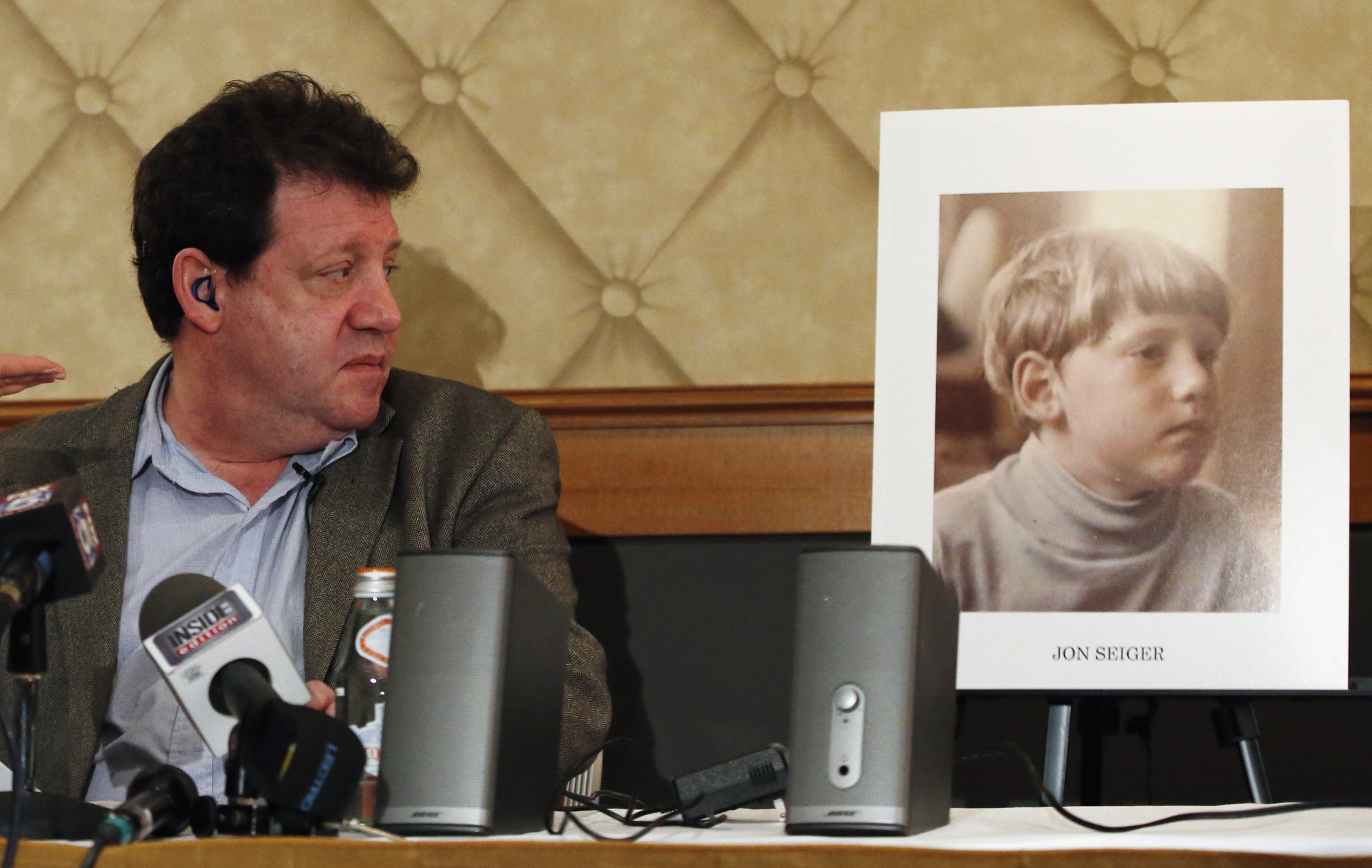 "Our goal is not to rehash or accuse, but simply to understand how more than twenty abusers operated for decades with little fear of reprisal."
So begins in calm, objective language the introduction to "Making School Safe," a report released on Wednesday, which was the result of an independent investigation into alleged sexual abuse that occurred at the Horace Mann School in New York City from the 1960s to the 1990s. The details contained within—a gym teacher molesting barely pubescent boys in the weight room, an English teacher raping a female student on the floor of his apartment—are disturbing enough. Equally appalling is the school's well-documented refusal to fully investigate what happened over those years and how it responded to allegations at the time.
My familiarity with the story began after Amos Kamil wrote a June 2012 article for The New York Times Magazine and made international headlines. Kamil asked me to help him write a book with him about the scandal. But as well as I knew most of the stories uncovered in this report—commissioned by the Horace Mann Action Coalition (HMAC), a group of concerned alumni, after the school refused to fund its own—it's especially sickening to read them in this condensed format. For Kamil's story was just the beginning. His reporting on a handful of students who said they were abused at Horace Mann in the past opened the floodgates. Today, HMAC reports over 60 credible charges of sexual abuse at the school.
In the wake of Kamil's article, the Bronx district attorney set up a hotline for other victims; they received 30 calls over next 10-plus months, and investigations followed. "The interviews," the district attorney reported at the time, "reveal a systemic pattern of alleged abuse beyond what was outlined in the original New York Times article. In total, we received direct information regarding at least 12 separate alleged abusers. The reported abuse ranges from what may be characterized as inappropriate behavior to child endangerment, actual instances of sexual contact, sexual intercourse and criminal sexual acts. The earliest instance of abuse that was reported to us occurred in 1962. While the majority of the abuse was said to have occurred in the 1970s, additional instances were reported from the 1980s and 1990s. The last reported occurrence of abuse was in 1996."
For almost a year, Horace Mann did not comment publicly on the allegations presented by Kamil, except to offer a vague apology for what happened in the past. On Tuesday, however, it released a statement to The Wall Street Journal that said, "While the school has significantly revised its practices and procedures regarding child abuse prevention and reporting to make them state-of-the-art, we will review the report to determine whether it contains any suggestions that would further strengthen child safety."
In the statement, Horace Mann added: "The school cooperated fully with reviews by the Bronx district attorney and the New York City police department, and engaged in an extensive mediation and settlement process during which over 30 survivors told their stories of abuse at Horace Mann from the 1960s to the 1990s. We encourage anyone with additional information to reach out to the appropriate authorities."
That Horace Mann failed to investigate itself is perhaps not surprising—if you're a lawyer or a flack. Silence is often deemed the best way to protect the brand. Horace Mann is considered one of the best prep schools on the East Coast, and its powerful alumni include politicians (Eliot Spitzer), famous authors (Robert Caro) and publishing tycoons (Si Newhouse).
The school insisted it did not respond to reporters on the advice of counsel and because of privacy concerns. But Horace Mann's failure to fully engage with the victims, most of whom are now in their 50s and older, and deal with the growing controversy has had more serious consequences. Nine of 35 trustees have resigned, individual donations have dropped and the school has become shorthand for an institution blind to its own failings. When a teacher at the elite Virginia Potomac School was accused of serial sexual abuse in November 2013, a headline on The Daily Beast read "Horace Mann on the Potomac."
Because Horace Mann wouldn't investigate the claims of the students, HMAC crowdsourced the funds and hired Judge Leslie Crocker Snyder, a former assistant district attorney in Manhattan, to spearhead its effort. In the course of conducting the investigation, Snyder and her cohorts interviewed victims, alumni and former faculty. Among them: A teacher from the upper school who calls himself "Al" and worked at Horace Mann from 2007 to 2012. "People knew something of what went on," he told investigators. "It came up around the [faculty] lunch table. Why this never resulted in more responsible oversight at Horace Mann is certainly a question."
It certainly is. Most of the accused, predators and protectors alike, are dead now, and most of those who aren't have had almost nothing to say. And thanks to New York state's strict statute of limitations, which says victims of childhood sexual abuse must come forward by the time they're 23, they don't have to. But to read the compendium of stories gathered here, and in our book, and not see a pattern of abuse and neglect constitutes denial of Joe Paterno proportions. If the stories start to sound the same, as skeptics of child sexual abuse sometimes say, it's because the abuse, from the grooming to the act itself, is so often identical.
Not that the teachers necessarily saw it that way. Tek Young Lin, a former Horace Mann English teacher and one of the few of those accused who went on record after Kamil's story broke, told The New York Times, "In those days, it was very spontaneous and casual, and it did not seem really wrong…. Everything I did was in warmth and affection and not a power play." (Head of School Tom Kelly later condemned Lin's remarks in a letter to alumni, faculty, trustees, employees and families of students.)
Lin's explanation is simple if you're the one with the power. For the minor who often fancies himself or herself a free agent, with the decision-making abilities of an adult, it's another matter. "Jessica," a girl who alleged being raped by a former English teacher named in an article in The Daily Beast and whose story was included in the report, said the teacher put his arm around her shoulder when she was still in middle school. "Would you like me to be your boyfriend?" he asked her. "Jessica" said she remembered thinking, "Wow, someone thinks I'm special." Later, after their relationship became sexual, she went to the school's guidance counselor, Bill Clinton, to complain; Clinton, who has no relation to the former president, gave her a copy of Lolita.
In March 2013, HMAC announced in The New York Daily News that it had credible reports of 64 students abused by 22 staff members at Horace Mann from the 1960s to the 1990s. Some of those victims dealt with their issues through therapy and group support. Some suffered long periods of drug addiction and alcoholism. Several took their own lives, and at least one, Ben Balter, did so after reporting his abuse at the hands of Horace Mann's late music teacher, Johannes Somary, to the school. (Balter's mother, Kathleen Howard, a science teacher at Horace Mann, received a negotiated settlement from the school on her son's behalf, though I bet she'd rather have her son back.)
The Swiss-born Somary, an internationally respected musician and conductor, haunts this report, as does the school's reaction to accusations when they occurred. An administrator identified only as "Pat" spoke to Clinton about the music teacher and glee club leader when another student complained. Clinton (since deceased) poured him a drink and told him he could go to then-headmaster R. Inslee Clark and repeat what he'd heard. But he "warned that 'the tree is rotten, so the leaves don't matter' or words like that," the administrator said, according to the report. "Pat" did report Somary to Clark, who said, "These things happen," and that he'd take care of it. But he didn't.
After the Balter letter, Somary was finally told he could not travel with students without a chaperone. In the course of reporting his article, Kamil confronted a different former headmaster, Phil Foote, and asked him why more was not done about a man with numerous allegations brought against him. He was told: "It was a time with different values and different systems. You didn't have the access you do now. It was hubris. [Horace Mann] was sure it was above everybody else. Nobody wanted anything to change."
Some things have changed. "In September 2012, Horace Mann adopted a new policy on reporting child abuse of students by school employees," the report says. "While the new policy included a statement that allegations of sexual abuse would be reported to authorities, Horace Mann would do so only if the allegations appeared to be 'substantiated and to constitute criminal behavior.' In April 2013, 'after some discussions' with the Bronx district attorney's office, Horace Mann's policy was rewritten to include 'immediate notification to law enforcement.'"
The school was much more straightforward in its immediate response to the scandal. An English teacher identified as "Al" said in an email to Snyder, "The faculty was notified 'well in advance' that Kamil's article was coming and were told to keep quiet. 'From the very first, the very intentional tack of the school with regard to the recent disclosures has been to suppress information. 'You can say what you like if a reporter calls,' [headmaster Tom] Kelly said at a faculty meeting. 'But the school can respond as it likes [i.e., with adverse employment action] if you do.'"
"Al" has since left the school.
Amos Kamil and Sean Elder's book, Great Is the Truth: Secrecy, Scandal and the Quest for Justice at the Horace Mann School, will be published by Farrar, Strauss and Giroux in November.