Sex-Crazed Rattlesnakes in Georgia Filmed Fighting Over Female
Two amorous timber rattlesnakes have been filmed fighting over a female in the Georgia wilderness.
The footage, posted to the Georgia Department of Natural Resources (DNR) Facebook page, shows the two snakes in Lanahassee with their heads raised, lunging at each other.
They can be seen twisting their necks around each other, appearing to force the other one down. The fight appears to get more intense as the video goes on. Timber rattlesnakes are found throughout the entirety of Georgia, apart from parts of the southwest.
"Why did the snake cross the trail? To ssssee his lady friend of course," the Georgia DNR said in a caption to the video. "A wildlife technician was checking hunter access trails for obstructions on Lanahassee WMA when he happened upon these two timber rattlesnakes fighting over who deserves the female nearby."
This behavior is not uncommon during breeding season, which occurs from late summer to early fall. Many mistake the movements for mating.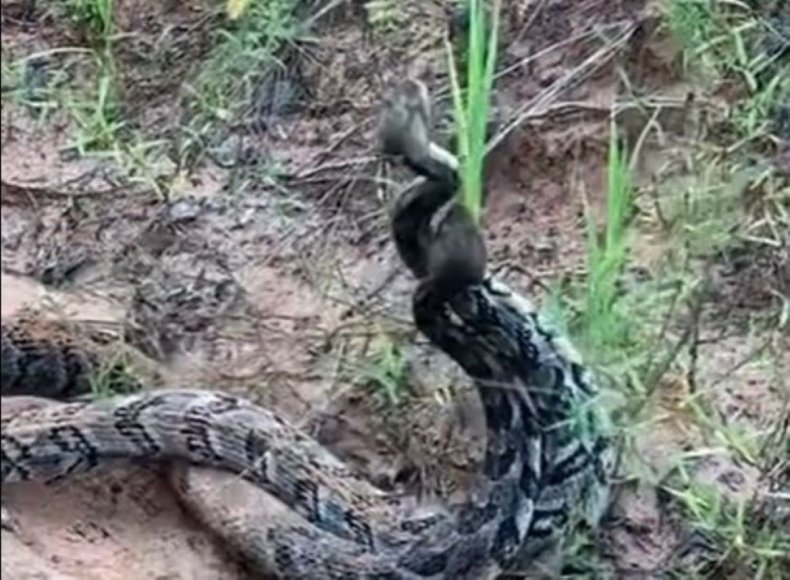 "Looks like they are breeding to me," one Facebook user wrote in the comment section.
"Breeding behavior can appear similar! But this is combat," Georgia DNR said in response.
While the act of mating may appear similar, it does not usually involve snakes raising their heads from the ground. During mating, snakes will usually be lying down.
During breeding season, male snakes can smell females from miles away. If a female snake is spotted somewhere, it is not uncommon for a flurry of male snakes to follow.
Male snakes become very active during breeding season, and will often prepare to fight other males that get in their way.
In the comment section of the video, Georgia DNR said the aim of the fight is to "pin one another." The snake that manages to pin the other one down then has the right to breed with the female.
Timber rattlesnakes are highly venomous and although bites are rare, they can be fatal. They sometimes wander into residential properties in search of food and shelter, meaning conflicts with humans can occur.
In August, a snake researcher from West Virginia died after he was bitten by a timber rattlesnake. William Martin, 80, was bitten by the serpent who was kept at his property, The Associated Press reported. Martin made many discoveries about the species during his lifetime.
Deaths from timber rattlesnakes are extremely rare, as the species is usually docile. But they will attack if they feel threatened or provoked in some way.