Horrifying Bodycam Video Shows Deputy Having Near-Death Experience From Fentanyl Exposure
A San Diego Sheriff's Department deputy nearly died after he was exposed to fentanyl, bodycam footage shows.
The San Diego County Sheriff's Department (SDSD) released a documentary-style video including the footage to raise awareness of the dangers of opioids like fentanyl.
"Fentanyl continues to be one of the greatest threats facing San Diego County and the nation," the department wrote in the caption of the video. "This synthetic opioid is 50 times more potent than heroin. Just a few grains of fentanyl can be absorbed through the body and lead to respiratory failure and even death."
Field Training Officer Corporal Scott Crane and his trainee, Deputy David Faiivae, went out on their first radio call of the day on July 3. Faiivae found a "white substance" in a car that he suspected to be drugs, Crane said in the video.
"It's a powder," Faiivae can be heard saying on the body-worn camera footage.
Crane tells the trainee that the substance could be cocaine or fentanyl. The footage cuts to Crane confirming that the drug had tested positive for fentanyl.
"That stuff's no joke," Crane said. "Dude, it's super dangerous."
Along with being 50 times more potent than heroin, fentanyl is up to 100 times more potent than morphine, according to the Los Angeles County Health Department.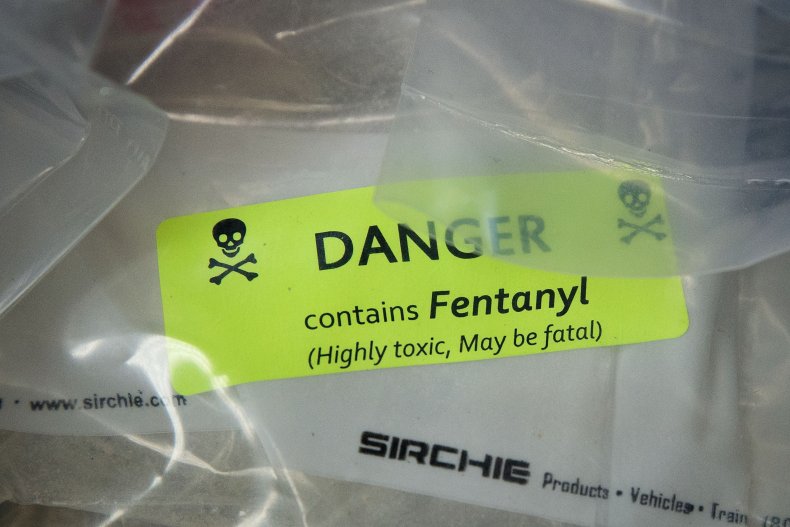 Crane then warned Faiivae that he was too close to the fentanyl. The footage then shows Faiivae stepping back before collapsing to the ground. Crane immediately ran to his trainee and realized he was overdosing.
"I went to my trunk, grabbed the Narcan, came down to him, grabbed him and I did one nasal spray in one nostril, opened the other one, another nasal spray in the other one," Crane explained as he worked to save his deputy.
Naloxone, also known as Narcan, is a nasal spray used to combat the effects of an overdose on the body. The San Diego County Sheriff's Department became the first law enforcement agency in California to allow officers to carry the life-saving drug in 2014.
The deputy recalls "not feeling right" but does not remember much after he collapsed. He said he was struggling to breathe and gasping for air.
Crane tells Faiivae in the footage to focus on his breathing. He opened Faiivae's shirt and removed the deputy's vest to help him breathe better. Crane then asked him if he was OK.
Faiivae apologized, repeating "I'm sorry" multiple times.
"No, no. Don't be sorry," Crane told him. "You're OK. Don't be sorry, there's nothing to be sorry about. I've got you, OK? I'm not going to let you die."
Faiivae started to overdose again when he was placed into the ambulance, according to Crane.
The corporal said Faiivae would have died if he was alone in that parking lot, and he just wanted to let Faiivae know that he was there for him.
"The dangers of fentanyl are real, and this drug is killing our communities," San Diego County Sheriff Bill Gore said. "Please take the time to share this video. It might save the life of your son, daughter, friend or loved one."